Mrs. Heather R. Gasaway
The Amit Roy Outstanding Headquarters Staff Award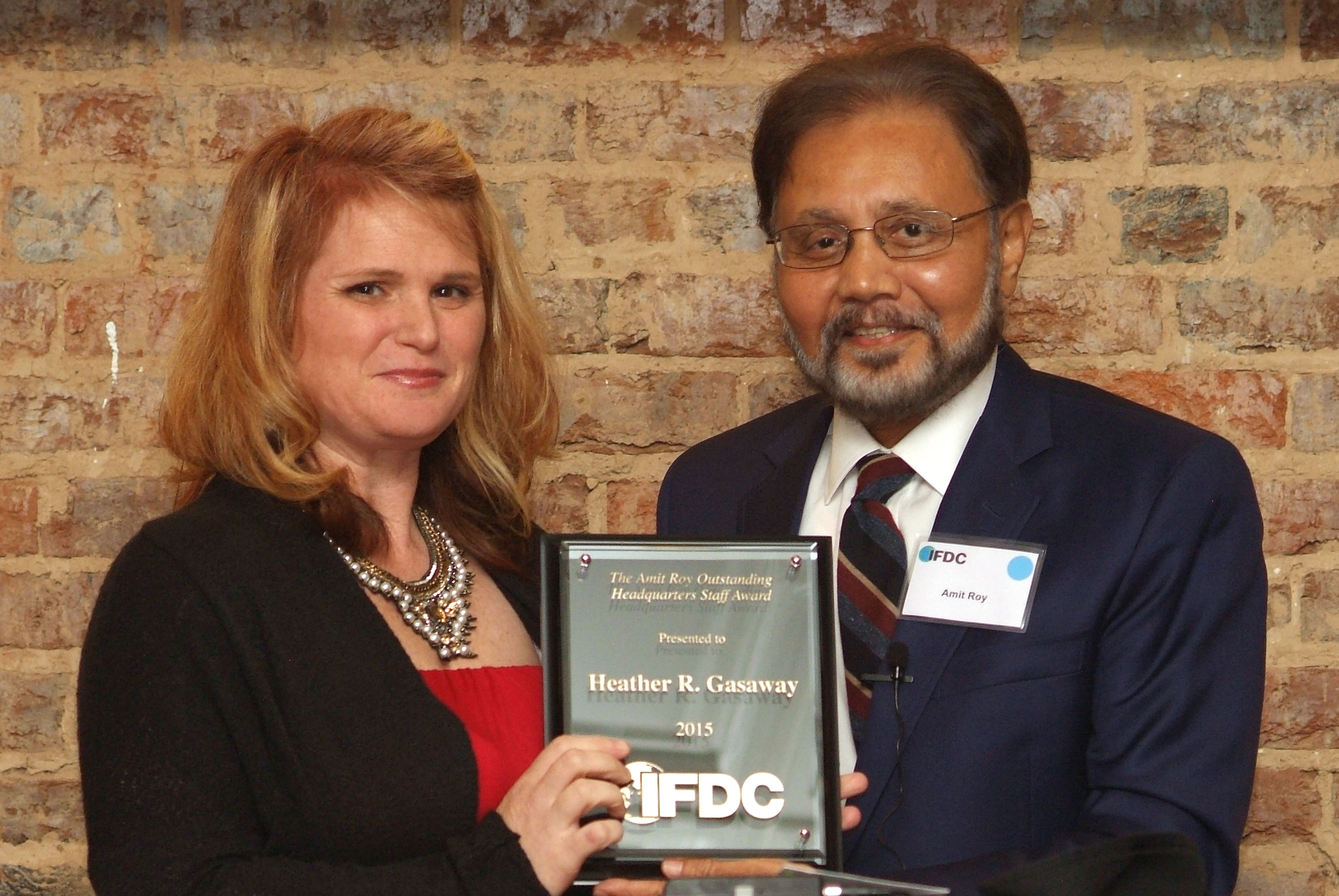 Mrs. Heather Gasaway began working at IFDC in September 2009 as a Graphics Artist/Web Designer. She earned her B.A. in Communications/Journalism from Cal State Fullerton in 2003 and completed her Master's degree in Communications from Spring Arbor University in May 2015 while working full time for IFDC.
During 2014-2015, Mrs. Gasaway assumed the enormous task of completely redesigning the IFDC website to better communicate our mission and work around the world. She put in extra hours, writing all the HTML code, rewriting existing content, choosing dynamic photography and reworking the WordPress.com template from the ground up. The site is also mobile-friendly, functioning on smartphones as well as iPads. Therefore, it was necessary to write separate cascading style sheets (CSS) for both platforms and customize them for portrait and landscape viewing. Artwork, project and country mastheads, icons and maps were created and customized in Adobe Illustrator to fit the site in the best possible manner. Photography was carefully chosen to express IFDC's message. The result is a vibrant, modern, mobile-friendly and constantly updated website that engages users.
Mrs. Gasaway's work in developing the new IFDC website was not only appreciated for her participative approach and willingness to integrate feedback from all over the world, but also because it helps field offices and projects clearly brand and position IFDC in the market. She managed to process a large amount of information and develop a clear and well-organized online presence. For an organization with such a wealth of technical information and reports, this was an immense project.
Her talent, hard work and dedication to the organization make Heather very deserving of this honor. Mrs. Gasaway works closely with communications officers and managers around the world and makes everyone feel part of a successful team. To her credit, there has been a clear improvement in collaboration and communication between headquarters staff and the communications officers in the field. She possesses effective leadership skills and always has time to hear new ideas, offer suggestions and find value in others' contributions.
Mrs. Gasaway has demonstrated great initiative and leadership by researching the latest trends and looking for new ways to promote IFDC through the website, social media, etc. She continuously brings new ideas to the communications group and then collaborates with everyone else on the team to turn these ideas into reality.
In addition to her design work, she ensures that IFDC staff successfully use internal communications technologies such as SharePoint and GoToMeeting. In all her work, Mrs. Gasaway displays professionalism and integrity. This year, she took on increasing levels of responsibility while obtaining a Master's degree. She is an integral member of the Office of Communications and a valued coworker and friend.
Dr. Deborah T. Hellums
Chairman's Outstanding Internationally Recruited Staff Award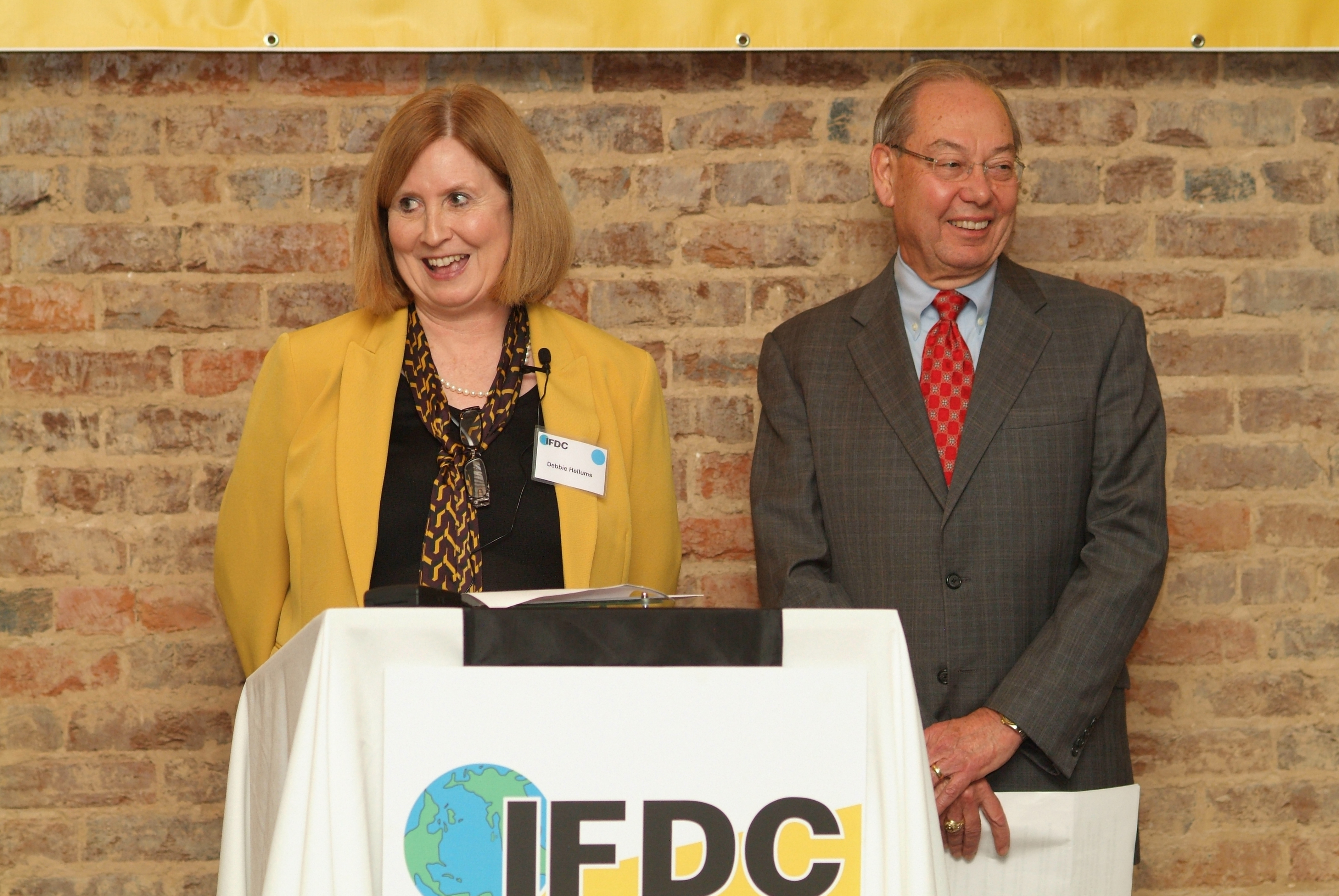 Dr. Deborah T. Hellums has more than 35 years of experience in soil fertility, nutrient management and increased agricultural production in tropical and temperate environments. She holds a Bachelor of Science degree in Biology and Chemistry, and a Master of Science degree from the University of North Alabama. She completed her Ph.D. work at Auburn University in 1991 while working full time at IFDC.
Dr. Hellums joined IFDC in 1979 as a Research Assistant. In 1986, she was named Research Associate and in 1993  Scientist – Soil Fertility. She is presently serving as Program Leader of the Soil and Nutrient Dynamics Program. In addition to her regular duties, for the past year she has served as Acting Chief Program Officer, Office of Programs.
Dr. Hellums works tirelessly to provide support to IFDC's projects. She possesses three Ds – dedication, determination and dependability – which make her an asset to IFDC and to her profession. In addition to her role as a scientist, Dr. Hellums has been called on numerous times to manage difficult projects for IFDC and to serve as the Coordinator – Field Projects to provide backstopping from headquarters for projects in the field. Some of the projects that she has managed/backstopped are:
USDA Albania
USDA Afghanistan
Dutch Embassy CATALIST
Save the Children Kosovo
USAID Kosovo
USAID AAATA Albania
USAID Afghanistan Voucher Program
DAI Liberia
On numerous projects, Dr. Hellums has been asked to travel for extended periods of time to assist projects. She has always been one of the major reasons for the successful completion of the project. Dr. Hellums has accepted these increased duties without hesitation by keeping the best interest of IFDC in mind.
Dr. Hellums effectively conveys the core values of IFDC, which include collaboration with staff and donors. She shows tremendous respect for her staff and has given exceptional service to the organization. Dr. Hellums always projects a warm and cheerful attitude in her daily tasks. When the monthly financial statements go out, Dr. Hellums is one of the few who reviews them and asks questions about what has been charged to her division/projects. Dr. Hellums takes great pride in being responsible for her budgets and is always willing to help others understand the budgeting process. Her professionalism and compassion are apparent.
Coworkers report that Dr. Hellums is quick to help new staff acclimate to IFDC and has an open door policy when they need assistance or seek answers on various topics. Those who have traveled with Dr. Hellums report that she has tremendous rapport with her peers, which reflects very well on IFDC.
Dr. Hellums is always respectful of everyone she meets. It is an honor to work with her. When asked for advice, Dr. Hellums provides a measured and objective response that is untainted by any biases. She is considered a dedicated colleague and is always willing to support all activities of the agronomy and economics teams within the Office of Programs on a personal and professional basis, while attempting to close the teams' technical collaboration gaps in an effort to eventually form a seamless agro-economics team.
She is always willing to help without any hesitation and has great work ethic and interpersonal skills. Dr. Hellums is very deserving of this recognition for her unfailing dedication, enthusiasm, motivation and her outstanding service to IFDC's success!
Mr. Oscar Nduwimana
The Amit Roy Outstanding Outposted Staff Member Award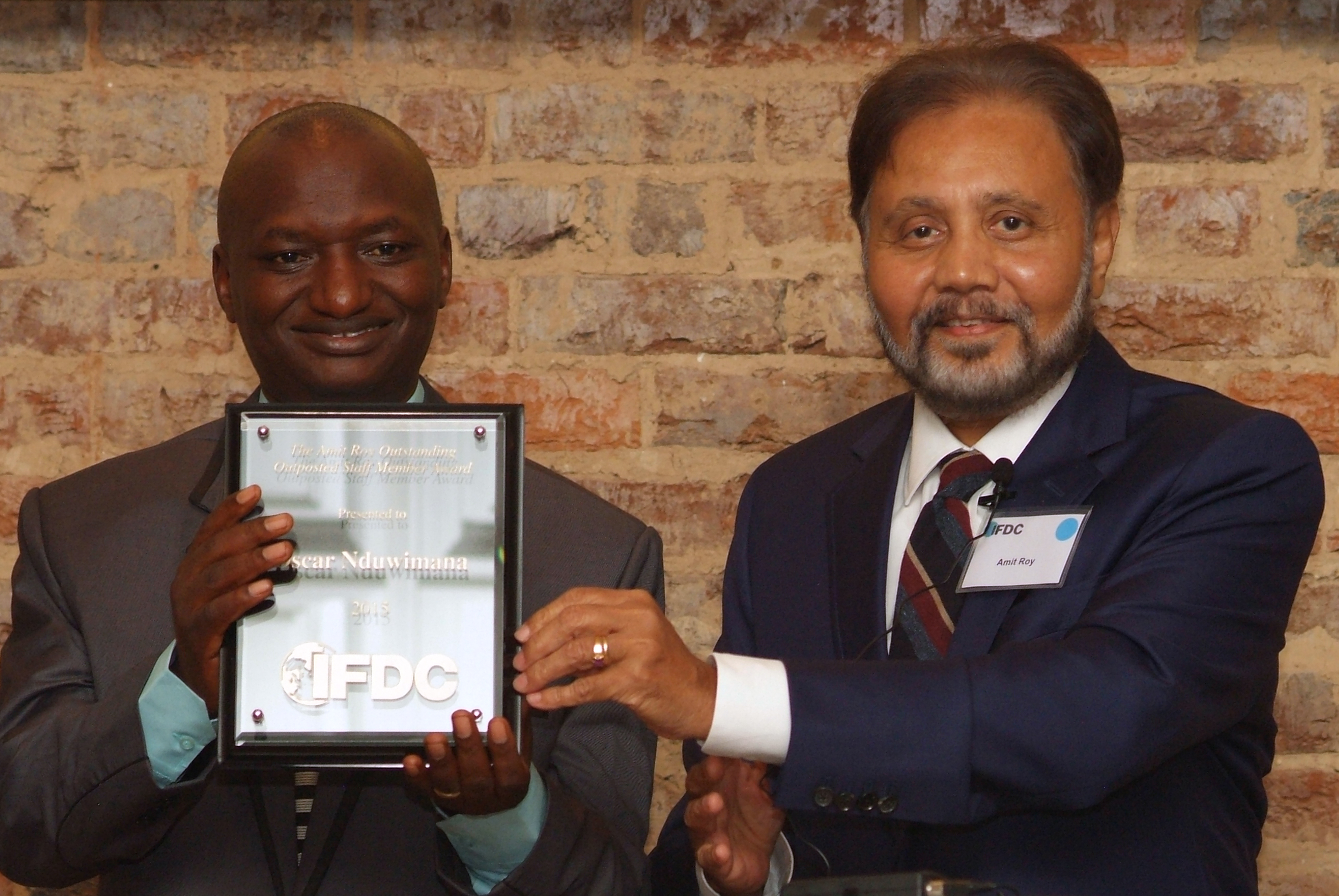 Mr. Oscar Nduwimana is an agronomist and soil scientist who has conducted balanced fertilizers trials through the PAN-PNSEB project. Mr. Nduwimana provided decisive contribution on all phases of the activity, from planning to monitoring and data collection and analysis. He also edited a scientific publication on Burundi's soil fertility needs; 800 copies were printed and distributed to agricultural schools and rural development organizations. This manual and the distribution of poster maps of nutrient deficiencies have resulted in a national awareness of the importance of balanced crop nutrition, and enjoys full support of the Ministry of Agriculture. Burundi is now at the forefront of a fertilizer revolution that can serve as a blueprint for development and scaling of improved fertilizers throughout Africa.
Mr. Nduwimana has ensured timeliness in trial implementation and data collection for literally thousands of trial sites. From these trials, large and robust datasets were collected, which are the basis for new balanced fertilizer formulations. These formulations almost double fertilizer response for a number of crops. As a result of his efforts, small packs of balanced fertilizer formulations incorporating lime and secondary and micronutrients are being distributed to some 10,000 farmers to stimulate demand on a national scale. It is anticipated that by mid-2016, farmers will be ordering these fertilizers in the context of the subsidy program.
He is a man of few words, self-ruled by remarkable modesty and commitment to the task; an experienced field operator who is able to perform efficient office work and to edit high-quality scientific and training materials. With such qualities, he is naturally suited for teamwork. His main professional strength is a wise balance between scientific theoretical knowledge and field practical common sense, which is so convenient for any agronomic activity and purpose. He is a commendable employee and a truly reliable resource person within the IFDC staff. He is the right person, at the right place and at the right time, and has risen to the occasion with both perseverance and humility. Mr. Nduwimana's work is highly appreciated by supervisors, partners and donors.