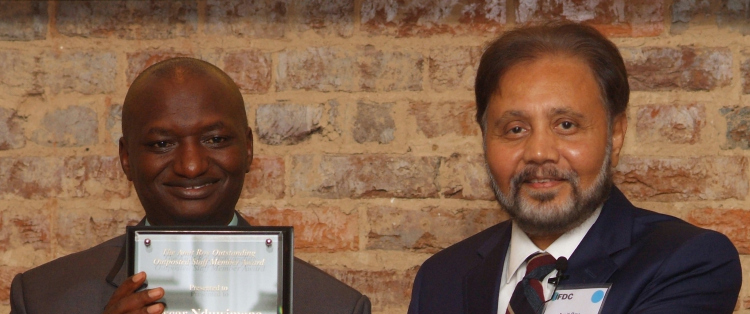 Agronomist and Soil Scientist
"I am passionate about Integrated Soil Fertility Management (ISFM) and how the approach can become a reality in farmers' minds and practices.
Oscar Nduwimana is an agronomist and soil scientist who has conducted balanced fertilizer trials through the PAN-PNSEB project. Prior to joining IFDC in 2013, Nduwimana was employed at Twitezimbere in Burundi, where he maintained a close working relationship with IFDC.
While at Twitezimbere, Nduwimana worked as a field agent in the implementation of IFDC's CATALIST and CATALIST-SEW projects. He had several responsibilities including data analysis, field trainings, the promotion of ISFM and the Competitive Agricultural Systems and Enterprise
(CASE) approach, project supervision and support to economic and social development.
Prior to his work at Twitezimbere, Nduwimana worked for several other companies and organizations including Agrobiotec, Camugani, DPAE Kayanza and Muruta Communal College in the Kayanza province.
In his two years on staff at IFDC, Nduwimana has taken on numerous responsibilities with the PAN-PNSEB project. He has collaborated with Burundi's Ministry of Agriculture and Livestock (MINAGRI) and the National Agriculture Research Institute (ISABU) and other partners in the experimentation and evaluation of new soil fertility formulations. He has established experimental protocols and tools for data collection and analysis, promoted the use of balanced fertilizers through ISFM, conducted numerous trainings, written manuals and promoted innovative technologies. His efforts will allow small packs of balanced fertilizer formulations incorporating lime and secondary and micronutrients to be distributed to some 10,000 farmers to stimulate demand on a national scale in Burundi.
Nduwimana recently received the Amit Roy Outstanding Outposted Staff Award. He compiled a publication entitled "Cartographie de la fertilité des sols du Burundi et des besoins des principales cultures vivrières en éléments nutritifs," that shows the dispatch of nutrient deficiences by crop and by region. The publication has circulated more than 1,000 copies.