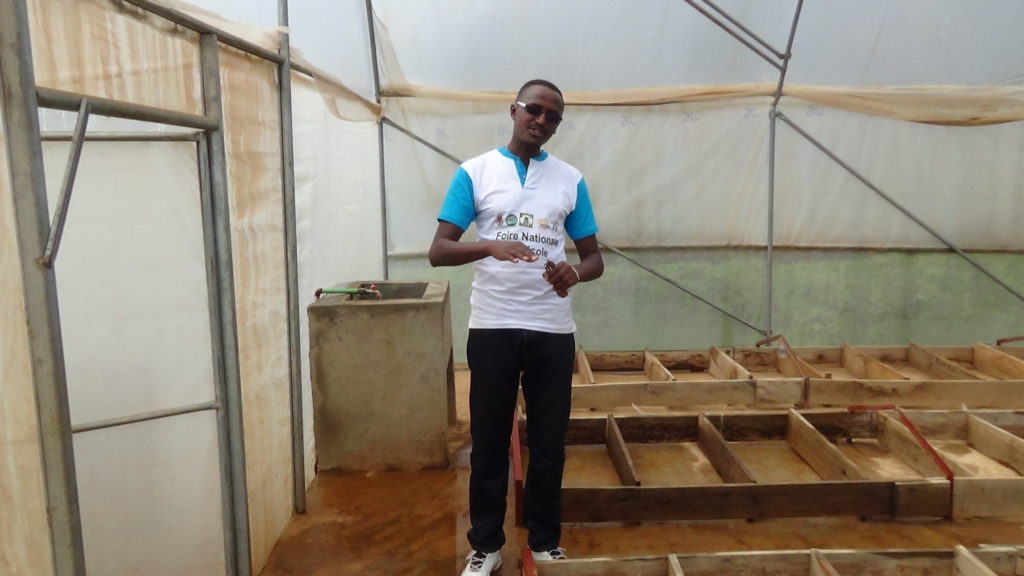 The long chain of potato seed production features a mini-tubing stage, which is an activity that requires expertise and resources. Honoré Niyukuri de Kiremba of the Bururi commune, Burundi, has the promising ambition to excel in this area.
Mr. Honoré Niyukuri coordinates the Agency for the Development of Rural people (ADPR), based in Kiremba, Bururi commune. He has worked in the seed sector for several years, specializing in potato seed. He received support from the Program for Institutional and Operational Support of the Belgian Cooperation (PAIOSA) for co-financing of infrastructure in 2011. Through that route, he acquired a shed and a greenhouse, which allowed him to begin producing mini-tubers. The in vitro plants used are imported from the DRC (Democratic Republic of Congo).
Before he started working with ISSD, Honoré says his company already had some organization, and that production costs were being calculated regularly. At the commercialization level, flow problems could arise, and in these cases mini-tubers were recovered in the association.
A Trip to Uganda, and a Click to Profitable Business
His collaboration with ISSD began in March 2015, when Honoré began to benefit from training on entrepreneurship and access to credit. He also participated in a study tour in Uganda, a trip that inspired new ideas.
He learned about aspects of the mini-tubers that could be improved at the production level and how to effectively target them.
"I was also impressed by the distribution of roles for the actors working in the potato chain in Uganda and the positive effect this can generate. I am doing the same thing with my colleagues, and I see that this will bear fruit. My network of contacts has expanded, and orders increased significantly. I need a second large greenhouse to meet this demand," said Honoré.
Because of this trip, he is enthusiastically discussing the diversification of potato varieties available on the market with his colleagues, as well as thinking about varieties that lend themselves well to other markets, like potato chips.
At his peak production level, Honoré employs 20 people, and this workforce is predominantly female (about 99 percent).
It is also worth noting that the symbiosis of the ISSD and CATALIST- 2 projects helped Honoré benefit from training on marketing techniques, as did the experience he gained from participating in the Shape and Lead competition organized by CATALIST-2.
Striving to Reach the Top of His Field
With his positioning in the seed market, orders have increased, and the infrastructure currently available to Honoré is not sufficient to produce enough seed to satisfy demand. Honoré would like to obtain a second large greenhouse to meet this new demand. He is ready to seize funding opportunities and get to work.
The production of mini-tubers requires working upstream and is quite demanding in terms of resources, both material and human. Given the difficulties he experiences in sourcing in vitro plants, he has an ambitious goal of developing a laboratory and thus controlling the entire production chain.
Honoré hopes that the ISSD project and other stakeholders continue their support so that he can go as far as possible in his chosen field: mini-tubers.
Written By:
Jean Pierre Kisamare
Communications Manager