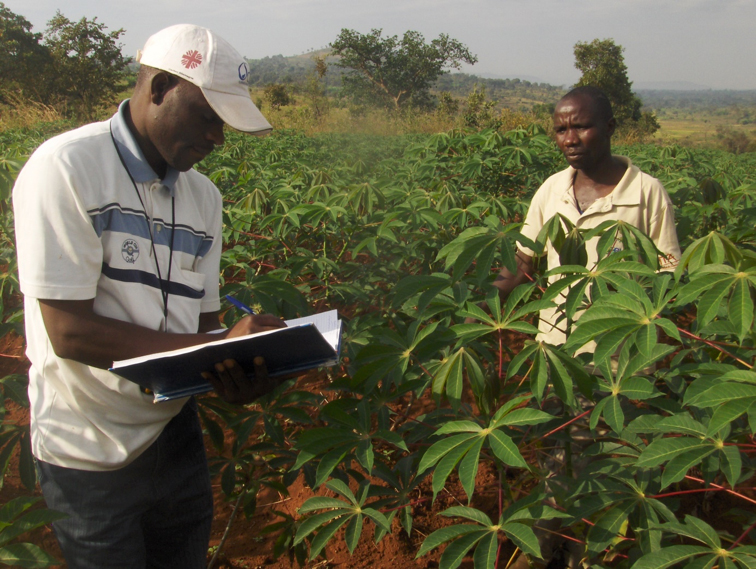 Seed agronomist – ISSD Project (left in photo)
"What is important in my work is that it provides solutions to the problems that farmers and seed purchasers face. Indeed, the use of quality seeds is minimal in Burundi, which explains the low average crop yields for farmers in the country. By demonstrating the added value provided by the use of quality seeds, I hope to encourage farmers to use them and thus increase their yields. So far, the level of research is in its infancy, but I hope to improve that by bringing entrepreneurs closer to the researchers and helping the researchers meet their needs."
Ernest Ndihokubwayo, seed agronomist for the new ISSD project, joined IFDC in November 2014. He is based in Burundi, where he promotes the use of quality seeds to local farmers through demonstration farms and seed exhibitions. He also trains local agro-input dealers in the marketing and distribution of quality seeds, ensuring that farmers have easy access to the inputs that they need to maximize their profits and crop production.
Prior to joining IFDC, Ernest assisted local NGOs in spreading awareness about quality seeds and inputs throughout Burundi. The country had slowly begun pulling itself out of a crisis that had lasted from 1993 to 2005, though the population was still debilitated by drastic food insecurity. In his work, Ernest sought to alleviate these countrywide issues by reviving the farming sector, targeting local farmers with improved seeds that produced more nutritious and disease-resistant crops.
With IFDC, in addition to promoting the use of quality seeds, he helps senior researchers and agronomists adapt to the unique needs of Burundian farmers and entrepreneurs. Closing the knowledge gap between researchers and smallholder farmers, and thereby improving the lives of those farmers and their customers, gives Ernest a sense of fulfillment in his work.
Ernest Ndihokubwayo holds a degree in Agricultural Engineering from the Faculty of Agronomy at the University of Burundi.