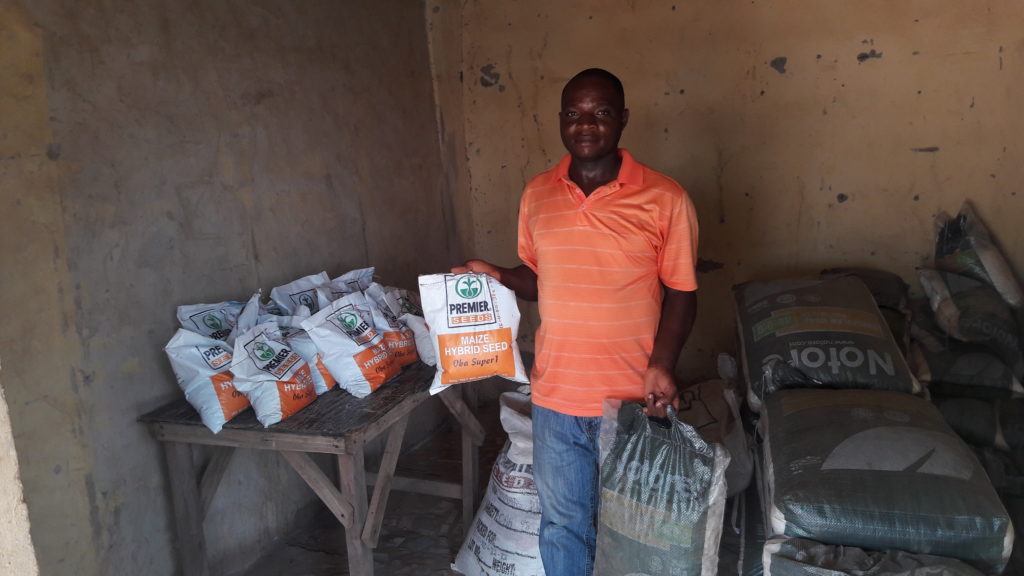 Fajemi inside his agro-input store
Two Feed the Future projects are partnering to improve rural livelihoods in Nigeria. The Feed the Future Nigeria Agro-Inputs Project implemented by the International Fertilizer Development Center (IFDC) and Feed the Future Nigeria Livelihoods Project implemented by Catholic Relief Services (CRS) signed a Memorandum of Understanding in December 2015 to increase smallholder farmers' access to quality agro-inputs in the Federal Capital Territory (FCT) and Sokoto state.
Field agents working with the Nigeria Livelihoods project are young entrepreneurs who provide extension advice to farmers in their communities. The Nigeria Agro-Inputs Project will train the agents to become rural agro-input dealers, supplying farmers with high-quality inputs and other services. Gognaje's Inputs Venture is a product of this partnership.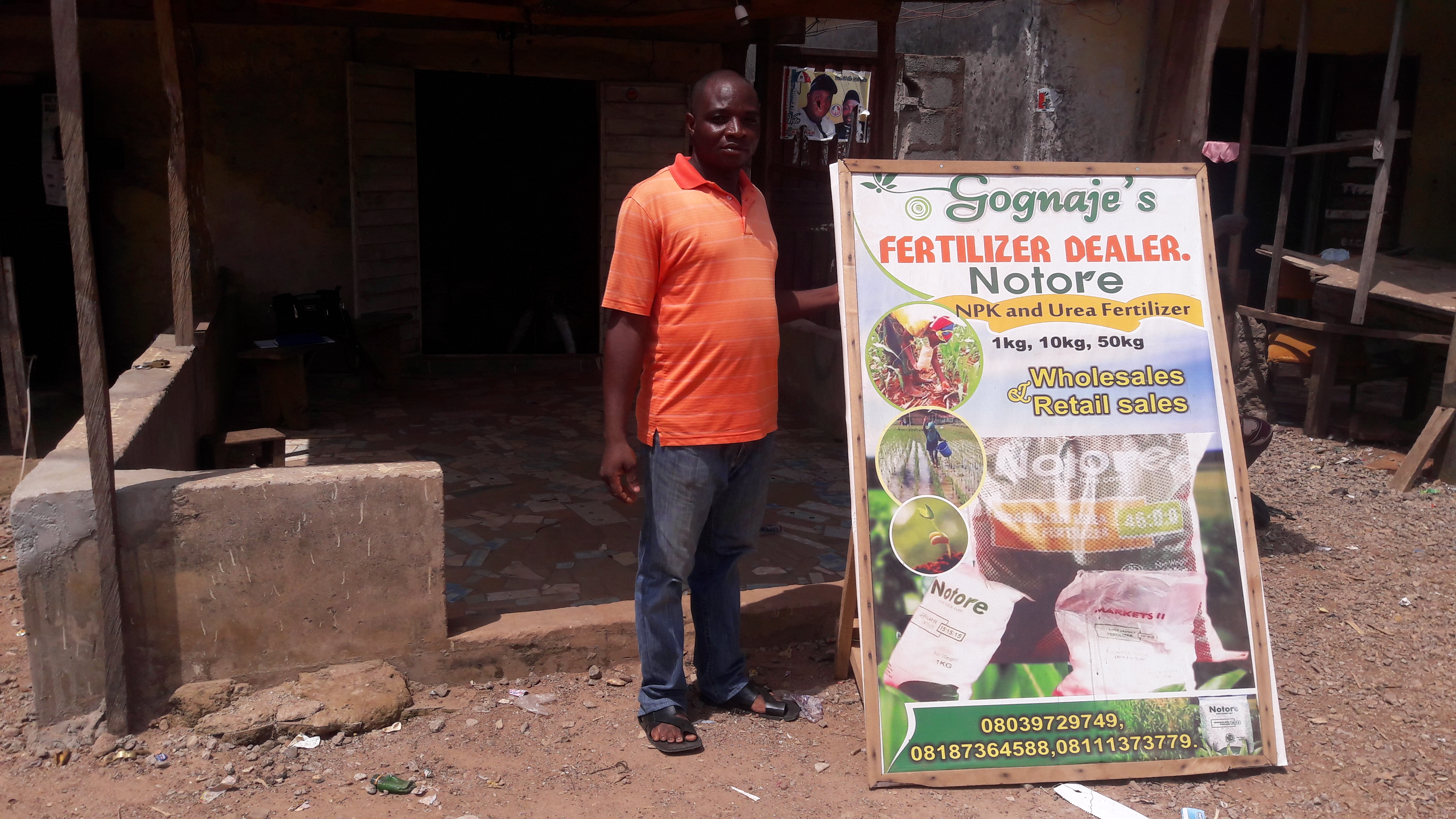 In February 2016, the Nigeria Agro-Inputs Project trained 21 agro-input dealers in the FCT. Eight trainees were field agents from the Nigeria Livelihoods Project. Gognaje Fajemi, one of the beneficiaries of the training, was linked with veteran agro-input dealer Alhaji Abdullahi for mentorship. Fajemi was also connected to agro-input suppliers and manufacturers, allowing him to purchase inputs and start up his new agro-input business.
A farmer and secondary school graduate, Fajemi worked with the Nigeria Livelihoods Project as a volunteer to mobilize and sensitize farmers on new technologies in FCT. He became a volunteer intending to improve farmers' practices, believing that better practices will lead to increased yields and income for farmers in his community. But he was surprised by how successful he became as well.
"I never knew that working as a volunteer would give me the opportunity to become an owner of an agro-input business," Fajemi said.
During his mentorship with Abdullahi, Fajemi expedited efforts to set up his business. After a one-month mentorship, Fajemi acquired a shop in Bwari Area Council and collected stock on credit of more than $150 from his mentor. His first stock included five bags of urea fertilizers, 15 bags of maize hybrid seeds, and five bottles of agro-chemicals. Through the knowledge he received from the agro-input dealer training and the sensitization skills acquired from working with the Nigeria Livelihoods Project, Fajemi was able to make quick, easy sales on his products.
"I carried my products to farmers' fields, where I told them the benefits of using products such as hybrid seeds and urea supergranules, among other inputs," he said. "I was able to sell my products and even had to order more to meet the demand of farmers."
Following the sales of his first consignment, Fajemi made direct contact with Notore Chemical industries to order his second stock of fertilizers – worth more than $250. He aims to hire a shopkeeper who will attend to farmers in the shop while he conducts demonstration activities on new technologies and quality agro-inputs.