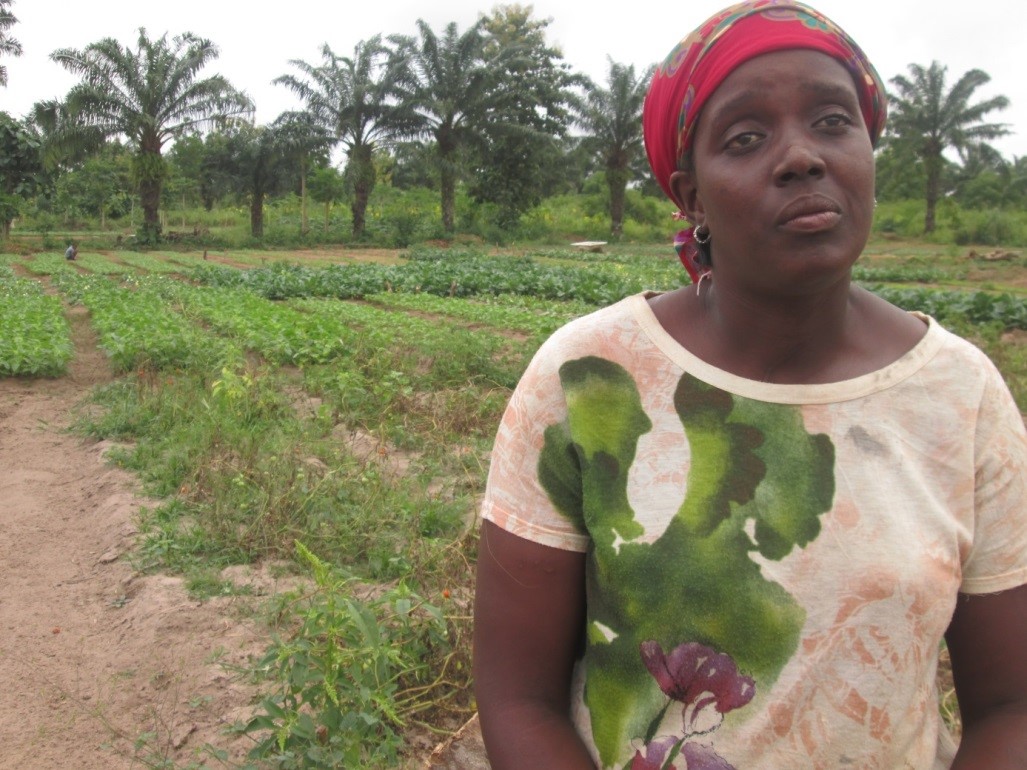 Nda is a young marketing graduate and vegetable farmer benefiting from a partnership between 2SCALE and East West Seed International. Her story is below:
Nda Danielle, 32, holds a license degree in marketing and has been involved in vegetable production since 2011. She is now the General Secretary of l'Association des Maraîchers de la commune d'Abomey-Calavi, southern Benin, where 2SCALE supports a vegetable partnership driven by East West Seed International (EWIT).
Why would a marketing graduate choose to grow tomatoes?
Moving from marketing to farming, for me, is not a 180° turn. Studying marketing drove me to work in a company to sell products and services. I just decided to produce and sell vegetables. In addition, studies are not an end in themselves but a means to a successful life. As for me, farming is a way to get there. Today, I'm running a small farm of less than 1 hectare where I grow several vegetables, particularly onions, tomatoes, carrots, papayas, and many other popular vegetables in the market.
Talking about the market, what is yours? What is its size, its requirements?
I sell to traders of Cotonou and Porto Novo, but Benin is directly connected to Nigeria by an 800 kilometer border, and Nigeria is Africa's largest consumer market. This is a giant client with hundreds of millions of consumers, and the demand for fruit and vegetables remains high throughout the year. Buyers come from Lagos, Kano, Ibadan, etc. This is a huge business opportunity for vegetables.
Opportunities barely go without challenges. What challenges did you face?
Before beginning the partnership three years ago, we first submitted our business idea, and it is on this basis that we were selected. Then 2SCALE organized workshops where our business ideas must pass a strength test to see if they are realistic and deserve support. The third step involved a participatory diagnosis to develop an action plan. This diagnosis has revealed some problems: access to investment credit and, especially, access to quality inputs, starting with good seeds. I should say that in Benin, the degeneration of seeds and monoculture are two key factors that limited our yields. There is also the use of unregistered pesticides or even the misuse of pesticides and chemical fertilizers. Low water control is still an issue. But the most alarming issue was related to the bacterial pressure. For example, our local seeds are not resistant to the bacteria called Ralstonia. Because of this bacteria, the producers of our association were ruined. Many growers found themselves in debt, and many fled this work to try to survive in the cities.
How did you overcome these challenges?
First, we established agribusiness clusters to better work together alongside the value chains. This includes input suppliers, we as producers, traders, wholesalers who buy our products, and a Business Support Service. This service was contracted to implement a work plan aiming to improve our capacities through training both on-site and in the fields. For example, our association was selected to host a learning plot, where we learned good agricultural practices. The learning plot was also used to test the performance of EWIT's products in comparison with other local varieties or marketed by other companies.
I can say that the turning point of this process was our linkage with EWIT. Their tropicalized seeds are truly exceptional. And beyond seeds, EWIT gave us a lot of skills and competencies in innovative farming techniques. We discovered plastic mulch, which improves the protection of young plants against fungal attacks. We learned about staking, which promotes the development of plants, and we were introduced to drip irrigation, which saves three times more water and watering time.
What were the real outcomes of these innovations and new knowledge?
They are clear: EWIT's seeds are unique in that they provide firm and compact fruits. This firmness reduces transport-related losses, and for the traders who buy our product, this is a lot of money. We also sell to restaurateurs who say that the Padma variety, for example, has a great taste and a beautiful bright color, which embellishes their dish. We, as gardeners, experienced average yields that have increased from 35 tons to 59 tons. I can tell you that it is a true performance. No one has ever achieved such a record here in the town of Calavi.
Because of this performance of Padma, the producers are back in their gardens, and we resumed business. I should say that the business had been seriously affected by this bacterium history, but today in Abomey, as well as in Grand-Popo, producers and traders are reconnected and discuss new activities. We can say that vegetable production is reborn, although we still cannot meet the demand.
How would you explain the gap between demand and production volumes? 
I think this is due to the rudimentary nature of our work equipment. To produce more, we need modern equipment, and this requires agricultural credit. After solving the question of seeds, we have been working on this issue as well. 2SCALE put us in touch with ALIDé, a local microfinance institution. Through this mediation, and because of the organization and technology package we had, ALIDé funded 77 members of our association, amounting to 105.8 million FCFA (U.S. $179,960). This money has allowed many to improve irrigation systems and to purchase inputs.
Personally, I have received a loan of 300,000 FCFA ($510), which I have already paid from the first harvest in 2013. In 2014, I had a loan of 1 million FCFA, which I have also paid off. Now, my goal is to move from 1 hectare to 5 hectares, because the market is really big, and I think the industry has a future.
Looking at the future, can we conclude that we are on track for sustainable change in the vegetable market in Benin?
You know how it works: You solve one problem today, and other ones will arise tomorrow. One of our concerns is to secure our access to EWIT seeds. Then, we have to expand credit facilities and other financial services to the greatest number of producers to allow dissemination of innovations we have learned. We are also facing the issue to secure our lands, and this requires strong advocacy with the authorities in order to implement land policy that protects small producers against uncontrolled urbanization and land speculation.
Eating habits are changing because people know more about the nutritional value of tomatoes, cucumbers, and onions. Market farming and urbanization feed off each other, but the trend today is that luxurious houses are replacing our gardens around our cities. Perhaps, only one in ten producers has a land title. If nothing is done to enable them to become landowners, in ten years cities will eliminate the gardens that surround them and feed them. And if so, how will we feed the cities, which are growing a bit more each day?
Nda's story concludes our series about Youth in Agriculture in West Africa.