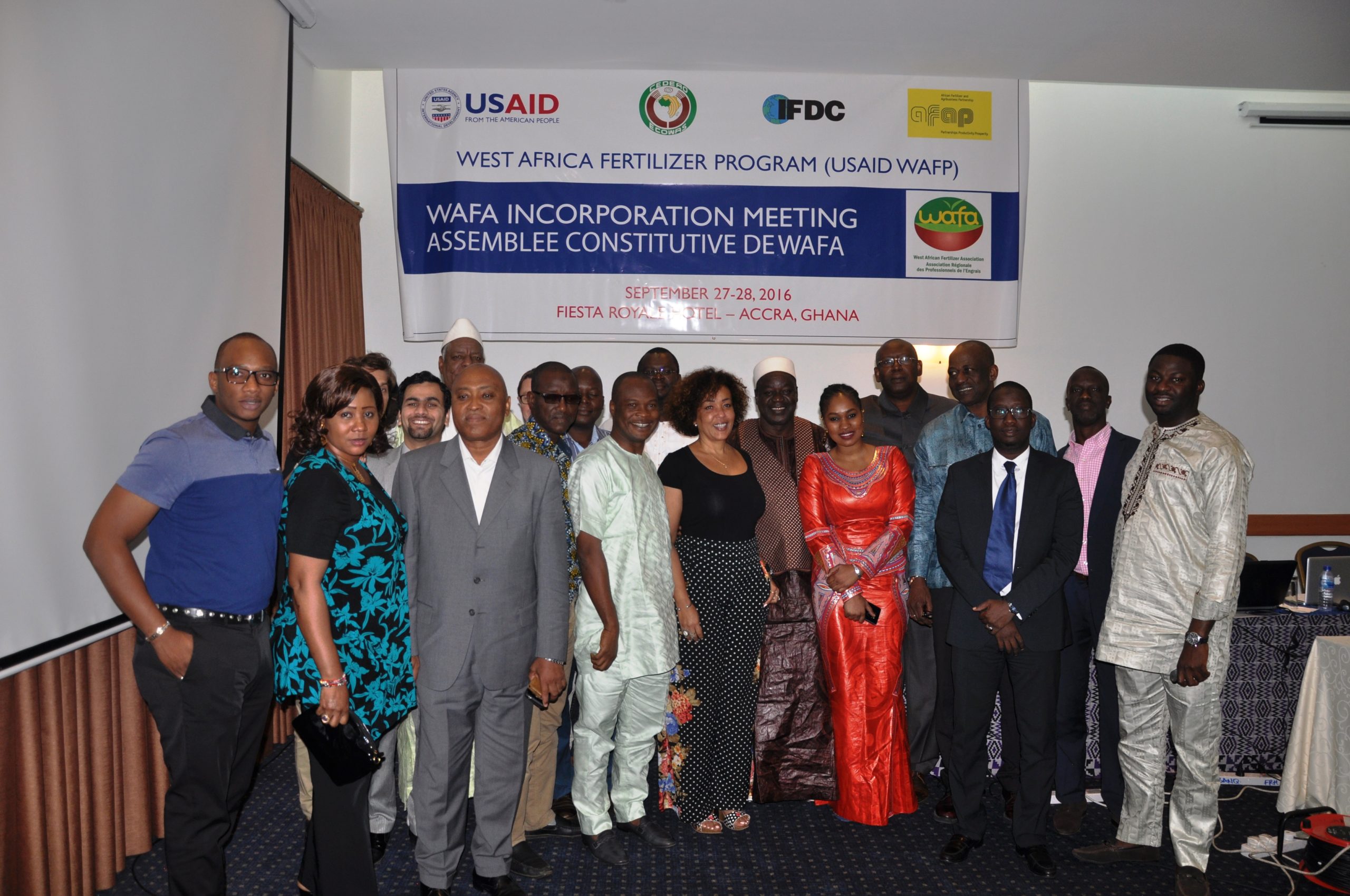 The USAID-West Africa Fertilizer Program (WAFP), after months of sustained coordination efforts, has brought the West African Fertilizer Association (WAFA) into being.
WAFP facilitated the proceedings of the two-day incorporation meeting at the Hotel Fiesta Royal, Accra, Ghana on the September 27-28, 2016.
The first day of the meeting opened with the reading and adoption of the WAFA's by-laws and rules of procedures by members comprised of representatives from the private sector fertilizer industry. WAFA, during this inaugural General Assembly, proceeded to elect its seven-person Executive Board, headed by President Moussa Diabate from Mali.
Diabate showed his appreciation for the confidence that the assembly has in the newly elected board, and he urged members to work assiduously towards achieving WAFA's goal: increasing the availability of affordable and quality fertilizers in West Africa, as this is crucial to attaining food sufficiency in the region. He stressed that getting this done would demand the support of everyone.
"I entrust you to be critical of the board's actions and decisions in order to inspire us to attain excellence. Together, we can achieve," he concluded.
Apart from the 22 representatives comprised of producers, blenders and importers from eight ECOWAS Member States present at the meeting, officials of the International Fertilizer Development Center (IFDC) also witnessed the proceedings.
A brainchild of USAID-WAFP, WAFA is intended to be a regional strategic partner in the creation and maintenance of a regional environment that would facilitate the availability and use of quality and affordable fertilizers in West Africa.
Congratulating members of the association's newly elected board, IFDC's business development and fertilizer value chain specialist, Martin Drevon, reiterated USAID-WAFP and IFDC's commitment to support the sustainability of the WAFA initiative by strengthening its capacity over the next eight months.
On the fringes of the meeting, Drevon made a presentation that took a retrospective look at accomplishments of USAID-WAFP and support provided to the technical working group in the months leading up to the birth of WAFA.
He thereafter took WAFA members through the possible roles that USAID-WAFP can play in the future, taking the Association through its future action plans and ensuring its sustainability over the coming months.
"The nature of this support will be comprised of funding for the permanent secretariat, the provision of office accommodation to house the association, facilitating a Public Private Partnership (PPP) between WAFA and ECOWAS, as well as other partners, including the transfer of USAID-WAFP business tools to WAFA," Drevon explained.
WAFA will be temporarily sheltered at the IFDC Offices in Bamako, Mali while registration formalities are being processed.