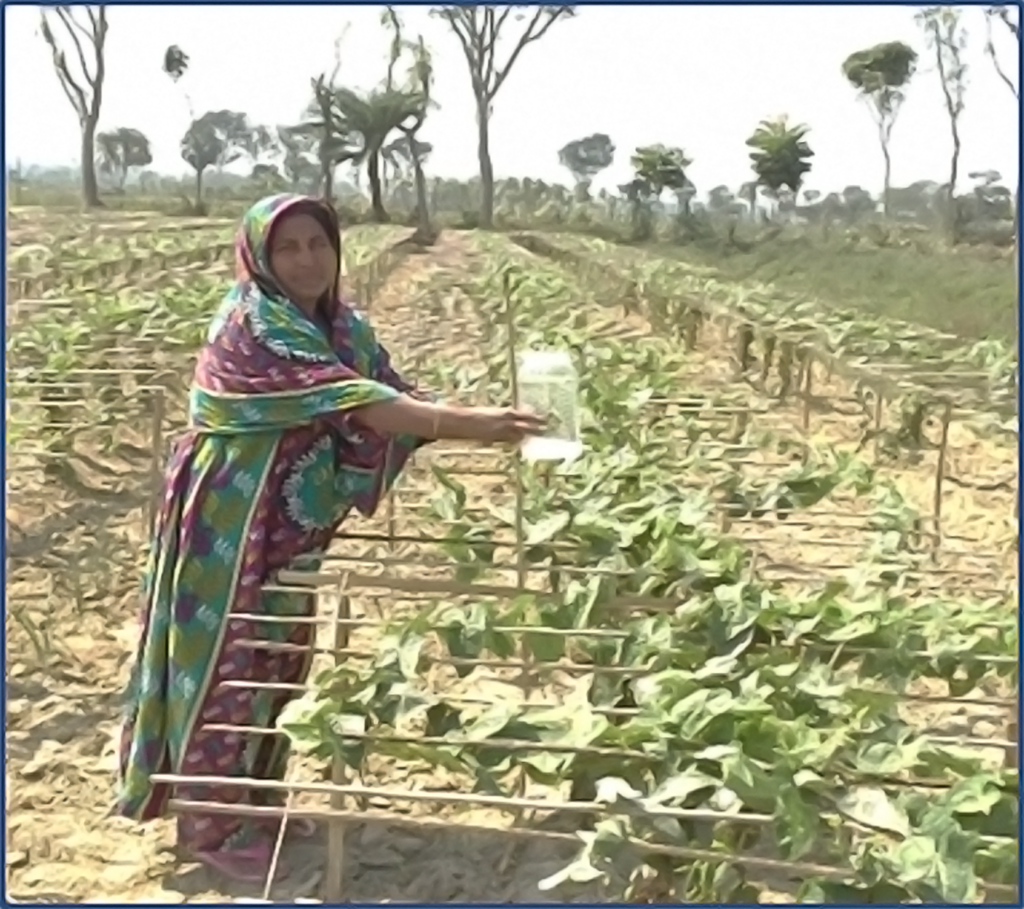 In 2013, IFDC began a project in partnership with the Walmart Foundation to assist 40,000 Bangladeshi women to increase yields and incomes in their home vegetable gardens. The two organizations' partnership and goals are continuing through the Accelerating Vegetable Productivity Improvement (AVPI) project, which targets 52,000 women farmers and 25 women agro-input dealers.
Anwara Begum, one project beneficiary, and her husband farm about a hectare of land in Jessore, located in the southwestern region of Bangladesh. Anwara dedicates about half of this land to vegetables, which for the past 26 years has produced low yields, with just enough left to sell to earn a gross income of about $1,500.
As a hardworking farmer, though, Anwara was not satisfied with her production or income, so she sought assistance from her village's extension officer from the Bangladesh Department of Agricultural Extension. The officer pointed her to a vegetable productivity training program offered exclusively to women by IFDC.
At the training, she learned the value of using quality seed and sapling varieties, planting at the optimum time, spacing plants for increased production, using fertilizer efficiently, and many other techniques to ensure that her hard work paid off.
Afterwards, she convinced her husband to apply her newfound knowledge and technology (namely, urea deep placement) on small plot of land. That season, she harvested 3,200 kilograms of eggplant from the plot, which usually only yielded 436 kilograms. After giving some away to friends and putting some back for her own family, she sold the rest for about $770.
Last winter season, Anwara grew rice, lentils, and various vegetables, and because of her increased crop productivity, she more than quadrupled her gross income. Because of her success, Anwara's husband gave her ownership over a piece of land, which greatly increased her household role.
"Now, I can make decisions myself on any matter," said Anwara, "and my husband supports me on anything."