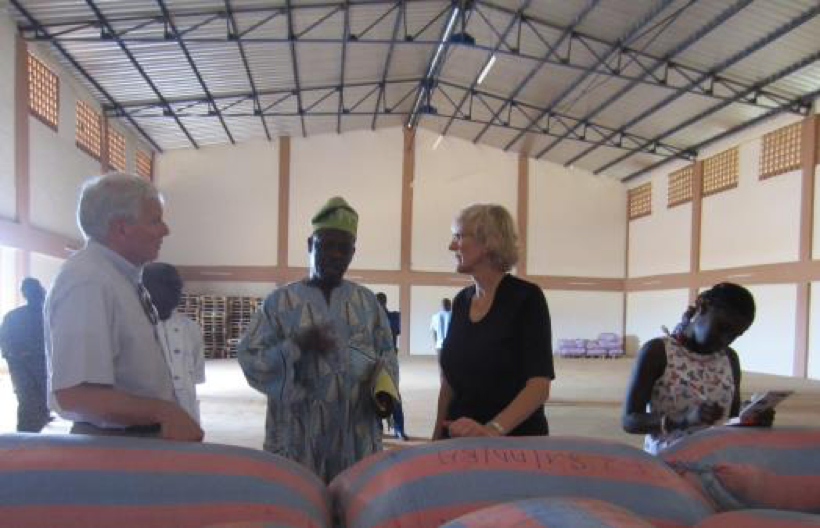 IFDC President and CEO Scott Angle tours the new ACMA project-facilitated maize storage facility in Ifangni, Benin.
ACMA Benin, funded by the Embassy of the Kingdom of the Netherlands, is improving agricultural performance in the country. By working with local governments in the rural parts of Benin, the project seeks to ensure food security, while contributing to its economic and social well-being.
I recently traveled to Benin to see firsthand the impact this project is having on farmers and business men and women of the region. I was very impressed by the way farmers, business people, and community-elected officials came together to develop this project, and I noted that it was one of the most outstanding examples of a ground-up project I had ever seen. In fact, the matchmaking between farmers and markets is something invariably seen in advanced economies.
With this sense of unity and the development of the project, it becomes easier to improve the quantity and quality of agricultural products, including maize, chili peppers, and palm oil. The impacted communities are able to realize higher and more stable returns for products transported primarily into Nigeria for sale.
By being better able to control both product quality and timing of sale (resulting from project-funded storage), farmers are seeing greater benefits to their bottom line, and new businesses are being created to support the value chain. Led by Ms. Ursula Kohnen, ACMA has demonstrated the power of inclusiveness for long-term benefits to the entire community.
While in Benin, I had the distinct privilege of witnessing great progress, as well as being welcomed as an honorary citizen of the Commune de Sakete by the Honorable Pierre Adechi, mayor of the city. The people graciously gifted me with the key to the city and asked me to return often to witness the tremendous progress the people of Benin are making. I look forward to seeing the growth they experience.
From the Corner Office is a regularly updated blog from IFDC's president and CEO, Dr. J. Scott Angle. Check back regularly for trip updates and other news from Dr. Angle.