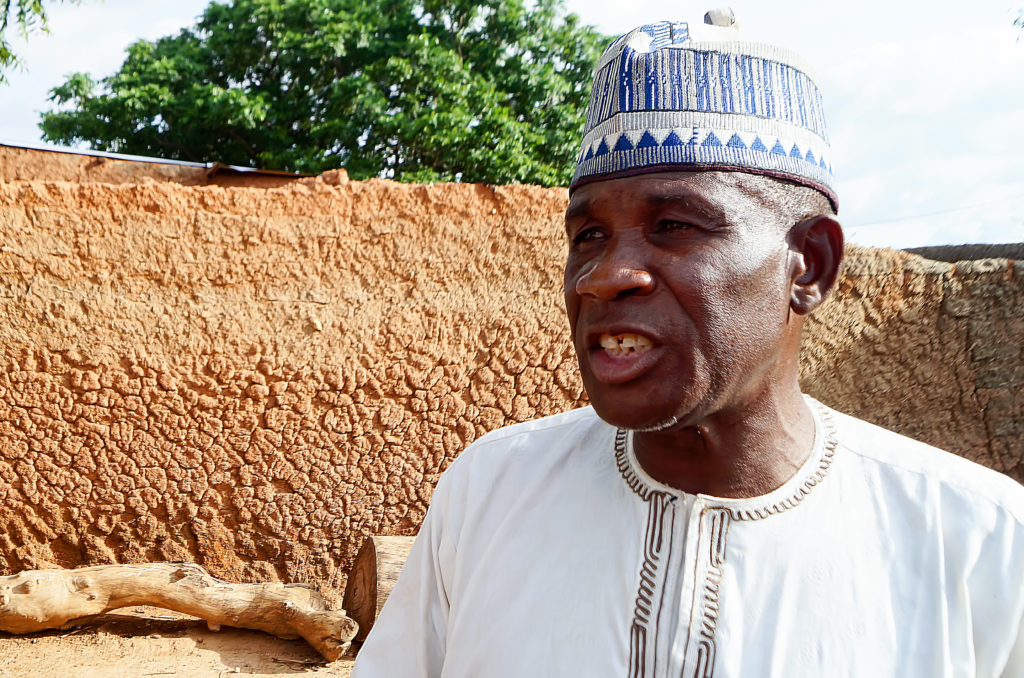 We asked Bature Abdullahi, farmer and agribusiness coach from Tapoki village, in north western Nigeria. It is here that IFDC, in partnership with Nestlé, implements the Sorghum and Millet in the Sahel (SMS) project, with the goal of improving the quality and yield of these crops and developing farming as a sustainable business.
But what is sustainable business? "Everybody needs to find his or her profit. A business that is profitable is by nature a sustainable business," said Bature.
In most African countries, farmers usually work individually. Why did you decide to come together through clusters?
Before, we were operating individually, and we discovered that we lost a lot of synergy because we need help from each other in terms of experience, capital and even influence. Coming together appeared to us to be the best way to face our common challenges. I now belong to a farmer cooperative group, and I'm now head of an umbrella producer organization composed of four cooperatives. The cluster includes four other cooperative societies and brings together sorghum and millet famers, input dealers and retailers. For example, when we come together, we are able to access the government agencies and other partners to assist us in our farming activities. We also negotiate better with our buyers as a group than we do individually.
What would you say were the top challenges you faced before joining the SMS project?
Initially, in this part of the country, we didn't produce white sorghum, but when we joined the SMS project, we had the insight that white sorghum was very profitable. Initially, our first challenge was having access to a ready buyer. When we produce, where do we sell? That was a big issue.
Our second challenge was access to correct seed, hybrid seed, which is disease-resistant and high yielding. The third issue was capital. As a farmer, you need enough capital to produce, because farming now is just like any other business. Another hot issue was access to inputs such as fertilizer. Even though we used to have access to fertilizer in the open market and through government programs, we lacked the knowledge and skills to identify a genuine fertilizer as well as other chemicals, such pesticides, and how to use them properly. Last but not least, we also lacked experience to manage our groups.
Before the SMS project, we had administrative challenges because organizing people is not easy when you deal with different cooperative societies from different places, different visions and different interests. You need strong management skills to make all the groups work together and make them function as a team. So when the SMS project started they gave us leadership training, and that gave us a lot of knowledge and skills on how to organize ourselves.
We have four cooperative societies that function together in our cluster, under a leadership based on transparency and fairness. Managing a group requires some organizational and administrative skills because when you bring different people with different visions and interests together, it is extremely challenging.
What where the key actions undertaken under the SMS project to address these challenges? What would you consider key achievements, and what are the areas where you could not improve the situation?
The first achievement is the knowledge we gained on how to produce white sorghum. Our farming techniques, like broadcasting fertilizer instead of microdosing, were outdated and ineffective. The project introduced modern techniques that farmers now widely use. These innovations include spacing of seedlings and good application of fertilizer. In the past, because of our outdated farming techniques, we only harvested ten 100-kilogram bags per hectare. With the new skills we have, we can now harvest up to 25 to 30 bags per hectare. We also complained about local finance. The project was able to teach us how to deal with it through internal savings combined with soft loans from a microfinance institution.
As far as access to market is concerned, the project opened our minds to the fact that no matter the volume we produced of good quality white sorghum, there is a buyer – like Nestlé, which specializes in producing high-quality nutritious food products.
Before Nestlé, there were other companies who were willing to buy white sorghum from us, but we had to transport the product to the market. And if the negotiations failed, we had to take the products back home. This often resulted in loss of money and quality. Nestlé would come to buy it through an aggregator to whom we now sell to as a group, based on off-take contracts we sign even before we start producing. The difference is that on the open market, there is no guarantee to sell, and the prices are not stable. To avoid taking their products back home, farmers sometimes sell their harvest at very low prices. With the new arrangement, no matter the volume we have, we can sell it at a good price and at any time. However, this market is much more challenging because it requires a very good quality crop.
Good quality means mainly cleanness, no aflatoxin, and no pesticide residues. How do you deal with the high quality standard that this kind of contract requires?
We are trained to meet this quality standard. We are trained on post-harvest management, cleaning, and storage to ensure good quality. In the past, we stored produce in warehouses that are not suitable for storage, and we used to apply chemicals to protect the crops. This has changed.
How did you solve the finance issue, if you could solve it?
Our four cooperatives are composed of 115 farmers. Since we started the SMS project, we have been able to raise a loan for 60 farmers to purchase inputs. The volume of 3 million Naira was achieved, ant this was the very first time we dealt with a bank successfully, as the money was fully repaid because of the leadership within the cooperative and linkages in the cluster. We know what everybody does from the sowing to the harvest, and we follow up at each stage to make sure everybody repays their loans.
What would you say is the specific added value of the Nestlé market and the SMS project?
I think it's the various trainings we receive and the establishment of a business relationship with farmers, input buyers, traders, and other external partners. This is a real innovation in how we practice farming. We are now trained in financial and economic analysis, which is widening our view. We now have strong skills in negotiating with our partners. We have learned how to maximize our profits and to reduce our marketing cost. We went through business analysis and business innovations with ICRA [a consortium member of the 2SCALE program led by IFDC, which also supports the SMS project].
The second training was financial analysis, which answered a number of questions, including "How can you raise funds for your business, both internally and externally? And when you finance, how do you manage it?" The third training was about economic analysis. It teaches production techniques and marketing. What are the techniques to produce high yields and ensure quality? And when you achieve a good yield, how do you market it? Through which channel?
You know, now, when we meet the aggregators who buy from us, we don't just give them the product. We go into a roundtable discussion and say, "OK, this the way you are going to take the product from us." It's business, business all the time. We need to maximize our turnover and profit.
What is the guarantee that these achievements will be sustained after the project?
The guarantee is that we are making better profits by producing white sorghum for Nestlé. Everything you are doing needs to yield benefits, and the profits we are getting are a guarantee that business will still go on. I use the term "business" because farming is a business like any other business. This is how we now look at it, and this is the guarantee that it will last long.