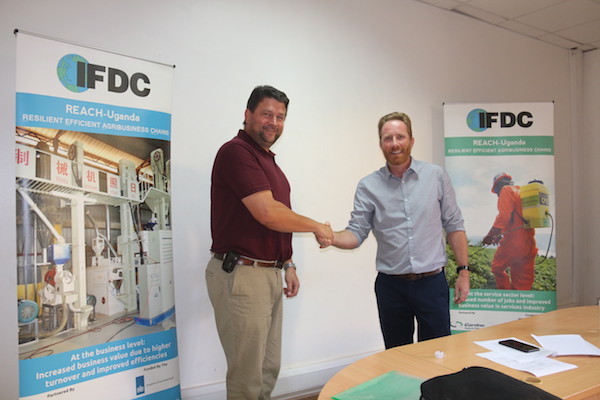 Tobias Basson (left), HighGrow Agri representative, shakes hands with David Slane (right), IFDC Uganda Country Representative and REACH-Uganda Chief of Party, at the conclusion of the partnership agreement signing in Kampala.
On August 17, 2017, IFDC's Resilient Efficient Agribusiness Chains project in Uganda (REACH-Uganda) brought on board its first commercial partner, HighGrow Agri (HGA). During a meeting at the IFDC Uganda country office in Kampala, REACH-Uganda Chief of Party David Slane and HGA representative Tobias Basson signed an agreement in which REACH will assist the company in business development and commercial production and marketing of seed and ware potato in Uganda for Dutch potato varieties.
A follow-on to the CATALIST project (2012-2016), REACH-Uganda is a four-year (2016-2020) initiative funded by the Embassy of the Kingdom of the Netherlands, Kampala. It seeks to improve market engagement for 40,000 market-oriented farmers, strengthen household resilience, and increase availability of agricultural support services for farmers and businesses operating in the rice and potato value chains in Southwest and Eastern Uganda. REACH integrates productivity, profitability, and resilience. The project's integrated implementation approach will provide technical assistance, capacity building, and market facilitation to enhance the productivity of smallholder farmers and farmer business groups.
HGA's mission is to become one of Uganda's first commercial potato farms, which will feed not only the growing nation of Uganda but also the entire East African region.
REACH will work with HGA staff to develop an action plan that addresses business development constraints, defines solutions, and identifies staff responsibilities to implement the solutions. REACH also will occasionally provide consulting services using in-house resources and outside experts.
Basson, HGA representative, anticipates that the collaboration will enable the organization to understand the nation's potato market and aid in decisionmaking as well as expand the potential market for their potato ware.
"This partnership will improve our network building with farmers, seed off-takers, and input suppliers," he said. "We will also collaborate with experts to identify production principles that can improve the production of potatoes as well as establish the best varieties for the industry."
Basson further added that HGA's initiative with REACH-Uganda will change marketing perceptions of the average Ugandan. For example, instead of farmers selling potatoes in measures of basins, bags, and tins, they will be encouraged to use more standardized measurements, such as kilograms. Basson concluded by saying that HGA's hope is to introduce size and quality standards into the Ugandan potato sector, such as classifying produce packs as large, medium, small, or first grade and second grade.
Slane, REACH-Uganda Chief of Party and IFDC Uganda Country Representative, lauded the partnership, saying that it will improve farmers' access to quality materials for potato growing and offer IFDC an opportunity to strengthen the linkage between Uganda and the Dutch private sector in seed potato export.