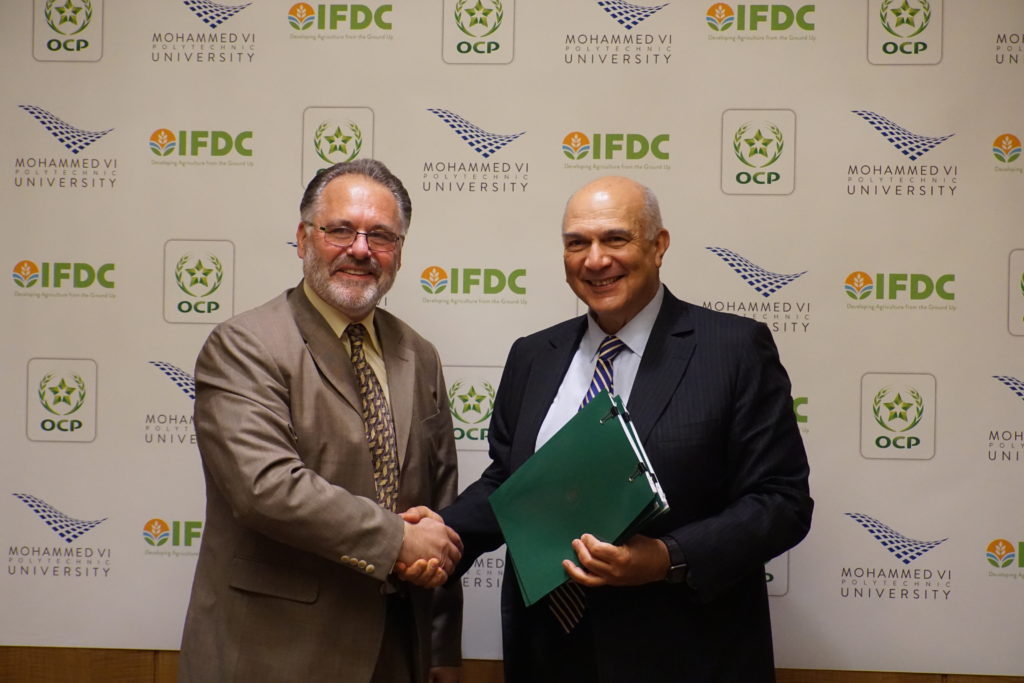 Albin Hubscher, President and CEO of IFDC shakes hands with Mostafa Terrab, Chairman and CEO of OCP at a signing event in Washington, D.C.

New partnership will explore new fertilizer systems, develop value chains and implement field projects to benefit African farmers
April 12, 2019 – Washington, D.C., United States – The International Fertilizer Development Center (IFDC), OCP Group and Mohammed VI Polytechnic University (UM6P) have announced a multi-year partnership to collaborate on the engineering of new fertilizer technologies, improvement of crop- and soil-specific fertilizer recommendations, development of value chains and market systems, and research and implementation of fertilizer systems to benefit African farmers.
The partnership was announced at the signing of a master agreement between IFDC's President and CEO Mr. Albin Hubscher and OCP's Chairman and CEO Mr. Mostafa Terrab on April 11 in Washington, D.C.
"This partnership will accelerate the development and large-scale production of more efficient fertilizers to increase smallholder productivity and incomes while respecting the environment," Hubscher said. "The partnership is unique because it invests in a public good: the next generation of African scientists and professionals to drive the growth of the agriculture sector and feed the continent."
"This important partnership with IFDC confirms and advances our ambition to mobilize world-class resources in research and innovation for the benefit of Africa in general and African smallholder farmers in particular," Mr. Terrab said. "We believe that this program has the potential to transform our continent's fertilizer industry, and we are pleased to embark on this journey with IFDC."
The master agreement outlined collaboration areas in which the OCP-UM6P-IFDC consortium will undertake projects with the ultimate aim of boosting African agriculture and farmer livelihoods through innovative fertilizers that meet the specific needs of the African soil and socio-economic conditions for sustainable development.
The partnership utilizes the unique abilities of the consortium members to combine research and education with implementation under real-life conditions. The collaboration areas will be mutually reinforcing, develop science-based interventions, produce a large body of scientific publications, and create the next generation of transdisciplinary trained scientists who can bridge the gap between science and implementation.
###
Contact:
IFDC – Andy Thigpen (Head of Communications; +1 256 381 6600, ext. 299; athigpen@ifdc.org)
OCP – Kenza EL OUALIDI (International Media Relations Specialist; +212 522 92 90 43; kenza.eloualidi@ocpgroup.ma)
UM6P – Khalid BADDOU (Chief Communication Officer; +212 666 12 39 87; khalid.baddou@um6p.ma)
About IFDC
The International Fertilizer Development Center (IFDC) began in 1974 with the mission to improve soil fertility and crop nutrition in tropical regions. Since then, IFDC has grown to encompass an array of agricultural solutions — from market development to policy advocacy, fertilizer technology development to project implementation in the field, and farmer mechanization to micronutrient research. For more information, visit www.ifdc.org.
About OCP Group
OCP plays an important role in feeding a growing global population, by providing essential elements for soil fertility and plants growth.
With almost a century of experience and revenues reaching US$ 5.95 billion in 2018, OCP Group is a leader in the phosphate rock and the world's first producer of phosphate-based fertilizers. OCP provides a wide range of well-adapted fertilizer products to enhance soil, increase agricultural yields, and help feeding the planet in a sustainable and affordable way. Thanks to its large-scale integrated industrial development strategy, OCP is present on the entire phosphate value chain and operates on all of its business lines, offering to its 23,000 employees a development path focused on excellence. Headquartered in Morocco, OCP works in a close partnership with more than 160 customers over five continents.
Committed to best serve the development of Africa, OCP places innovation at the heart of its strategy, in particular to implement sustainable and prosperous agriculture on the continent. As a responsible industrial player, OCP is strongly committed to Africa's environmental, social and human development.
The Group is firmly convinced that leadership and profitability are necessarily synonymous to social responsibility and sustainable development. Its strategic vision resides where these two dimensions meet.
For more information, please visit OCP Group's official site at: www.ocpgroup.ma.
About Mohammed VI Polytechnic University
Mohammed VI Polytechnic University is a hub of education, research, innovation and entrepreneurship, aspiring to become a solid bridge of knowledge between Morocco, Africa and the world.
Located in the "Mohammed VI Green City" in Benguerir, near Marrakech, UM6P applies a "learning by doing" approach and develops sound partnerships with worldwide class universities, to promote leadership and training in focused research areas.
By contributing to the training of a new generation of researchers, entrepreneurs and leaders, UM6P is committed to positioning Morocco and Africa at the forefront of technology and human sciences.