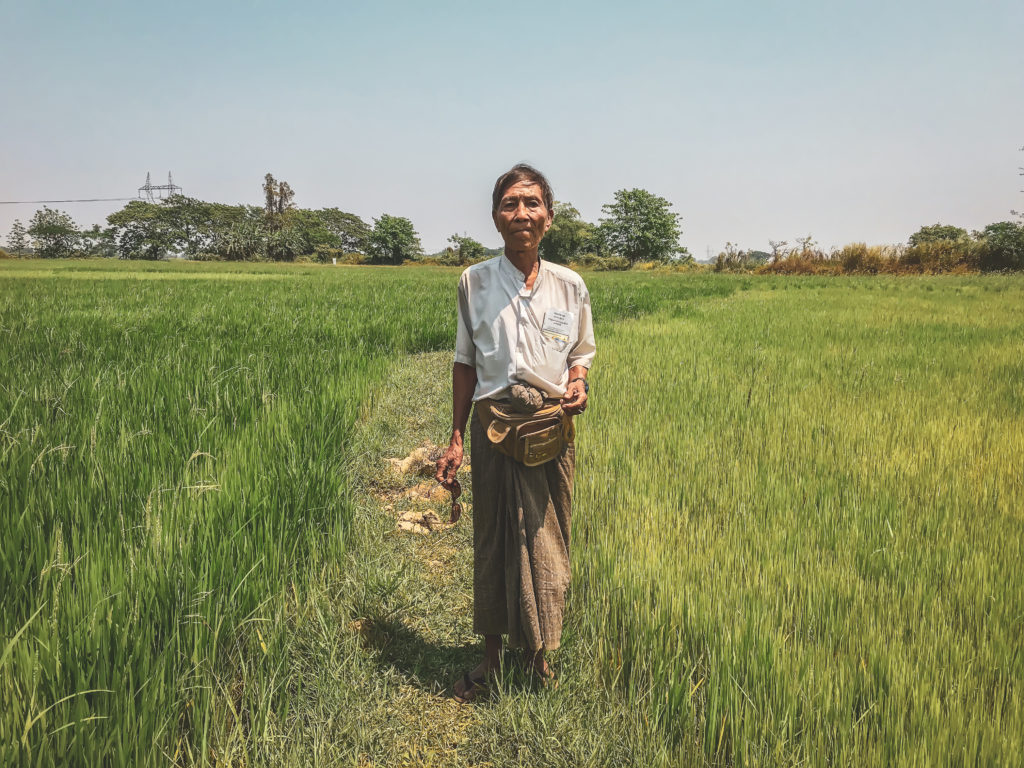 Kyaw Win demonstrates the visible benefit of applying UDP (left).
Kyaw Win, 73-year-old former Department of Agriculture employee-turned-producer, farms ten acres of rice in the Yangon Region of Myanmar and is one of many farmers who has seen the benefits of urea deep placement (UDP) technology.
In 2018, IFDC's FSI+ project offered UDP training in Kyaw's town and established a balanced nutrient management and demo plot on his farm. He also attended IFDC's farmer training programs. In addition to learning about UDP, he was trained in farming methods such integrated pest management and other good agricultural practices (GAP).
After the training, his eldest son, who manages farm operations, and sister, who is also a farmer and an active participant in farmer trainings, purchased briquettes and applied UDP on a small portion of their farm.
"I'd carefully followed the advice on spacing and placement, and the crop grew well," Kyaw said, "It yielded 130 baskets on 1 acre (6.7 tons/ha). This was about 10 or 20 baskets per acre more than normal."
With his agriculture background and the knowledge and experience he gained at the training, he was able to grasp the technology faster and apply it on five acres of his farm in the wet season of 2018. He and his sister continued applying urea briquettes by hand.
This year IFDC conducted field day at Kyaw's demo plot to demonstrate the technology to 56 farmers from 7 villages. On that day, farmers could learn about the yield difference between UDP and farmer practice.
"I wanted teach other farmers to use UDP and show them its benefits because it is a low-cost, urea-saving, and high-yielding technology, " Kyaw says.
Kyaw Win encouraged farmers to try the technology. In cooperation with a local IFDC partner organization, he led a farmer training, motivating his neighbors to try UDP and transferring his knowledge to others in his village, as well as neighboring villages. After seeing first-hand the good results, other farmers showed a strong interest and willingness to invest in the technology, anxious to apply UDP to their own fields in the next season.
Kyaw is a trailblazer for community adoption. In the 2019 dry season, he led for collective purchasing of urea briquettes for his village by contacting the briquette machine owner in his village. He purchased 1500 kg of briquettes and shared with five farmers, three being from neighboring villages.
"I'm currently applying UDP to my 5 acres farm by hand," Kyaw said, "I'm going to expand paddy production to a larger area. From now on, I will always use UDP technology on my whole farm. Special thanks to IFDC for their support for teaching us about UDP, which we would not have known about otherwise. Now, we all know the benefits of UDP technology very well as it is an effective method of applying fertilizer. I'm sure that our farms will produce high yields. I believe this technology can work very well in future for the benefit of our community. I will lead the charge in buying the briquettes and distributing to other farmers so that this practice continues."