On Thursday, June 06, 2019, a ceremony was held to deliver processing and storage equipment to partners of the Communal Approach for the Agricultural Market in Benin – Phase 2 (ACMA2) Program. The ceremony took place at the storage and marketing warehouse built by ACMA2 with funding from the Embassy of the Netherlands for the benefit of the Federation of Producers Unions of Benin (FUPRO).
ACMA2's support to agricultural stakeholders in market access is based on the provision of all the necessary information on market needs and requirements in Benin and Nigeria to facilitate market linkages. The ACMA2 program addresses market issues by mobilizing the stakeholders of Agricultural Business Clusters (ABC) to respond to market opportunities identified in Nigeria and Benin. Several actors are involved in the processing of the products they put on the market. To increase their processing capacity and the quality of their product and address the need of processing, storage, and raw material transport equipment, the ACMA2 Program provides them with processing and marketing equipment.
"The objective of this activity is to provide beneficiaries with equipment's that can enable them to mobilize a range of competitive products in quantity and quality for the market and to improve the performance of their actions in the value chains," explained Constant Dangbegnon, Chief of Party of the ACMA2 Program.
The beneficiaries are cassava and palm nut processors of 11 municipalities of the Ouémé, Plateau, Zou and Collines departments. They benefited from 349 pieces of equipment (worth 21,895,000 FCFA), which is comprised of 11 cassava reapers, 15 cassava presses and a palm oil press, 5 cookers, 2 palm nut mixers, 8 three-wheel motorcycles, 30 basins, 27 stoves, and 250 ton-size palm oil storage barrels.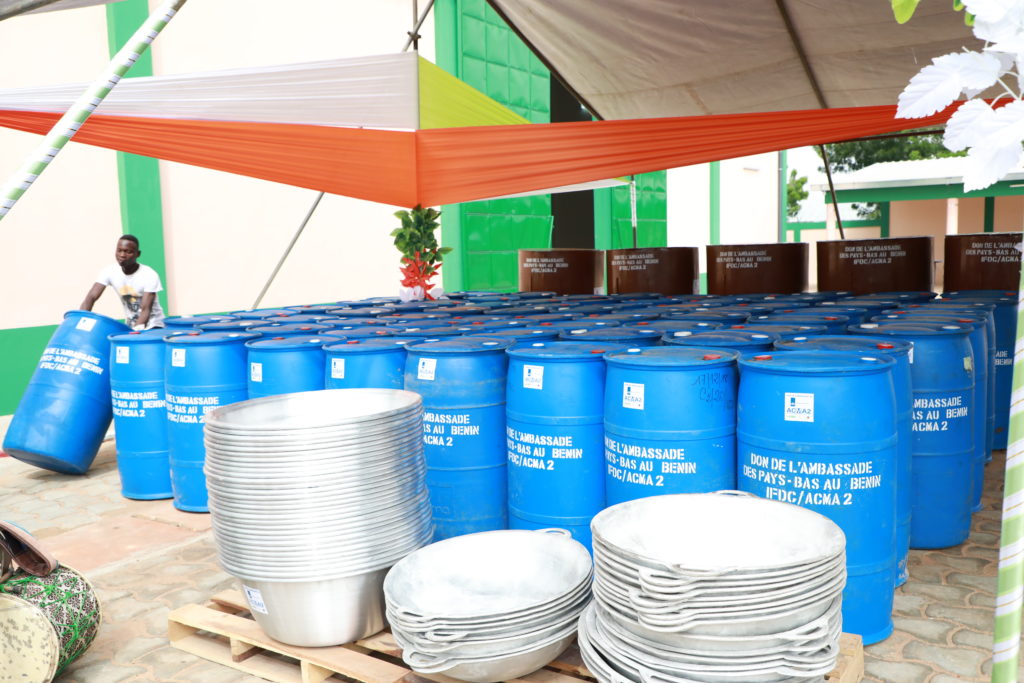 In his speech, Minister of Agriculture Gaston Dossouhoui said, "By choosing to provide support to the agricultural sector through the support of women and young people, the Kingdom of the Netherlands, in a remarkable way, contributes through the IFDC's ACMA2 program to the implementation of the vision of the Benin Government to revive the agricultural sector and empower women."
ACMA2 is a project funded by the Embassy of the Kingdom of the Netherlands in Benin. It aims to improve the food and nutritional security of rural populations in 28 municipalities in the departments of Ouémé, Plateau du Zou and Hills. The program's approach is to consolidate the achievements of Phase I (2013-2017) and facilitate access to local and international markets (particularly Nigerian) for the economic actors (producers, processors, traders, etc.) of the ABCs. This is accomplished through targeted actions on product value chains (access to inputs and innovations, access to financing, and marketing and professionalization) and multi-stakeholder dynamics considering the resources and potentialities available within the municipalities. The program is implemented by the IFDC in consortium with CARE International Benin/Togo and the Royal Netherlands Institute for the Tropics (KIT).