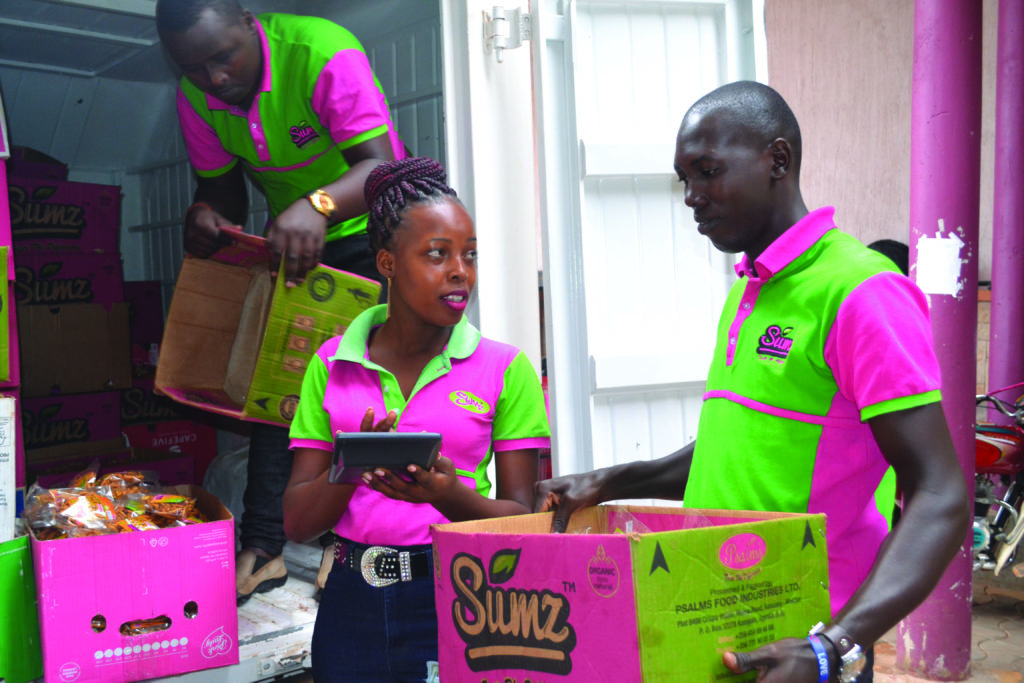 A key aspect of sustainable development and fostering resilience is a strong private sector-led market. Building capacity of local companies, providing technical training, and linking farmers to markets are all key to improving livelihoods for farmers, increasing profits for companies, and establishing a resilient market system.
Through a portfolio of business partnerships, the Resilient Efficient Agribusiness Chains in Uganda (REACH-Uganda) project is applying a market systems development approach to link rice and potato farmers to processors. The project, funded by the Embassy of the Kingdom of the Netherlands (EKN) in Uganda aims to improve farmers' market engagement, strengthen household resilience, and increase availability of agriculture support services for 40,000 farmers and businesses in the rice and potato value chains.
REACH-Uganda's recent results are showcased in these Intervention Factsheets. Each sheet focuses on one of the many vibrant partnerships established in the rice and potato value chains. Together, they show how effectively the market systems development approach is improving lives and businesses.
---
A Partnership in Action: No More Small Potatoes
Since 2010, Dennis Ngabirano and his wife Maureen have been building a Ugandan food brand using locally sourced produce — a unique venture with distinct opportunities. Their company, Psalms Food Industries Ltd, produces a line of products under the brand name "Sumz," which includes potato, plantain, and cassava chips and peanut butter, cashew nuts, and pumpkin seeds. All of these products are sold in supermarkets across the country, and Psalms also exports to neighboring countries. Currently, potato crisps make up 50% of all sales and represent the greatest opportunity for further company growth.
Despite the company's growth since 2010, Dennis and Maureen are faced with challenges. They remain committed to sourcing locally produced potatoes, and though Uganda's potato sector is growing, supplying quality potatoes to meet demand can be difficult for farmers. The lack of a seed industry is one culprit, which means local farmers have limited or no access to improved potato varieties and clean, certified seed. Bad seed means higher risk of disease, overall poor quality, and potatoes too small for processing. Further, fractured supply chains mean farmers do not always understand businesses' demands and lack incentive to change their practices.
To continue building its brand and still source local produce that can compete with imported products, Psalms Food Industries Ltd has partnered with REACH-Uganda to intervene at a systemic level and to improve business processes, strengthen supply, and explore the introduction of new potato varieties. The visuals below show how the system works to benefit farmers and Psalms Food Industries Ltd, along with some highlighted results we have seen and expect to see in the future.
The visual below represents how the system works to benefit farmers and Psalms Food Industries Ltd., and some of the results we have seen and expect to see in the future.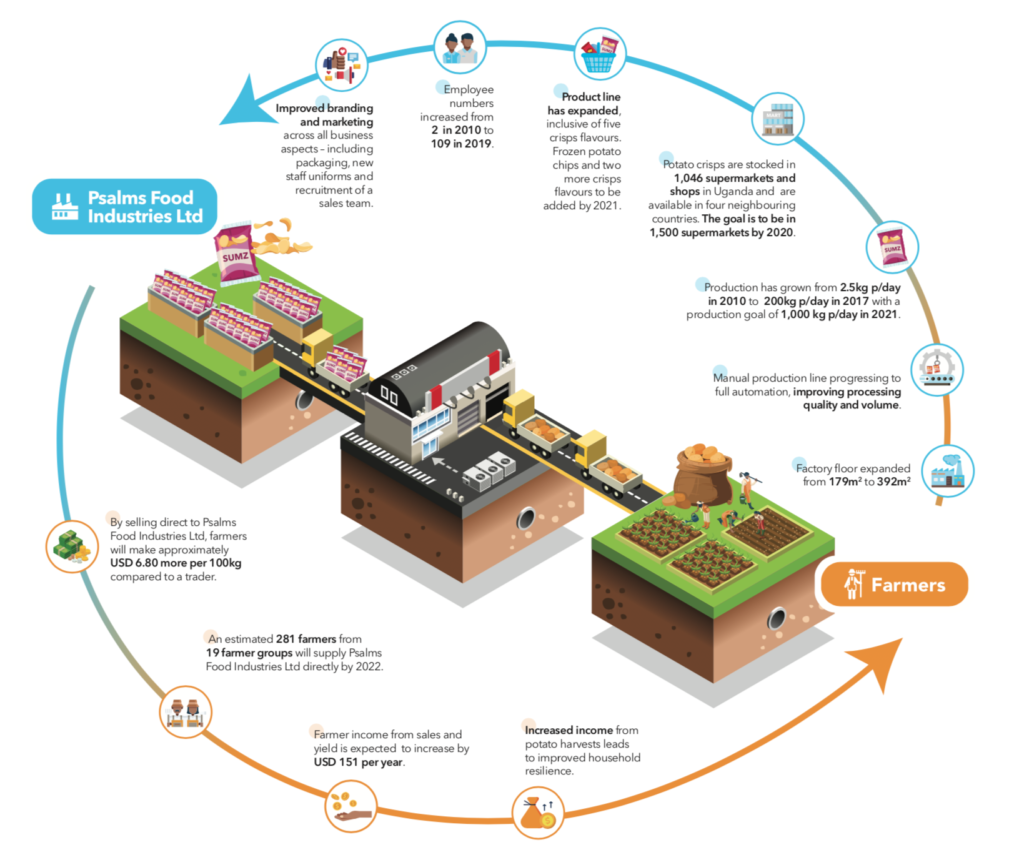 Caption: By developing efficient market systems, REACH-Uganda's activities ensure that businesses like Psalms Food Industries Ltd and the farmers that supply them are increasing their productivity and profitability.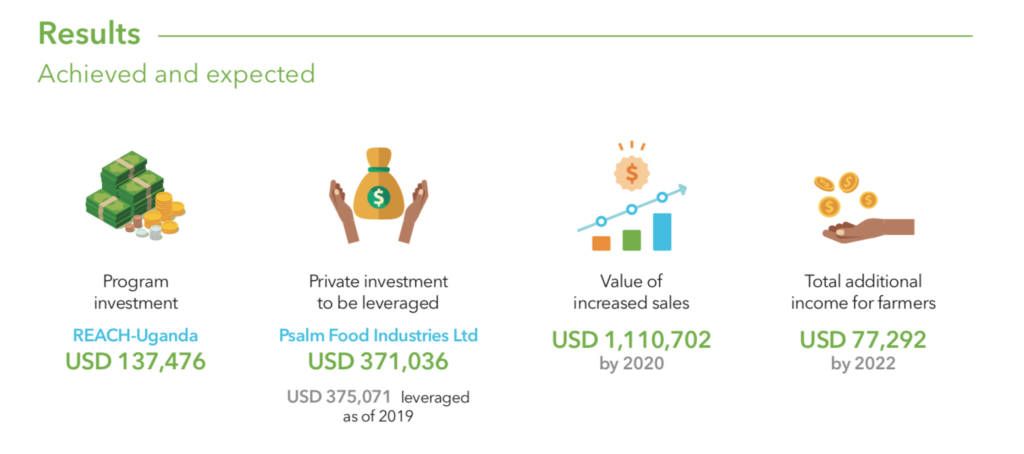 Caption: Through this partnership, REACH-Uganda expects to achieve substantial long-term results for Psalms Food Industries Ltd. and local potato farmers.  
Intervening for Change
The other factsheets below tell similar stories of change catalyzed by business partnerships with IFDC's REACH-Uganda project. Whether establishing the potato seed industry that offers locally produced, affordable, certified seed to farmers, or working with rice producers to establish demonstration plots to show farmers the benefits of using clean, certified seed and good agricultural practices, the REACH-Uganda project is improving the profitability of both farming groups and communities as well as the private sector companies they sell products to. Bringing people and businesses together in a mutually profitable, efficient system is just one way IFDC's work establishes resilience where it's needed most.
Download the Factsheets
Diner's Group Limited

Increasing the use of multi-stage rice mills to improve rice quality in Uganda, benefiting farmers and consumers

Kibimba Limited

Building a seed business to support lowland

rice production and move Uganda closer

to a self-sufficient rice industry

Mengya Integrated Farmers Association

Establishing a seed potato industry in Eastern Uganda

Psalms Food Industries Limited

Building a Ugandan food brand with Ugandan produce, that can compete with imported products