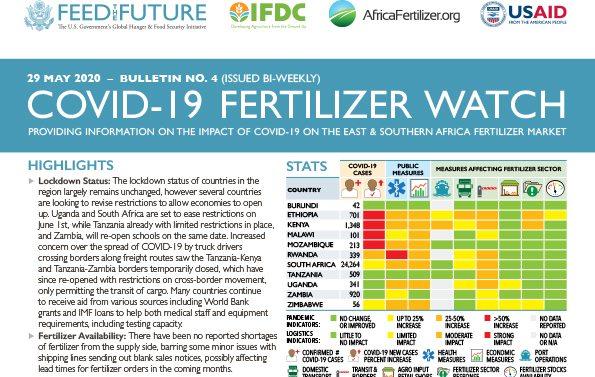 Due to the rapid spread of the novel coronavirus (COVID-19), governments all over the globe have placed restrictions on various forms of travel and trade. In many nations in Africa, where rates of food insecurity and malnutrition remain high, a prolonged restriction on the import and distribution of agricultural inputs could have profound negative impact on food production, which could cause a hunger crisis in addition to a sanitary one.
What is the East and Southern Africa Fertilizer Watch?
IFDC and AfricaFertilizer.org are working to ensure that fertilizers and other agricultural inputs are able to move freely throughout the region – despite necessary government measures to stop the spread of COVID-19 – so that they can continue to reach farmers in time for the growing season. This initiative is led by the two organizations with support from the USAID-funded Bureau of Resilience and Food Security (RFS) Feed the Future project on Soil Fertility Technology Adoption, Policy Reform, and Knowledge Management (RFS-SFT) implemented by IFDC.
The East and Southern Africa Fertilizer Watch is designed to provide bi-weekly (twice per month) updates to stakeholders throughout 11 countries in the region using data collected around 10 indicators. These indicators are related to a variety of information such as the spread of COVID-19, measures taken by country governments, and logistical constraints that affect fertilizer flows. The goal is a well-informed and prepared fertilizer supply chain, where actors can use the information to plan accordingly and ensure consistent delivery to farmers.
Current Highlights
Published Thursday, May 14, 2020. These highlights will be updated every Thursday.
The overall impact on fertilizer supply and distribution of COVID-19 related actions in East and Southern Africa (ESA) is not causing significant supply issues presently. However, there is concern that future constraints on cash availability will arise in the on-farm sector from limited demand in the coming season due to uncertainty in export and national markets.
Update #1 – April 23, 2020
Update #2 – April 30, 2020
Update #3 – May 14, 2020
Update #4 – May 28, 2020