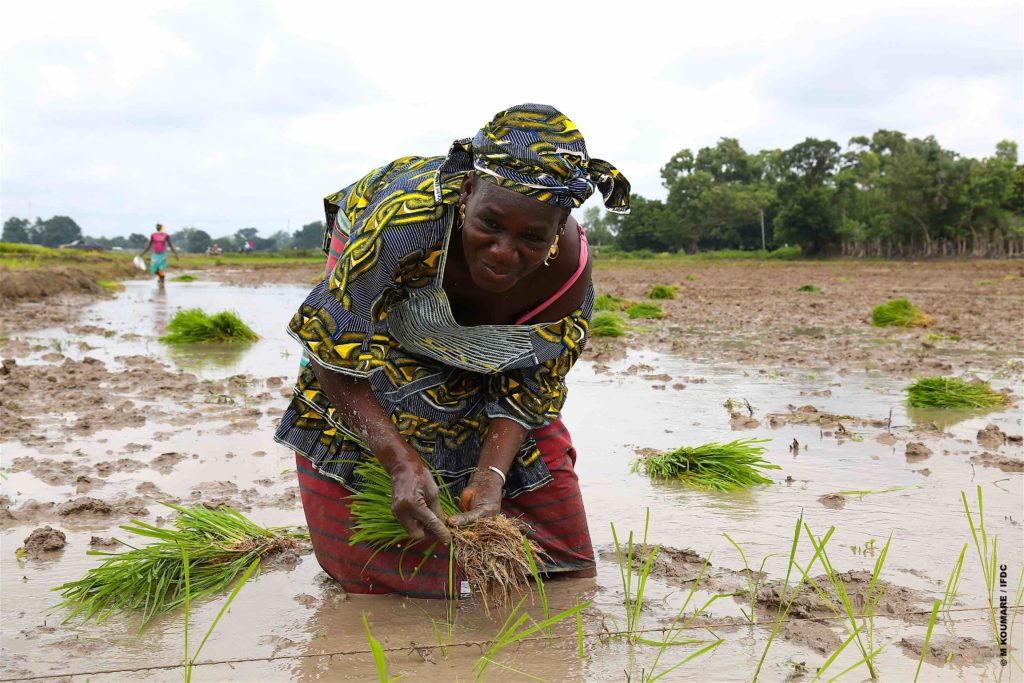 ---
Letter from Our Leadership: Navigating Uncharted Waters, Reflecting on Successes
As we navigate our way through the uncharted waters of 2020, we reflect on our work and successes accomplished in 2019.
Last year, Albin Hubscher took the lead as President and CEO of IFDC. Almost immediately, management and select staff, encouraged by the Board, set about crafting a new strategy and way forward for the organization. IFDC's new streamlined strategy, completed early in 2020, focuses on developing better technologies, increasing on-farm productivity, strengthening market systems, and facilitating an enabling environment for smart agricultural policy and knowledge sharing. The strategy is discussed in our feature story.
Our staff continued their excellent work and, by the end of last year, converted more than 100,000 hectares of smallholder farmland to improved agricultural technologies. More than 200,000 farmers utilized these technologies on their land, and more than 250,000 farmers participated in training and capacity building, with women representing 31%. In addition, we established more than 13,000 demonstration plots, formed and facilitated an astounding 523 public-private partnerships, and led over 4,000 outreach activities.
We were also able to sign a new Master Agreement with the OCP Group in Morocco. As part of this public-private partnership, IFDC and OCP will work together with the Mohammed VI Polytechnic University (UM6P) on various research, implementation, and education projects with the ultimate goal of developing and increasing farmer access to new fertilizer products and boosting their incomes.
Thanks to the combined efforts of the IFDC team, we were able to finalize the process with the Dutch Ministry of Foreign Affairs that led to the signing of a Coordinated Relationship Management agreement facilitating partnership with IFDC and providing for simplified review and reporting processes. This agreement will continue to strengthen our relationship as we work with the Dutch Government and in-country embassies throughout Africa.
Our great work in East and West Africa and South Asia is built upon a strong foundation within the organization. In 2019, we strengthened internal processes by transitioning to an accounting software powered by NetSuite, which allows for an improved procurement process and faster delivery of financial results. In addition, we fully implemented the EthicsPoint platform, which provides employees a safe whistleblower mechanism to anonymously report misconduct if that should occur.
Unfortunately, we mourned the passing of Dr. David Glenn. David was the Chief of Party of our Dry Zone and Uplands Agro-Input and Farm Services project, funded by the Livelihoods and Food Security Fund (LIFT) in Myanmar. His passing was truly a tragedy and a great loss for our team.
We express our sincere gratitude to all donors and partners that have supported IFDC during the past year. 2019 was a successful year for IFDC, from both a project implementation and a financial perspective. However, we face many new challenges in 2020. It will take the best effort and ingenuity of the IFDC Board, management, and staff to negotiate this unprecedented time and to ensure that food security of the most vulnerable of our society is not compromised any further. We are optimistic that we will successfully meet these challenges with our passion, creativity, and determination.