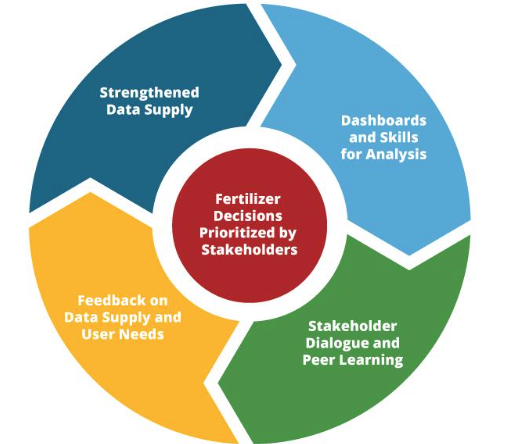 From fertilizer price to consumption, a new dashboard makes Kenya's fertilizer data easier to access, use, and share for national and county level decision making. The dashboard was developed through a joint partnership between Development Gateway, AfricaFertilizer.org, International Fertilizer Development Center, and the African Fertilizer and Agribusiness Partnership.
NAIROBI (September 1, 2020) – Timely, accurate data are critical to support closing the gap between farmer demand and fertilizer supply during the planting season. The Visualizing Insights on Fertilizer for African Agriculture (VIFAA) Kenya Dashboard works to visualize key information on fertilizer price, use, product availability, and policy at the national and county level in Kenya. The dashboard – which launched today – is designed to provide reliable data that stakeholder partners can use in making data-driven decisions.
While fertilizer consumption in Sub-Saharan Africa has historically been low, fertilizer supply in the last decade has seen impressive growth. National and international organizations have taken notice, and increasingly look to boost agricultural output through improvements to farmer fertilizer consumption. Without reliable data, however, it is difficult for actors to make decisions based on real time needs.
To begin addressing these challenges, International Fertilizer Development Center's (IFDC), AfricaFertilizer.org initiative, the Kenya Ministry of Agriculture, Livestock and Fisheries, and Development Gateway have worked closely to co-design a user-friendly dashboard that meets the analytical needs of diverse stakeholders.
This data will inform decision-makers to get the right kind of fertilizer, at the right price and quantity to where it is most needed – and as a result, increase in fertilizer use in Kenya
The Kenya Dashboard
The VIFAA Kenya Dashboard contains 15 dashboard, such as fertilizer retail price, national average fertilizer consumption(kg/ha), and monthly product imports, to highlight and visualize key aspects of Kenya's fertilizer supply chain. VIFAA program partners worked extensively to gather feedback on which data to prioritize in the dashboard from stakeholders across national and county governments, the private sector, development partners, and research institutions. Data for the dashboard comes from a broad range of private and public fertilizer stakeholders, with Africafertilizer.org updating the data on a regular basis. A full list of data sources and methodology for each indicator is publicly available on the dashboard site.
The Kenya Dashboard is the first of three dashboards under the VIFAA program, with fertilizer data dashboards to follow in Nigeria and Ghana.
The Partnership
Visualizing Insights on Fertilizer for African Agriculture (VIFAA) is a four-year program led by Development Gateway in partnership with Wallace & Associates, International Fertilizer Development Center, and the African Fertilizer and Agribusiness Partnership. With support from the Bill & Melinda Gates Foundation, we are implementing a program to improve, manage, and visualize fertilizer data in Kenya, Nigeria, and Ghana.
Development Gateway (DG) – DG provides data and digital solutions for international development. DG creates tools that help institutions collect and analyze information; strengthen institutional capability to use data; and explore what processes are needed to enable evidence-based decisions. A mission-driven nonprofit since 2000 with staff based in five global hubs and around the world, DG supports the use of data, technology, and evidence to create more effective, open, and engaging institutions. DG developed the dashboard for the COVID-19 Africa Fertilizer Watch, and is the lead implementer of the four-year Visualizing Insights on Fertilizer for African Agriculture (VIFAA) program.
International Fertilizer Development Center (IFDC) – As an independent non-profit organization, IFDC works throughout Africa and Asia to increase soil fertility and develop inclusive market systems. Combining science-backed innovations, an enabling policy environment, holistic market systems development, and strategic partnerships, the organization bridges the gap between identifying and scaling sustainable agricultural solutions, resulting in improved household food security and enriched family livelihoods around the world.
AfricaFertilizer.org (AFO) – AFO is the premier source for fertilizer statistics and information in Africa. It is hosted by IFDC and supported by several partners, key among them being the International Fertilizer Association (IFA), Argus Media, and Development Gateway via the VIFAA program. Since 2009, AFO has been collecting, processing, and publishing fertilizer production, trade, and consumption statistics for the main fertilizer markets in sub-Saharan Africa. AFO has an extensive network of fertilizer industry players in the main fertilizer trade corridors and maintains key information on the major producers, their production facilities and capacities, importers/suppliers, and various distribution channels.
The African Fertilizer and Agribusiness Partnership (AFAP) – AFAP is an independent non-profit organization founded in 2012 by a partnership of African development organizations. It was built on the work of the Comprehensive African Agriculture Development Program (CAADP), a framework for achieving ambitious agriculture development goals set in place by African nations and leaders. AFAP implements sustainable development projects and advises public, private sector clients, NGOs, and donors on policies and market-driven business solutions in the agriculture inputs and agribusiness value chain. AFAP is a technical partner on the COVID19 Africa Fertilizer Watch, conducting impact assessments of the pandemic on agro-dealer business.