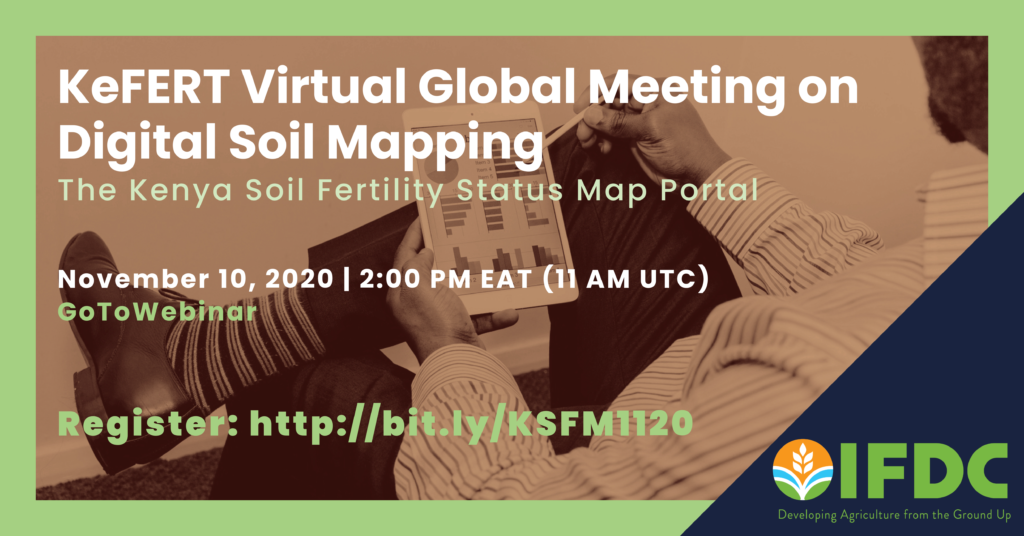 On November 10, 2020, the Kenya Fertilizer (KeFERT) platform hosted an online webinar to raise awareness of the mapping portal for use in research and learning in Kenya and globally. The event demonstrated and discussed potential applications for policy- and decision-making for the lime and fertilizer industries in Kenya and gathered feedback from the audience on the mapping portal, encouraged use of the portal, and spurred investments in soil mapping.
The global webinar is a follow-on to the preliminary webinar held on August 4, 2020. The preliminary webinar showed that a mapping portal can have a great impact in improving agricultural productivity and guiding policies in Kenya. The webinar also created great interest from different stakeholders and showed the need for a collaborative effort in expanding the scope of the soil mapping portal.
The webinar covered 11 additional counties in Kenya that were not presented in the preliminary webinar, for a total of 21 counties. These maps will be exhibited on an improved portal with faster processing speed and better visualization tools. Improved and complete nutrient status and soil acidity maps were explained and demonstrated on an interactive, web-based, publicly accessible portal. The maps cover 21 Kenyan counties with high productivity potential. A question-and-answer session followed.
Program
| Time | Activity | Speaker |
| --- | --- | --- |
| 2:00 | Introduction | Mercy Ngunjiri, Moderator |
| 2:05 | Overview and Opening Remarks on the Implications of Soil Mapping to Inform Policy and the National Strategy in Kenya | Prof. Hamadi Boga, Principal Secretary, State Department for Crop Development and Agricultural Research |
| 2:15 | The SMaRT Concept and the Importance of Nutrient and Acidity Maps in Fertilizer and Lime Targeting | John Wendt, Deputy Director Field Research, IFDC |
| 2:25 | Presentation on Soil Mapping Platform and Portal | Jeremy Cordingley, Managing Director, Cropnuts |
| 2:55 | Q&A | Mercy Ngunjiri |
| 3:15 | Key Webinar Highlights and Concluding Remarks | Dr. David Kamau, Head Environment and Natural Resources Management, KALRO |
| 3:25 | Wrap-Up and Closing | Mercy Ngunjiri |