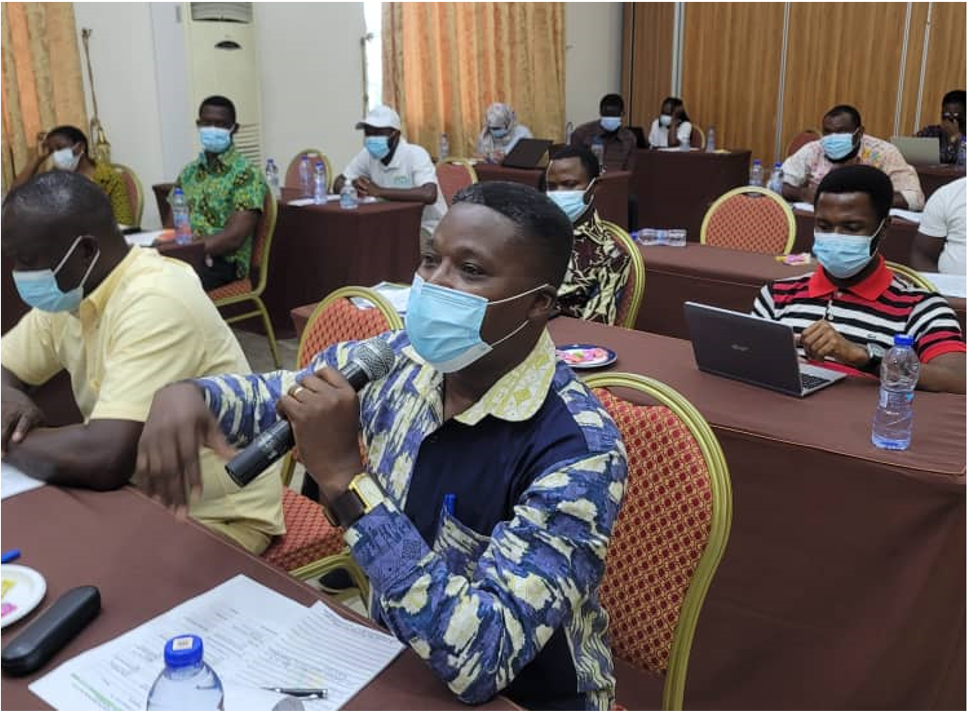 IFDC's Fertilizer Research and Responsible Implementation (FERARI) program is collaborating with the government of Ghana's Fertilizer Expansion Program to establish the Ghana Fertilizer Platform (GFP) for the sustainable development of the fertilizer sector for food and nutrition security. Fertilizer stakeholders in Ghana welcome a multi-stakeholder GFP.
Many stakeholders have bought into the GFP concept as a result of FERARI's work in supporting the processes with research and analyses, including identification of and interaction with over 50 key stakeholder institutions that could possibly be represented on the platform. FERARI's studies on the GFP provide solid information and concise recommendations on how the GFP could be successfully designed and operationalized as a truly functional, sustainable, and stakeholder-inclusive platform to purposefully address fertilizer sector issues.
FERARI representatives presented detailed reports on success factors and considerations for a successful GFP at a stakeholder roundtable meeting in April 2021. This presentation stimulated insightful discussions, generated enthusiasm, and delivered a course of action by and among participants on the GFP.
Consequently, the enthusiastic stakeholders at the roundtable meeting demonstrated their consensus and endorsement of the GFP by actively discussing and subsequently signing a resolution for its establishment. Further, they developed an action roadmap including pursuance of the GFP's formal registration and the engagement of associations of farmers, fertilizer retailers, and importers/blending companies to participate for effective realization of the GFP by end of 2021.
Consistent with its principle of providing a strong evidence base for establishing a relevant, representative, and sustainable GFP, FERARI is currently conducting research on strategically important issues to make useful recommendations for the process. These include research on framing and discourse analysis to generative effective modes of communicating fertilizer issues among actors and on power relations among actors with varying interests in addressing issues of scaling in the fertilizer value chain.
With the support of its partners, FERARI has been striving to ensure that the GFP becomes a reality, adding to a number of other country and regional fertilizer stakeholder platforms that IFDC has assisted in establishing.
***
FERARI integrates an on-the-ground implementation program to develop the fertilizer value chain with transdisciplinary research by Ph.D. and postdoctoral researchers, supervised by internationally renowned universities, and to build the research capacity at the involved institutions.
The program aims to develop the evidence base for the need of a systematic approach to support widespread farmer adoption of balanced fertilizers in the less developed markets of sub-Saharan African countries, specifically Ghana, to improve their food and nutrition security.
FERARI activities run from 2019 to 2024 and are co-funded by OCP, Mohammed VI Polytechnic University (UM6P), IFDC, and other involved institutions. Partners also include Wageningen University and Research (WUR), University of Liège (ULiège), universities and research institutes in Ghana, including University of Ghana (UG), Kwame Nkrumah University of Science and Technology (KNUST), and the University for Development Studies (UDS).