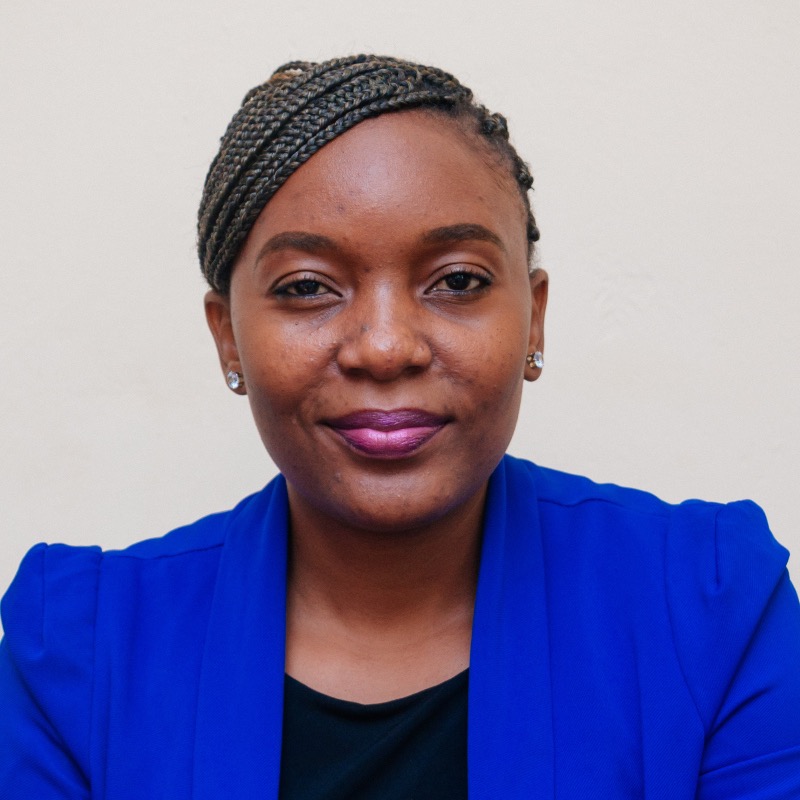 We are pleased to welcome Atlas Corps fellow Constance Munyenyembe to the IFDC team. Constance will serve as a Business Development fellow and brings a passion for women- and youth-led agribusiness to our team in Washington, D.C.
Constance Munyenyembe has five years of experience in the non-governmental/profit sector. She earned an Honors Degree in Business Administration from the University of Namibia. While working for Africa Agribusiness Academy as Malawi's Country Manager, she helped member businesses find new markets and new sources of finance for their agricultural products. As a Mandela Washington Fellow, she co-started the Agribusiness Hub Africa Initiative. She has facilitated training for Malawian youth entrepreneurs, who use their newfound knowledge and skills to expand their businesses. Constance enjoys focusing on topics of business/entrepreneurship and agriculture, with a strong passion for women and youth empowerment.
We sat down with Constance to ask her some questions and discuss her role at IFDC.
What first got you interested in Agriculture?
My family has always been agriculture-oriented. I watched my mother and sisters grow vegetables, and seeing their passion drew me in. I studied agriculture in junior high school but did not take it as a major in university. I studied for an Honors degree in Business Administration at the University of Namibia. It was when I moved to Malawi in 2015, from Botswana (the country where I was raised), that I got myself fully working in the agriculture sector, and I do not regret it.
How has work at the Africa Agribusiness Academy changed your outlook on agriculture?
The Africa Agribusiness Academy (AAA) fosters innovation and growth of Small and Medium-sized Enterprises and youth-led business in agriculture to increase food security in Africa. This means working with farmers, turning their passion into business ventures, and helping them grow. I used to view agriculture as a lazy person's job, but having worked with AAA, I learned that agriculture turned into agribusiness encompasses all economic activities related to farming – tilling the land, rearing animals, and marketing and sales to satisfy the need of customers. I found this to be interesting. Commercialized farming is the way to go should we want to feed the nations, eradicate poverty, and close the gaps of unemployment.
Why are you so passionate about working with women and youth?
I believe youth are the future of tomorrow. Many young people are not involved in farming because they perceive it as outdated and unprofitable. Currently, older farmers are feeding the nations, but should they die, without the youth being developed and empowered in agriculture, we risk food insecurity. The few youth who are involved in farming lack capital, land, technical support, and inclusions to help them develop and succeed in their farming business. The narrative can change.
I believe in gender equality and working towards Sustainable Development Goal 5 – "Achieve gender equality and empower all women and girls." About 60% of those involved in agriculture are women – especially in the rural areas of developing countries. When we empower women, we empower an entire nation. The result of empowering women farmers leads to an increase in nutrition and health.
Who has been your biggest influence in your work so far?
My biggest influence so far has been the agribusinesses I have worked with – cutting across horticulture, beekeeping, poultry, agri-inputs, and livestock. Developing, organizing, and implementing activities and network opportunities where I have seen them grow their businesses, take on new agriculture practices, find new markets, and get new investors for their businesses is what has inspired me to continue doing what I love to do. I believe to live is to serve, and to serve others well above self.
What do you want to see improved about yourself and IFDC when you complete your fellowship?
I believe in life; one can never stop growing no matter the high achievements one has made in life. I aim to see myself grow professionally, in my leadership and abilities to keep impacting societies in areas of agriculture and beyond. I hope to use this growth to help IFDC bring more impact by improving food systems and bringing better agriculture technologies and farming practices to achieve global security.
***
Atlas Corps connects leading social change organizations with experienced professionalsfrom around the world for a yearlong fellowship designed to strengthen organizations, develop leaders and foster innovation. Atlas Corps Fellows are leaders in their home countries with 2 to 10 years of professional experience; they speak fluent English, and 65% hold post-graduate degrees (e.g., MD, JD, PhD, MBA, etc.). Learn more about Atlas Corps at www.atlascorps.org.
An independent non-profit organization, IFDC is active in 20 countries in Africa, Asia, and America. Combining science-backed innovations, an enabling policy environment, holistic market systems development, and strategic partnerships, the organization bridges the gap between identifying and scaling sustainable soil solutions, resulting in improved household food security and enriched family livelihoods around the world. Using an inclusive approach, IFDC employs locally driven, environmentally sound, and impact-oriented solutions that bring change at local, regional, and national levels.