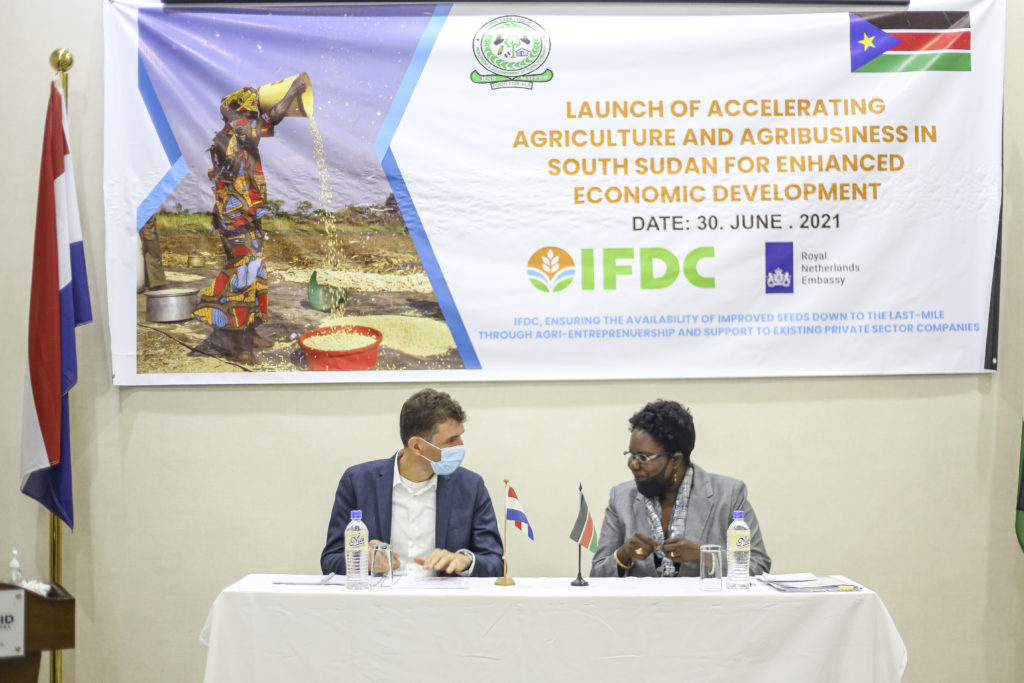 Michiel Smet, First Secretary Coordinator Water, Food Security, Climate, and Private Sector Development (left) representing the Ambassador to the Kingdom of The Netherlands and the Honorable Josephine Lagu (right), Minister of Agriculture and Food Security in South Sudan opened the launch ceremony.
On June 30, IFDC officially launched the Accelerating Agriculture and Agribusiness in South Sudan for Enhanced Economic Development (A3-SEED) project.
After a series of opening remarks, the launch was initiated by South Sudan's Minister of Agriculture, the Honorable Josephine Lagu. Lagu spoke about agriculture's role as a catalyst of economic development in South Sudan, saying, "As a country, we need to reposition agriculture to where it belongs – that is, at the center of our economic activity. Agriculture must become the engine of economic development in this country."
Lagu's speech was followed by presentations on seed activities from A3-SEED and the Seed Trade Association of South Sudan (STASS). Presentations were also given by a representative of the Ambassador of the Kingdom of the Netherlands, Michiel Smet; IFDC's Regional Director of East and Southern Africa, Alexander Fernando; and the A3-SEED Project Manager, Justin Miteng. Fernando and Miteng provided brief synopses of the project and a history of IFDC, while Smet emphasized that South Sudan's current status of peace primes the A3-SEED project for success.
IFDC was honored that numerous organizations crucial to the project's success participated in the event. Attendees of the launch represented IFDC's partners and donors, including the U.S. Agency for International Development (USAID), the European Union, the South Sudan Ministry of Agriculture, Cordaid, STASS, the Food and Agriculture Organization of the United Nations Food and Nutrition Security Resilience Programme (FNS-REPRO), and the Seed Forum.
A3-SEED will facilitate market-oriented interventions to support the establishment of a commercial, sustainable, and adaptive agriculture sector in South Sudan. The project will ensure last-mile availability of improved seed and support existing private sector seed companies to improve seed, marketing, distribution, and production practices. A3-SEED will support the emergence and resilience of commercial seed producers that produce for the local market and outgrowers for a seed company. KIT Royal Tropical Institute is a collaborating partner in the project. A3-SEED is implemented with financial support from the Dutch Ministry of Foreign Affairs under Dutch development policy.