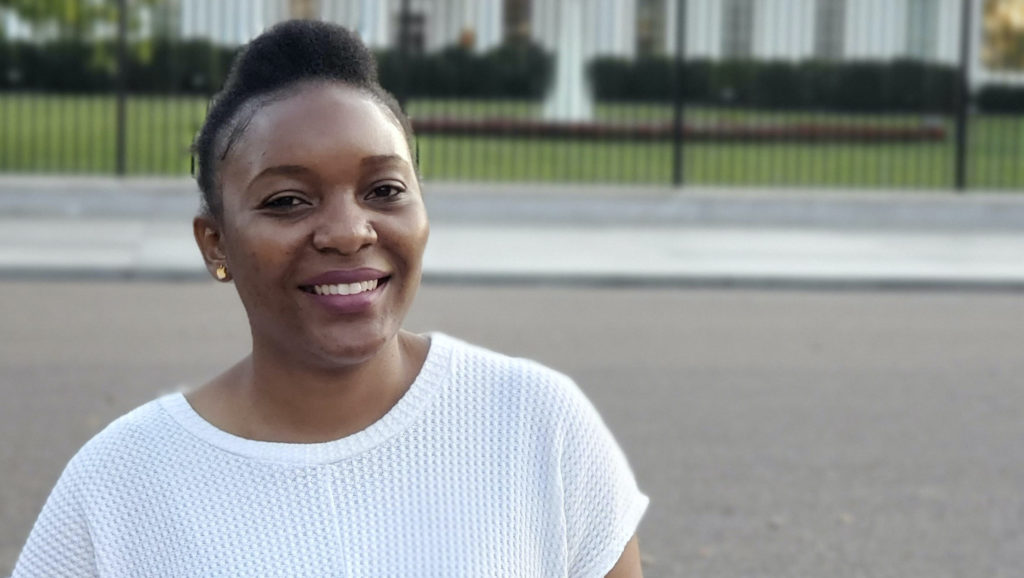 In April, we were pleased to welcome our Atlas Corps Fellow, Constance Munyenyembe, to the IFDC team. Constance serves as a Business Development Fellow and brings a passion for women- and youth-led agribusiness to our team in Washington, D.C.
We recently checked in with Constance to discuss her experience at IFDC so far.
This discussion came at an opportune time, as Atlas Corps was celebrating their 15th anniversary in November. Congratulations to Atlas Corps! For more information on these festivities, visit their event page. Atlas Corps hosted a Virtual Celebration on November 18 and their annual Gala on November 20.
Constance, you've been with IFDC for seven months. What is it like to be working for us?
I serve as a Business Development Fellow with IFDC. I am gaining in-depth experience on what business development entails: researching the business market, repositioning a business in the market, and understanding the market itself. I am learning a lot from Douglas Kerr, my supervisor, about the art of partnership building, engaging with different stakeholders and diverse groups, and writing proposals. My colleagues are energetic, creative, and easy to collaborate with on projects. The cultural exchange part of the fellowship is eye-opening: working in a much larger organization with more experience in the market, learning American History, discovering the food, and meeting the people.
What have you been doing as a member of the business development team? What new skills will you bring with you when your fellowship is finished?
I provide support to IFDC's East and Southern Africa division. I research upcoming donor-funded projects, prepare materials that position IFDC in the market, and am involved in partnership engagements for USAID, FCDO, and other donors. I hope that all the skills I am gaining at IFDC – research, project development, implementation and impact, and relationship building – I can implement back in Malawi on the new projects I plan to embark on.
"We at IFDC are delighted to host Atlas Corps Fellow, Constance Munyenyembe. Originally from Malawi, Constance brings to our work a uniquely valuable perspective on the needs facing developing countries in the southern and eastern regions of Africa. It's thrilling to witness her ability to tangibly and impactfully engage with partner organizations — both those based on the continent itself as well as those here in the Washington area. A true citizen of the world, Constance is comfortable in discussions and negotiations with all partners, as we collectively work to amplify IFDC's developmental impact."
–Douglas Kerr, IFDC's Vice President of Business Development
What skills and experience, especially from your work at the Africa Agribusiness Academy, have you been able to apply to your role at IFDC?
Part of my responsibility with the Africa Agribusiness Academy (AAA) was to develop and maintain relationships with local partner organizations. These led to joint programs that impacted the development of the AAA members. One example includes organizing the "Disrupt!Malawi!Food" event with HIVOS International, which led to business trainings and funding worth U.S. $60,000. I have been able to apply this skill at IFDC when engaging with several partners on upcoming donor-funded projects.
Through AAA, I created training and networking opportunities for agriculture-based SMEs in Malawi. These led to capacity development, collaboration, and members gaining new knowledge together. Learning the latest agricultural practices from businesses outside of Malawi, most especially in East Africa, helped me appreciate the agriculture space and what it stands for. Through funding won from the Mandela Washington Fellowship at the University of Iowa, I also led the development and implementation of a youth league program in 2019, which in its pilot stage saw nine youth-led businesses within Lilongwe being mentored and coached and jointly working with CNFA Malawi (Farmer-to-Farmer project) and the Equip Consulting Group. To date, AAA continues to contribute to the development of youth-led businesses in Uganda, Tanzania, Malawi, and Rwanda.
What has surprised you about working for IFDC?
Fertilizer isn't everything we do!
Our research is uncovering new and better ways to to help farmers improve and protect soil health, boost plant nutrition, and combat climate change's impacts.
A majority of what we do centers on helping smallholder farmers to increase their production and connecting them to markets so they can improve their livelihoods. We work to empower women entrepreneurs to run (and profit from!) businesses of all sizes, to have financial stability contribute to their family's wellbeing and have a share in household decision making.
Because of IFDC young people are seeing that agriculture is not a dead-end job, but an opportunity to make a good life for themselves. We are investing in the future of our soils by investing in the future of our youth.
Where do you see yourself in five years? What will you be doing?
In 2019, I co-founded the Agribusiness Hub (Aghub) initiative, now known as Agricultural Innovations Hub (AGR-I-HUB), which aims to connect, empower, and develop young leaders in the agriculture space. In the next five years, I plan to work full time and dedicate my time to the growth of AGR-I-HUB. To date, 50 young people have been trained and have gained knowledge on the growth of their businesses. The hub also invests in livestock and crop production for hands-on learning by members and sustaining its operations. IFDC is equipping me with professional skills and knowledge of better agricultural practices, which I plan to use for effective learning and capacity building of current and future AGR-I-HUB members and the growth of the hub itself.
***
Atlas Corps connects leading social change organizations with experienced professionals from around the world for a yearlong fellowship designed to strengthen organizations, develop leaders, and foster innovation. Atlas Corps Fellows are leaders in their home countries with 2 to 10 years of professional experience; they speak fluent English, and 65% hold post-graduate degrees (e.g., MD, JD, PhD, MBA, etc.). Learn more about Atlas Corps at www.atlascorps.org.
An independent non-profit organization, IFDC is active in 20 countries in Africa, Asia, and America. Combining science-backed innovations, an enabling policy environment, holistic market systems development, and strategic partnerships, the organization bridges the gap between identifying and scaling sustainable soil solutions, resulting in improved household food security and enriched family livelihoods around the world. Using an inclusive approach, IFDC employs locally driven, environmentally sound, and impact-oriented solutions that bring change at local, regional, and national levels.