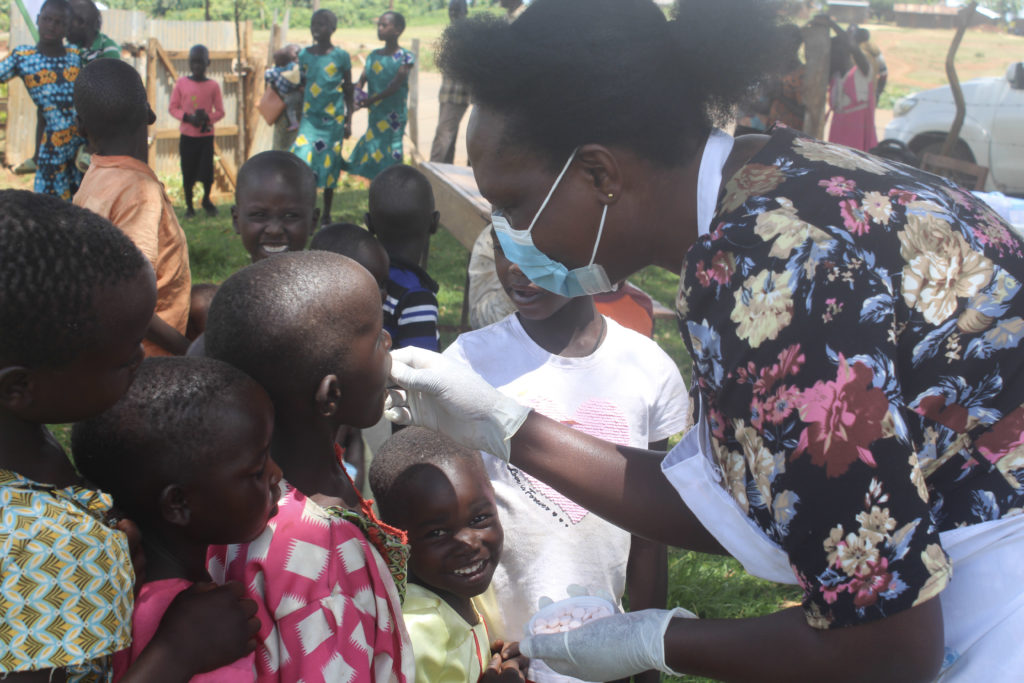 Child Health Days in Uganda, organized in the months of April and October, mobilize communities to receive critical health services, including nutrition and health education. In the far highlands of Elgon, access to nutrition education and critical health services is a relentless and pressing issue.
In response, The Promotion of Nutrition-Sensitive Potato Value Chains in East Africa (PNSP) project, Food for the Hungry Uganda (FHU), local community leaders, and Village Health Teams (VHTs) united in October. Their common cause: support local health centers to give mothers and children from the farming communities of Elgon catch-up vaccinations, vitamin supplementations, deworming, and family planning services. PNSP supported integration of key nutrition messaging, cooking demonstrations, and kitchen garden demonstrations into the Child Health Days, which were hosted October 19-28.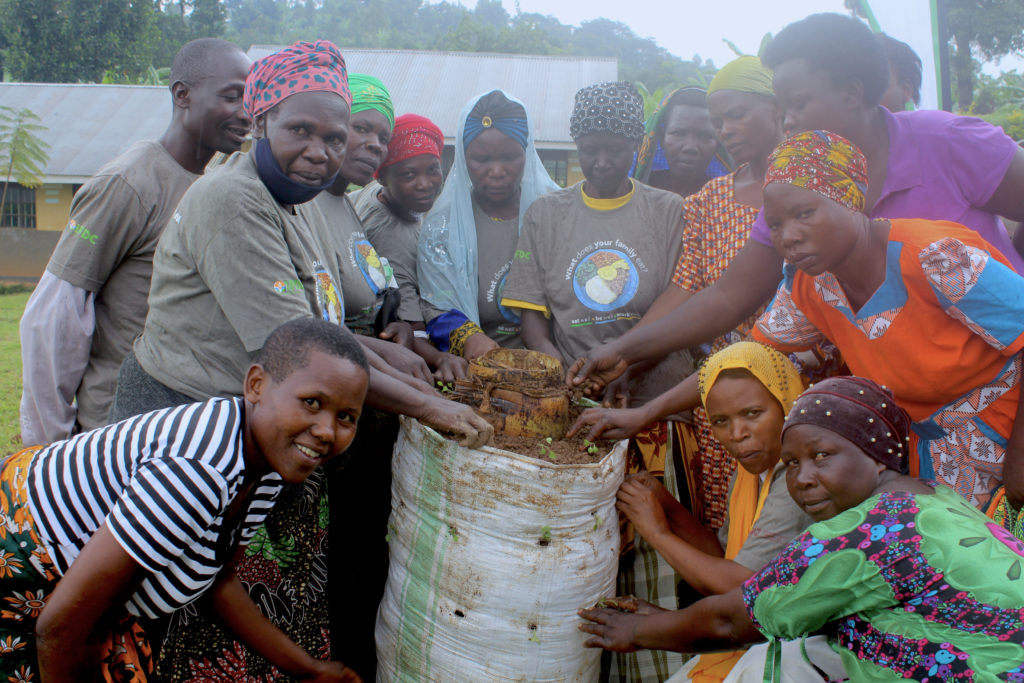 In a quiet moment waiting for mothers to trickle in for vaccinations, nurses were confident that the joint effort would be able to get at least 100 community members to participate, despite the fact that October is peak farming season, and farm activities are an all-day affair.
As each day began, older children crowded around, while VHTs organized them in lines. They eagerly awaited their turn to taste the sweet Albendazole, a flavored deworming medication. While this biannual routine is exhilarating for the older children, the young ones are less enthusiastic. Some of the younger children wail in anticipation of receiving a shot in the arm—they have forgotten that this particular medicine is easy to swallow. Infants, ranging from six weeks to nine months old, received their mandatory vaccines and are quickly comforted.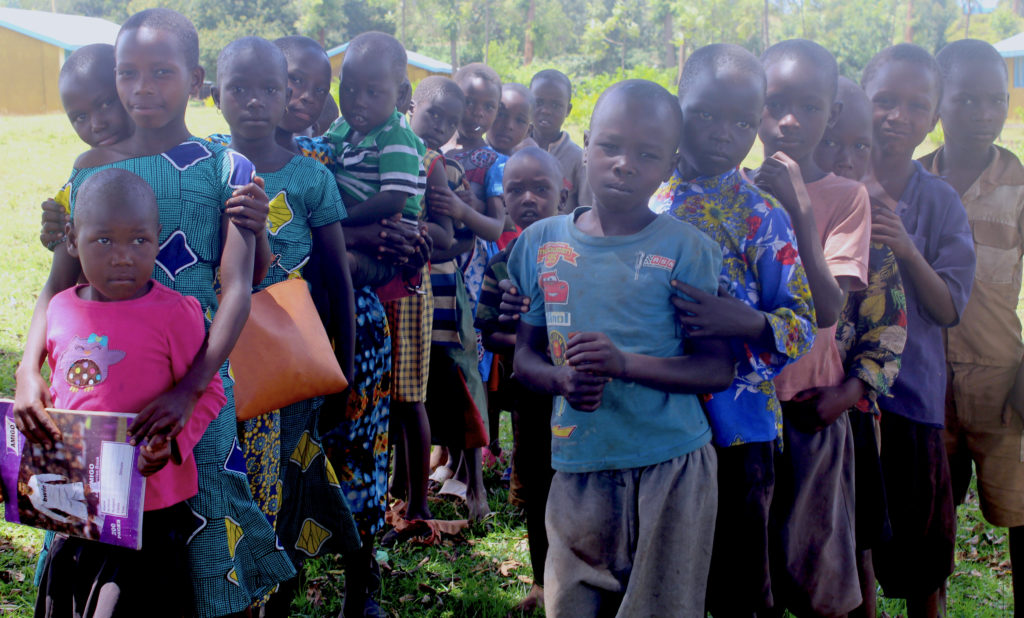 Teenagers stood in groups waiting to be summoned to receive their tetanus shots. Many also escorted their younger sisters for the human papillomavirus (HPV) vaccine. The nurse in charge said, "We get a good number of 10- to 11-year-olds in the outreaches who receive the HPV vaccine to prevent against cervical cancer."
Nurses took every opportunity during the Child Health Days to encourage mothers and their spouses to receive family planning, especially since uptake is low. The health assistants urged the community to utilize health services, including the incoming COVID-19 vaccines, at the designated local health centers.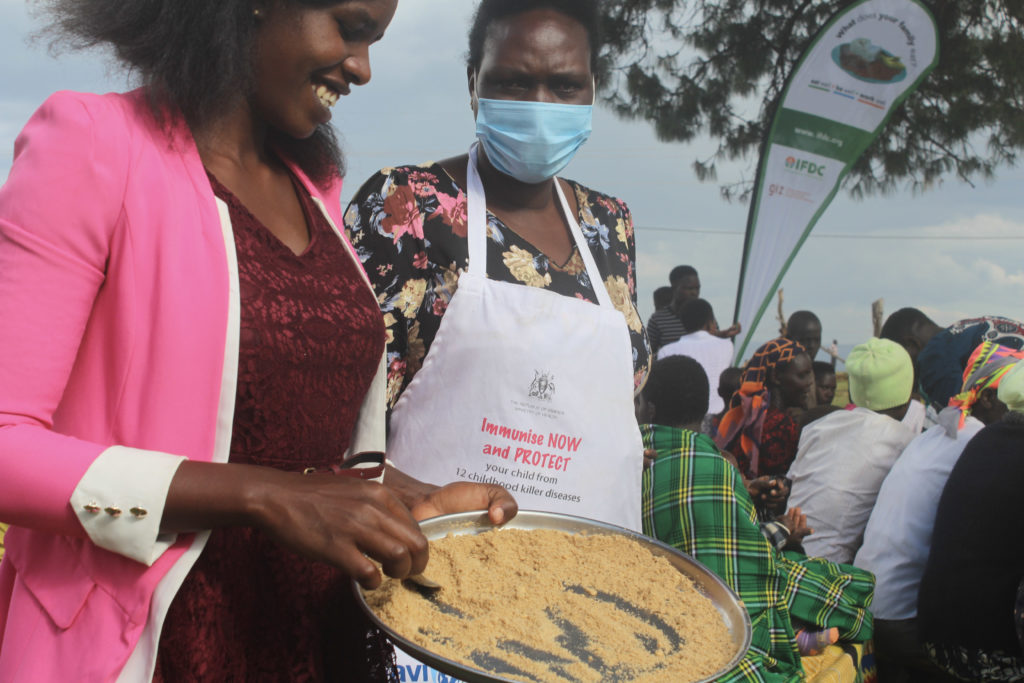 Nutrition focal persons and nutrition champions reinforced messaging on the importance of dietary diversity and nutrition in the first 1,000 days, particularly for pregnant and breastfeeding mothers. Complementary feeding was showcased in the cooking demonstrations.
The cooking demonstrations exhibited the prowess of a talented and knowledgeable Farmer Field Business School (FFBS) farmer. Mukhaye Veronica has adopted PNSP's nutritious and delicious recipes, which improve favorite local recipes by adding a protein or energy source to the mix. The result? An array of fresh, appetizing, nutrient-rich dishes.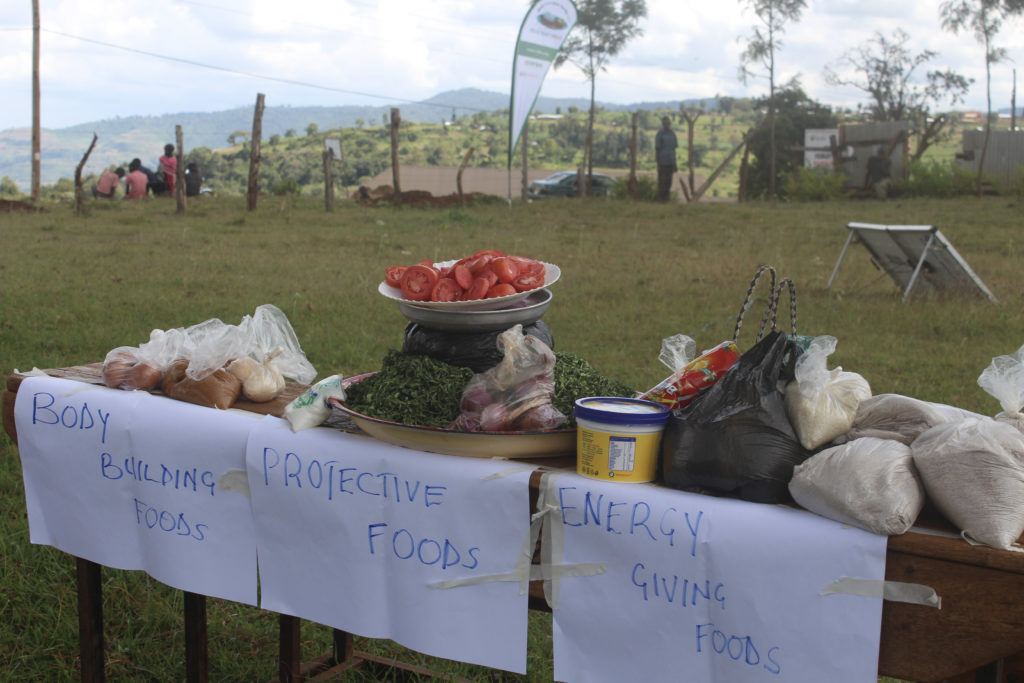 The children could not contain their excitement for the feast; neither could their mothers, as they learned new recipes, such as high-energy instant porridges that can be stored as powder for weeks and served as needed. They scraped meats and steamed food mixtures for their infants.
As with most community events, Child Health Days also featured music, dance, and drama. Theater played a key role in attracting attention and educating participants. Nutrition messages in the Ugandan languages of Lumasaaba and Kupsabiny were aired by the DJ throughout the day.
Kitchen gardens, a technology PNSP promotes to ensure farming communities diversify production and grow vegetables throughout the year for sustainable healthy diets, were also exhibited. An FFBS farmer led this session, demonstrating how to set up sack and container gardens using available local materials and waste.
EnDev partners were invited to showcase two energy-saving technologies that can contribute to improved health: clean energy cooking stoves championed by UpEnergy and solar water pumps from Tulima Solar.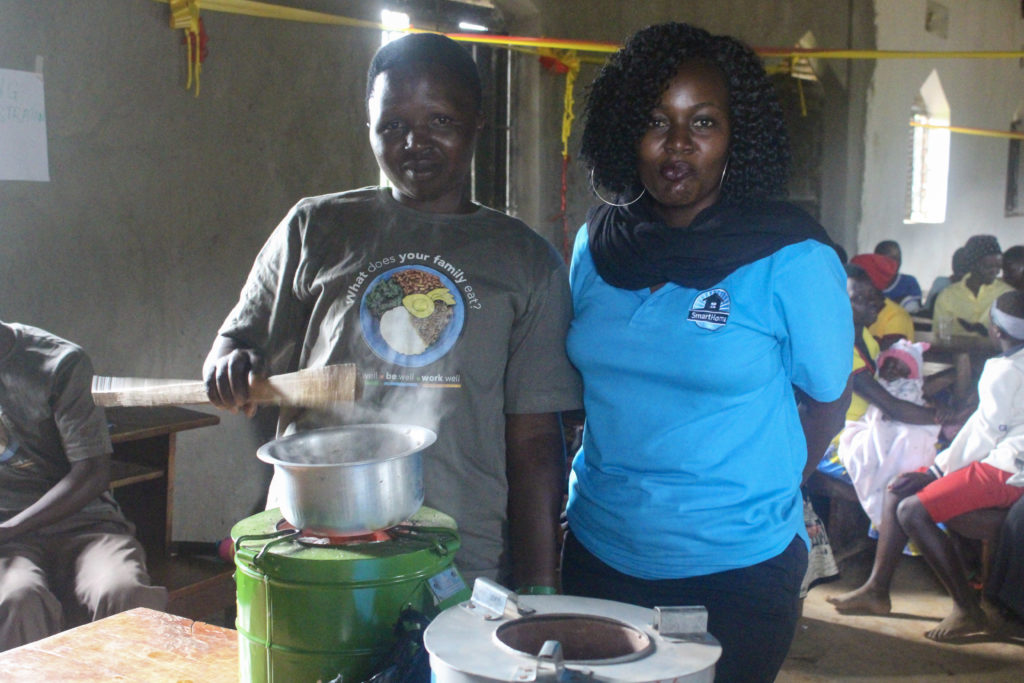 Sales of the cooking stoves were made as soon as Caroline Muzaaki explained the benefits of using one. The efficient cooking stoves conserve fuel and cook more quickly. This is a women's empowerment issue – an impact pathway to better nutrition outcomes. When women spend less time gathering firewood and burning charcoal, more time can be spent on childcare and personal care. "In our setting, this may literally translate to cooking more nutritious meals and finding time to attend to health care," Muzaaki explains. "Using our stoves is a climate issue, as well."
Although the integrated outreaches are usually aimed at women and children, showcasing the solar pump for production activities improved male engagement in the event.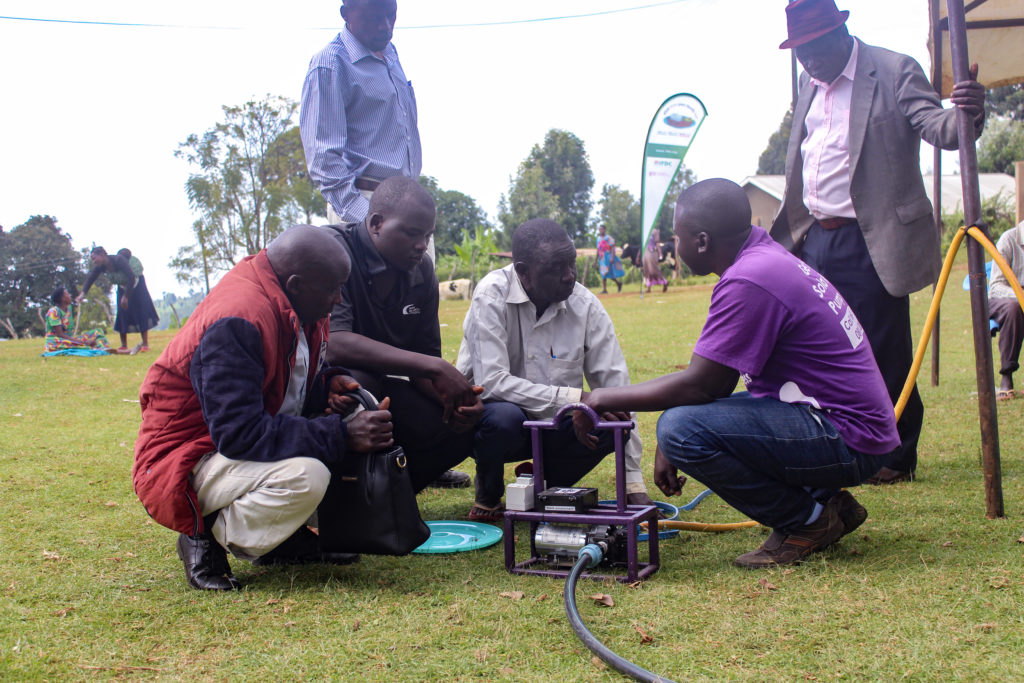 "Please continue to bring more solar pump demos to these events. We need to know about these technologies to improve our livelihoods when there's no rain," says Elder Mwotil Bosco, a nutrition champion in Tegeres.Supporting the year-round cultivation of vegetables and potatoes improves nutrition outcomes and livelihoods for farming families in Uganda. Sales are up, even in the lean season. "Supporting small-scale farmers to access these technologies improves their competitive advantage and share proportion in the markets," says Hamis Tumusiime, a representative of Tulima Solar, surrounded by intrigued community elders.
At the end of the day, participants settled in for one final, highly anticipated, session: a pleasant glass of enriched millet porridge in the brisk air of the Elgon highlands, while the DJ continued to blast nutrition messages in the background.