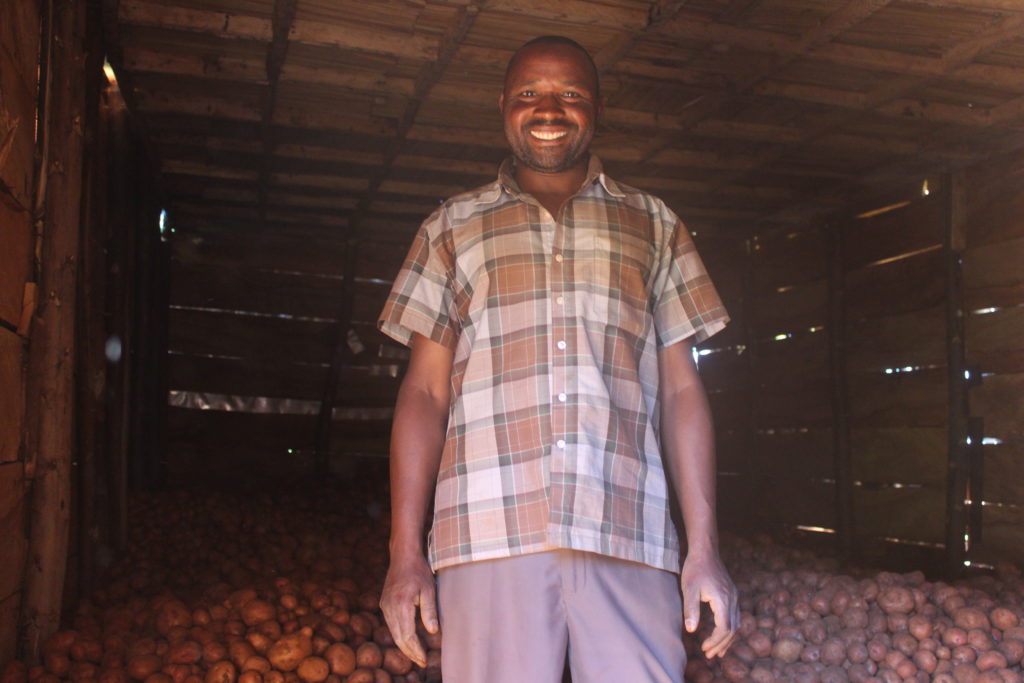 Every farmer wants the ability to negotiate for a better sale price after harvest. This has now become a reality for Alex Chele of Kween district and his fellow potato farmers in Uganda's Elgon Highlands. In 2021, the Promotion of Nutrition-Sensitive Potato Value Chains in East Africa (PNSP) Project supported farmers that participated in its farmer field business schools (FFBS) and associations by providing expertise in constructing model potato ware stores (PWSs) after equipping them with knowledge and skills in storage and post-harvest handling of ware potato.
The majority of potato farmers continue to store potatoes improperly, rather than according to recommended agronomic practices. While increasing productivity is key, securing a market for the potatoes starts with ensuring their quality through proper storage and handling practices after harvest.
The farmers shared the same challenges initially: post-harvest losses, diminishing quality of potatoes during storage that resulted in low prices, and fluctuating farm-gate prices dictated by the middleman at peak harvest. Seasonal gaps often resulted in low potato food stocks between harvests.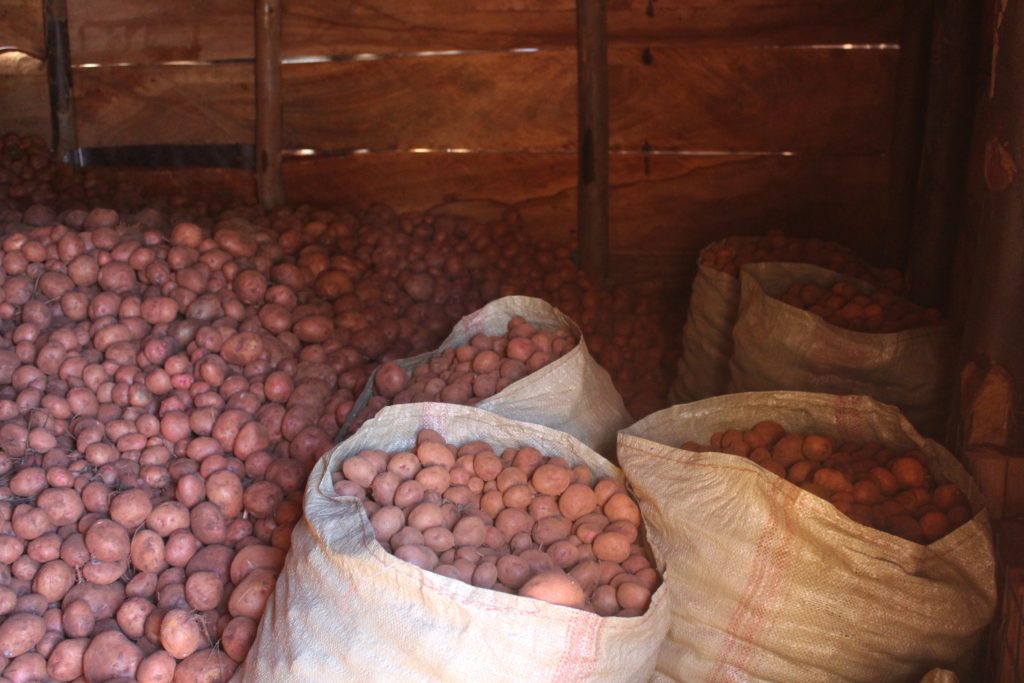 It is estimated that up to 20% of the potato harvest in Uganda is lost due to poor storage conditions. This is equivalent to 20 bags of potatoes for every 100 bags harvested. If each bag sold at a farm-gate price of UGX 50,000, every farmer would lose approximately UGX 1 million of their income. Potato prices are at their lowest during the peak harvest; however, the price increases by UGX 10,000 each month after that. Three months after peak harvest, the farm-gate price is double that at harvest, which means farmers who do not store potatoes face a significant loss of income.
"Sometimes we would store potatoes out in the open and cover them with a tarp, but they would rot," says Alex.
In light of these challenges, 10 farmers who had been growing potatoes commercially in collaboration with PNSP-Uganda constructed their first PWSs on a cost-share basis. PNSP had trained these farmers on potato production and post-harvest handling, and they showed the willingness and capacity to co-fund a potato ware store. The farmers were spread across higher potato production localities with poor road networks. Because of this, the farmers could not transport the crop immediately after harvest.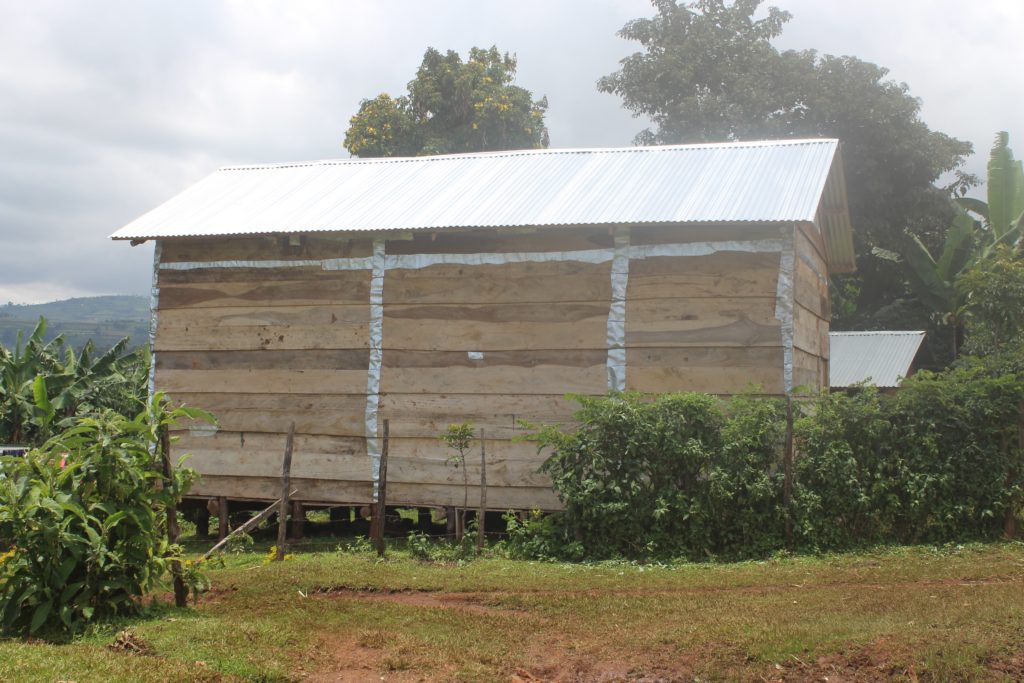 The farmers provided timber from their own woodlots and provided for the needs of the construction team, which was valued at 30% of the total cost of the PWS. PNSP provided the technical expertise of an engineer to design the store and guide construction as well as materials and paid for the construction team's labor. The model PWS has a capacity of 10 metric tons, which will hold 100 bags of potatoes on average.
The farmers are being trained to manage their model PWSs. They continue to be supervised on recommended practices and use of the stores. For example, stores that are in use must be continuously monitored in case any tubers become diseased and need to be removed.
The model PWS delays the physiologic aging of potatoes. Since this prevents early sprouting, the fresh potatoes remain available for consumption even months after harvest. Potatoes stored in the PWS have reduced transpiration, which prevents shrinkage and maintains their quality. The dark environment of the PWS eliminates the greening of potatoes by preventing a buildup of solanine, which is dangerous for human consumption. The PWS model promotes food security in seasonal periods of scarcity.
Beneficiary farmers report one of the primary benefits of the PWS is the bargaining power they gain over the farm-gate price of their potatoes. Alex has had several farmers from the community visit his PWS to find out how they can construct a store for their own potatoes. He encourages his fellow farmers to grow woodlots to reduce the cost of construction.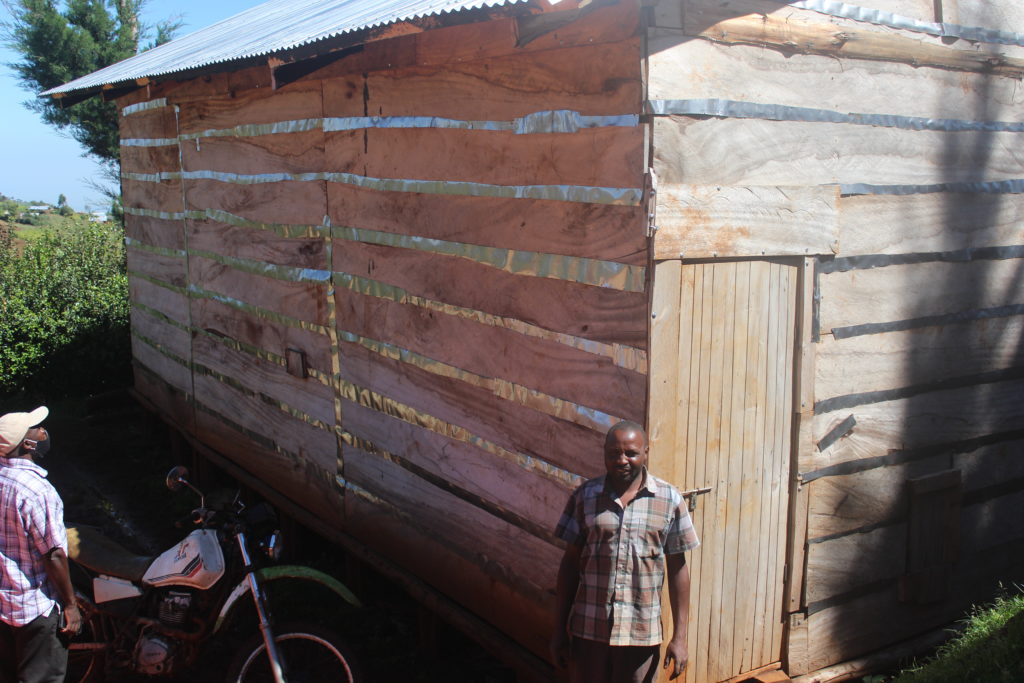 "Last year, I planted 10 acres of potato. The store has helped me, especially with the price. Potato prices can change over a week," Alex says. "I stored my potatoes for a month after harvest and sold them for UGX 52,000 per bag, an increase of UGX 10,000."
The district of Kween has assigned a district engineer to assist in the construction of other model PWSs for farmers, promoting this intervention further in the region.