Dr. P.K. Pathak, Director of Extension Education, Assam State Agricultural University, signs IFDC's APART contract in the presence of Dr. Y.S. Saharawat, IFDC India Program Manager, Mr. M. Patri, JD DOA, and Mr. Baljeet and Mr. M. Deka, APART representatives
IFDC signed a new contract with the Directorate of Agriculture of the Government of Assam, India, under the auspices of the World Bank-funded Assam Agribusiness and Rural Transformation Project (APART). IFDC will work on two parallel objectives: 1) An Efficient and Transparent Fertilizer Sector, and 2) Innovative Fertilizer Technologies. These objectives will enhance plant nutrient availability and efficiency for smallholder farmers of the state. In collaboration with the Directorate of Agriculture, IFDC will provide technical backstopping on an assessment of the fertilizer sector in Assam to identify existing constraints and furnish guidelines for an efficient, transparent fertilizer distribution system and enabling policy environment. A stakeholder review will be conducted to identify the needs of farmers, dealers, producer organizations, and others in the sector and enhance their role in balanced, efficient fertilizer use.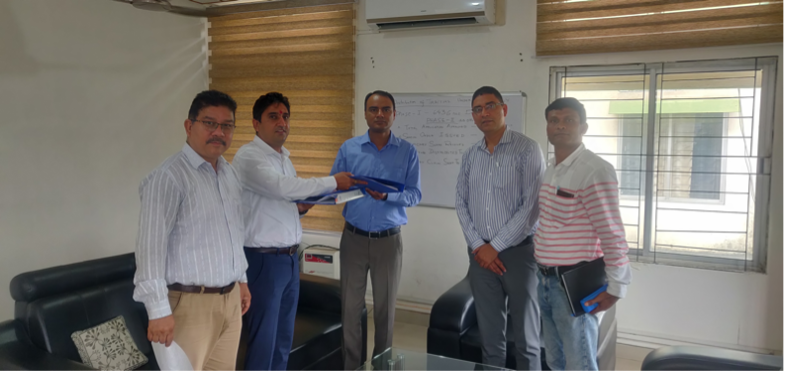 IFDC will collaborate with the Directorate of Agriculture, Assam State Agricultural University, International Rice Research Institute, World Vegetable Center, and the ICAR-Directorate of Rapeseed-Mustard Research Institute to introduce fertilizer deep placement technology in Assam. The technology is envisioned to advance the balanced, efficient use of nutrients, reduce greenhouse gas emissions, lower input costs, promote mechanization, and enhance the productivity and income of farmers. IFDC will work through a cluster and master trainer approach to conduct 400 demonstrations and develop the skills of around 180 stakeholders in the state. The importance of this technical backstopping has further intensified during the current global energy crisis. Energy prices have a deep connection with fertilizer prices and food security globally. In India, the energy crisis could have an adverse impact on the government's fertilizer subsidy budget. IFDC's pilot project seeks to provide new enabling policy guidelines and innovative fertilizer product and placement technologies for efficient fertilizer use and replication in other states of India.