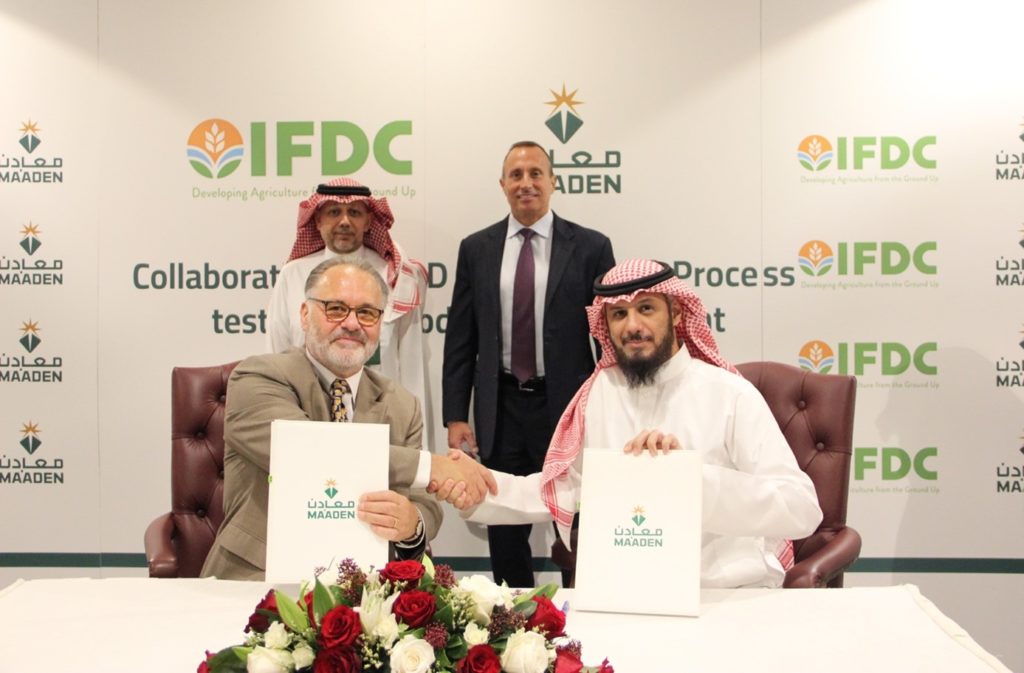 IFDC President and CEO Albin Hubscher and Abdulrahman M. Al-Sadlan, Vice President of Strategy, Planning & Industrial Development Phosphate & IM SBU of Ma'aden sign MOU to collaborate in the research, development and training on phosphate fertilizers
June 20, 2022 – Riyadh, Saudi Arabia –The International Fertilizer Development Center (IFDC) has signed a memorandum of understanding (MoU) with the Saudi Arabian Mining Company (Ma'aden) to collaborate on research and development (R&D), product development, strategy development, and technical training related to phosphate fertilizers.
As part of the agreement, IFDC will support Ma'aden with its engineering capabilities to execute projects associated with the scaling up of new technologies into Ma'aden's facilities. In addition, Ma'aden will leverage IFDC's knowledge and expertise to deliver specialized and on-demand technical training for its personnel.
The agreement includes the development of sustainable strategies for product diversification, as well as product testing in IFDC's fertilizer pilot plant complex, laboratories, and on-site greenhouse facilities.
"IFDC is excited to collaborate with Ma'aden in the development of new and innovative phosphate-based fertilizer products," said Albin Hubscher, IFDC President and CEO, adding further, "This partnership will benefit both smallholder and commercial farmers in the fight to increase the productivity of food crops and close the persistent yield gaps that will feed the rapidly growing population, particularly in Africa."
Commenting on the agreement, Hassan Al-Ali, SVP of Phosphate & Industrial Minerals (IM) at Ma'aden, said: "We are pleased to have signed this agreement with IFDC, which will propel our phosphate product development through R&D, enabling us to better satisfy market demands and supply superior quality products. This is in line with our commitment to making our phosphate operations future proof. Our partnership with IFDC will help our people, technology, and processes work toward improved operations and explore the future of phosphate mining technology, in line with our vision to be a sustainable mining champion with a global presence."
The MoU was signed at Ma'aden's headquarters by Albin Hubscher and Abdulrahman M. Al-Sadlan, Vice President of Strategy, Planning & Industrial Development Phosphate & IM SBU of Ma'aden, in the presence of Robert Wilt, CEO; Abdulaziz Asker Al-Harbi, Deputy CEO; Hassan M. Al-Ali, Senior Vice President Phosphate & IM SBU; Anas M. Al-Bassam, Vice President Commercial and Market Development Phosphate SBU; and Malik Mohammad Odeh Aqel Chief Specialist, Phosphate Processing Program Phosphate & IM SBU.
***
About IFDC: An independent non-profit organization, IFDC is active in over 20 countries in Africa, Asia, and America. Combining science-backed innovations, an enabling policy environment, holistic market systems development, and strategic partnerships, the organization bridges the gap between identifying and scaling sustainable soil solutions, resulting in improved household food security and enriched family livelihoods around the world. Using an inclusive approach, IFDC employs locally driven, environmentally sound, and impact-oriented solutions that bring change at local, regional, and national levels.
About Ma'aden: Saudi Arabian Mining Company (Ma'aden), Saudi Arabia's national mining champion and one of the fastest-growing mining companies in the world. Maaden has become the third pillar of Saudi industry and the leading multi-commodity company for the development of the Saudi mining and minerals industry, and among the fifteen largest global mining companies. Ma'aden is a key driver of Saudi Arabia's position as one of the top three global producers and exporters of fertilizers and a key player in the stability of global food security.