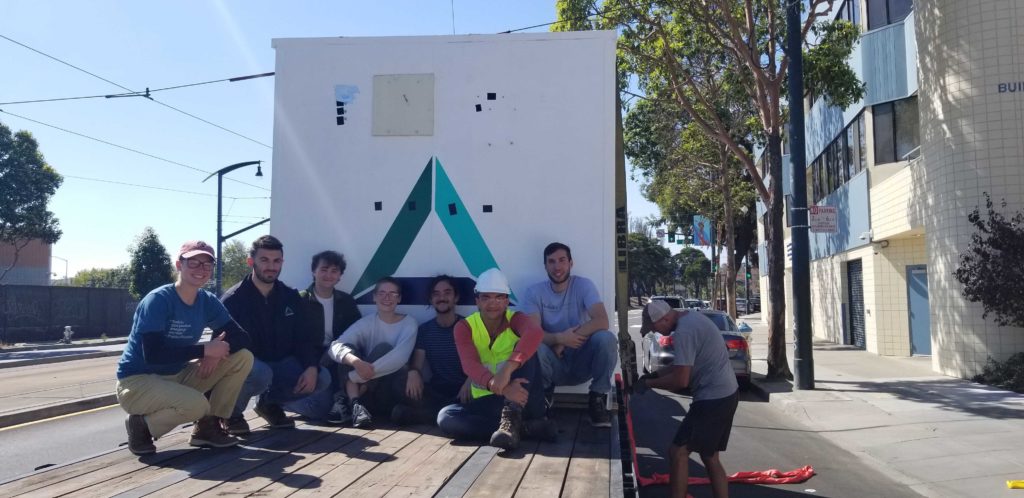 A team from Nitricity prepares the demonstration system for shipping to IFDC's research facility.
SAN FRANCISCO, October 24, 2022 – Pioneering fertilizer production with renewable electricity, Nitricity is excited to announce their collaboration with fertilizer innovation leader and nonprofit, the International Fertilizer Development Center (IFDC). Nitricity and IFDC have launched the project at IFDC's research facility in Muscle Shoals, Alabama.
The project will seek to uncover Nitricity's current greenhouse gas emissions profile and opportunities for further reduction. The project consists of running a Nitricity demo-system installed at IFDC to produce sustainable nitric acid and other nitrate-based fertilizers from air, water and renewable electricity. Greenhouse gas (GHG) emissions will be measured from fertilizer production to soil application in a lab setting.
"Our work at IFDC is centered on improving sustainable agricultural productivity through proven, science-based research and methods," said Dr. Upendra Singh, vice president of research at IFDC. "We are intrigued by the potential of Nitricity's electrified fertilizer production method, and we look forward to reporting on the sustainability and scalability of this technology."
The findings of the research project, expected to be available as early as the end of 2022, are expected to validate Nitricity's technology as a potential tool to help mitigate GHG emissions from fertilizer production to field application when compared to conventional fertilizers. There is no better organization than IFDC to conduct such an assessment.
"This collaboration has come at an incredibly important time, with recent volatility in the synthetic fertilizer market leaving many farmers with fewer options to grow crops efficiently," said Nicolas Pinkowski, CEO and co-founder of Nitricity. "This crisis is particularly dire in Sub-Saharan Africa, an area of focus for our partners at IFDC. We are confident that through proving the effectiveness and sustainability of Nitricity's production model in this demonstration, we will be able to quickly expand our efforts to regions where they are most needed."
---
About Nitricity
Nitricity produces nitrogen fertilizer with only air, water and renewable electricity. Founded by a team of graduate students from Stanford University in 2018 – Nicolas Pinkowski serving as CEO, Joshua McEnaney serving as president and CTO, and Jay Schwalbe serving as CSO – the company is scaling its technology to provide cost-effective, regional, and decarbonized fertilizer production. For more information, please visit www.nitricity.co.
About IFDC
IFDC is a nonprofit, science-based organization working to alleviate global hunger and poverty by improving sustainable agricultural productivity. The organization was established in 1974 in response to the twin crises of food insecurity and rising energy prices. Through an Executive Order decreed by U.S. President Jimmy Carter, IFDC was classified as a nonprofit, public international organization (the same international status as the United Nations and the World Bank) in 1977. IFDC is governed by an international board of directors and supported by bilateral and multilateral aid agencies, private enterprises and foundations. Headquartered in Muscle Shoals, Alabama, IFDC is led by President and CEO Albin Hubscher. The organization's more than 300 international staff work in over 20 countries worldwide. IFDC's global presence has touched more than 130 countries over its 45-year life.
Media Contact
Rosie Thoni, AdFarm
316.665.0746