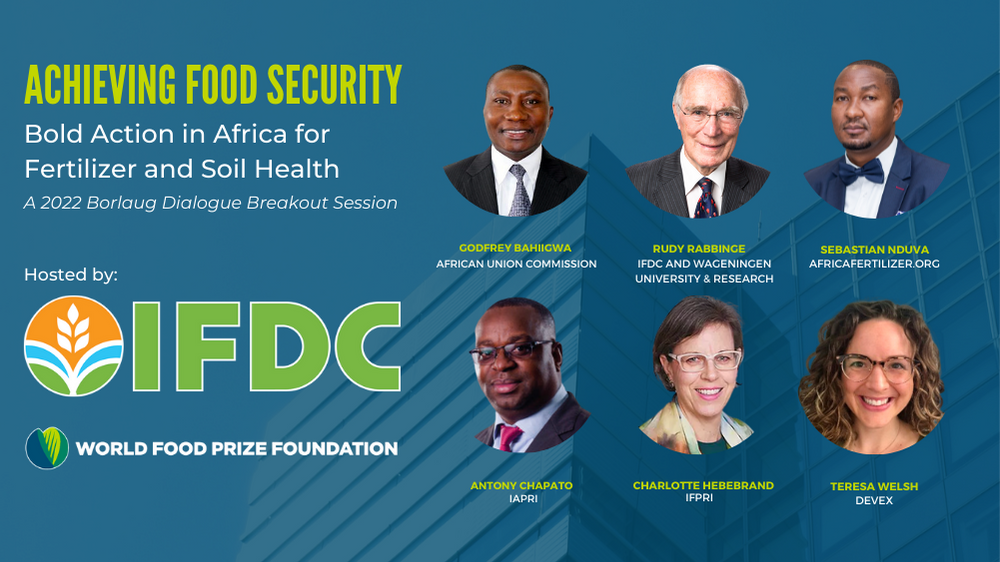 Dr. Norman Borlaug is widely known as the "Father of the Green Revolution" for pioneering improved seeds to boost agricultural productivity in North America and Asia. Borlaug's work focused on using plant genetics to develop high-yield, disease- and drought-resistant crop varieties that reduce losses and increase food security.
Although Borlaug's work sparked the "green revolutions" in America and Asia during the 1960s, Africa's degraded soils, limited availability of fertilizers, and weak financing, leave Africa lagging behind the rest of the world.
With COVID-19, global conflict, climate change, and rising costs impacting food systems around the world, the theme of the 2022 World Food Prize Foundation International Borlaug Dialogue, "Feeding a Fragile World," focused on overcoming pervasive shocks to world food systems; IFDC was invited to host a breakout session at the Dialogue, where technical and policy research aimed at tackling food and nutrition security was profiled.
IFDC's breakout session, "Achieving Food Security: Bold Action in Africa for Fertilizer and Soil Health," highlighted the challenges, needs, and expectations to sustainably achieve food security in Africa. Panelists discussed the importance of the upcoming African Union Fertilizer and Soil Health Summit, (June 2023). The Summit will drive the future of African agriculture and catalyze sustainable agricultural productivity and food security in Africa.
Devex Senior Reporter Teresa Welsh moderated the panel, which featured Dr. Godfrey Bahiigwa, Director of Agriculture and Rural Development, African Union Commission; Charlotte Hebebrand, Director of Communications and Public Affairs, International Food Policy Research Institute; Dr. Rudy Rabbinge, IFDC Board Chair and Professor Emeritus in Sustainable Development and Food Security, Wageningen University and Research; Dr. Antony Chapoto, Research Director, Indaba Agricultural Research Policy Institute; and Sebastian Nduva, IFDC Program Manager, AfricaFertilizer.org.
Welsh guided an open conversation regarding the challenges to and opportunities for measurable actions to catalyze an African green revolution. Dr. Bahiigwa underlined the urgency of the current situation: "Africa has less than 20% of the world average fertiliz[er] [application] rate. Our target in 2006 was 50 kg per hectare per annum. We're currently around 18 to 19 kg per hectare, so we're far below what we were expected to achieve by this time . … Now, more than ever, we see momentum on the continent to do something, to invest in Africa's agriculture."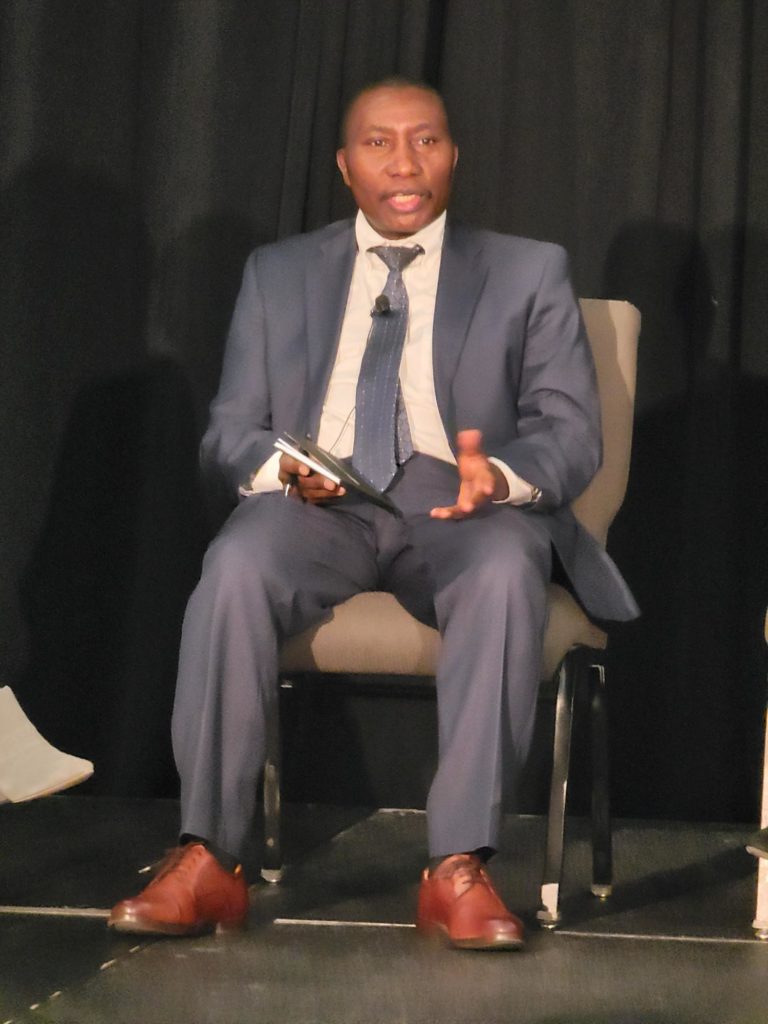 Dr. Rabbinge called for increased investments in Africa's agriculture, saying, "There is not sufficient attention and willingness to invest in the external inputs, such as fertilizer, that are urgently needed; therefore, this panel and discussion at the World Food Prize will help strengthen the need to invest in agriculture, to make use of it, and also organize things in such a way that you're not only depending on Russia for external inputs but that you have other possibilities."
To mitigate hunger and malnutrition in the future, the African Union Fertilizer and Soil Health Summit must successfully catalyze a green revolution on the continent by addressing current agricultural restraints; developing an Action Plan for boosting food security, soil health, fertilizer access, and environmental sustainability; and mobilizing technical, political, and financial support for lasting change. In addition, the Summit must appoint a monitoring and evaluation body to ensure that progress is being measured transparently and accurately, and then reported.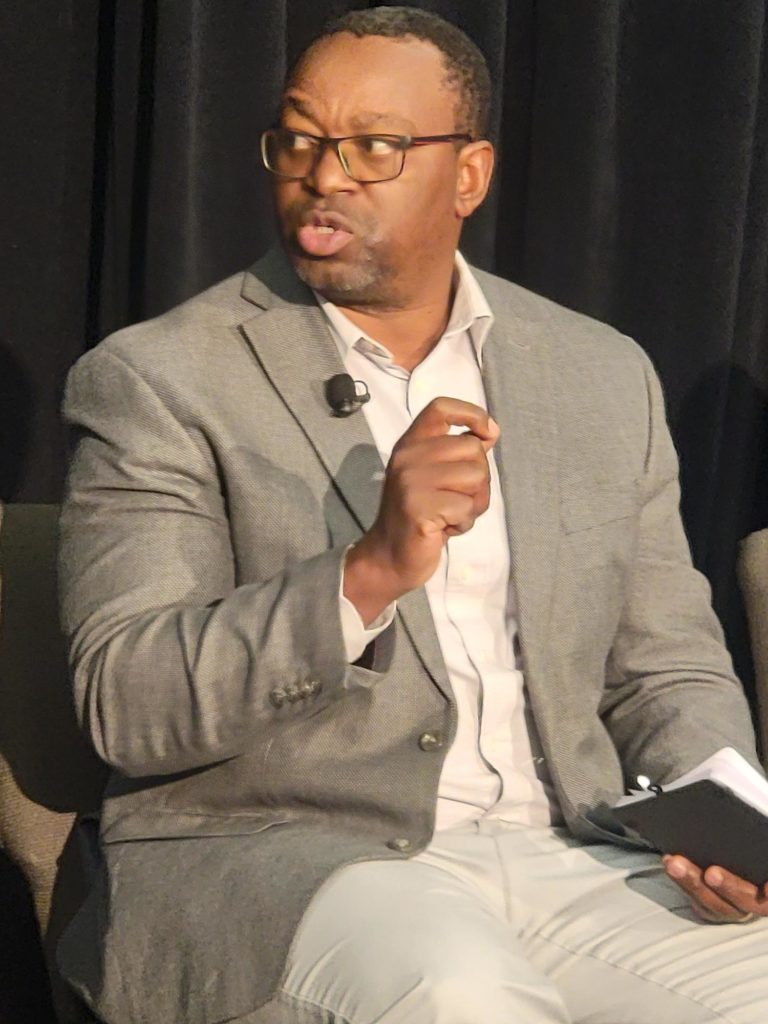 Dr. Chapoto reflected upon what success would look like for the Summit, "From promise, to commitment, to finance, and to changing lives, we need leaders that can commit and really put resources to that commitment."
IFDC would like to thank our Borlaug Dialogue breakout session moderator, panelists, attendees, and the World Food Prize Foundation for prioritizing food security, improved fertilizer access, and sustainable productivity growth in Africa. Stay tuned on the upcoming African Union Fertilizer and Soil Health Summit by signing up for updates here.
---
About the Borlaug Dialogue and the World Food Prize:
In December 1970, Dr. Norman Borlaug was awarded the Nobel Peace Prize for his contributions to agricultural productivity growth and global food security. During his acceptance speech, Borlaug issued a call to action: "I want to share not only the present honor but also the future obligations with all my companions in arms, for the Green Revolution has not yet been won."
Borlaug established the World Food Prize in 1987 to recognize individuals who advance international development and improve global food security by boosting the quality, quantity, or availability of food in the world.
In 2014, the World Food Prize Foundation established the Norman E. Borlaug International Dialogue, or "Borlaug Dialogue," which addresses cutting-edge issues related to global food security and nutrition. The event convenes a wide variety of scientific experts, policy leaders, business executives, and farmers annually and has been deemed "the premier conference in the world on global agriculture."