Tuesday, November 29, Nairobi, Kenya — The new AfricaFertilizer.org website is launching today. The website advances food security throughout Africa by providing in-depth data on fertilizer supply chains and availability in 18 sub-Saharan African (SSA) countries. The AfricaFertilizer.org website was developed by AfricaFertilizer.org (AFO) in partnership with Development Gateway: an IREX Venture (DG) and Wallace & Associates. The launch event will bring together the private sector, national governments, the African Union (AU), the United Nations Food and Agriculture Organization (FAO), and development partners to promote the collaborative use of AfricaFertilizer's data in order to make informed decisions that address and respond to key issues of availability, policy, price, and use in the fertilizer sector in SSA.
---
Why Fertilizer and Food Security?
Sub-Saharan Africa (SSA) has the lowest fertilizer usage in the world – insufficient to replace soil nutrients lost every year to crop production. Simultaneously, SSA's population is growing steadily with a population size of over 2 billion people by 2050. This demographic shift has resulted in an increased need for policymakers to make decisions that lead to strong agricultural supply chains, including the tools and data needed to ensure sufficient quantities and appropriate fertilizers reach farmers on time for planting.
To help meet this need, AfricaFertilizer, DG, and Wallace & Associates, working with industry sector players at national levels, have co-created and launched three country-specific dashboards in Kenya, Nigeria, and Ghana, which aggregate country-specific fertilizer data and act as trustworthy sources.
"Data sometimes looks so complicated, you wonder where to start and how [to] figure it out. This [dashboard] is highly commendable. It is easy to use and contains a lot of useful and helpful data. It will enhance our work as soil scientists and extension agents in making recommendations."

Professor Victor O. Chude, Registrar/CEO, Nigeria Institute of Soil Science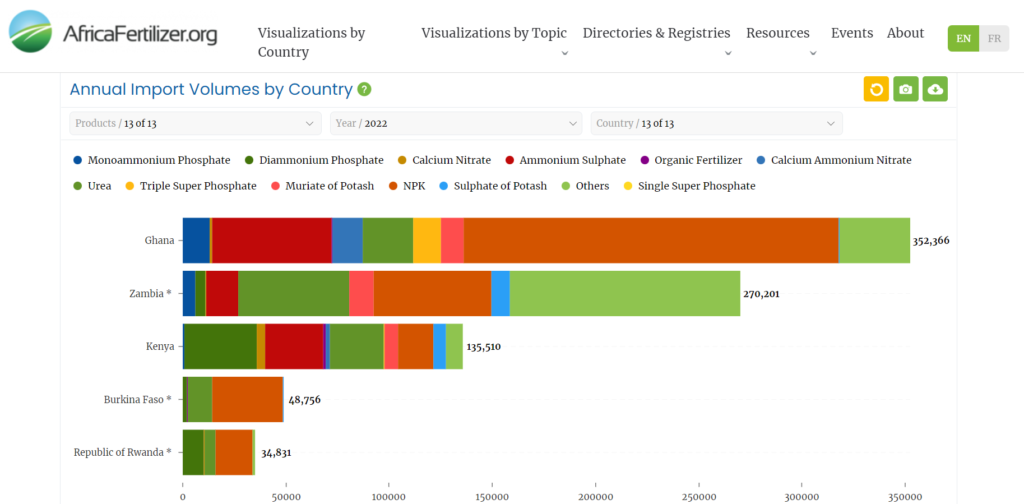 The New Africa Fertilizer Website
The new AfricaFertilizer website (https://africafertilizer.org) builds upon previous work by displaying fertilizer data on trade, production, consumption, and retail prices for 18 SSA countries in addition to integrating the current data dashboards for Nigeria, Ghana, and Kenya.
Users of the new website will have the ability to customize data visualizations for cross-country comparison and access timely information on fertilizer markets. One primary goal behind the website is to allow stakeholders to track progress in meeting the targets identified in the 2006 Abuja Declaration, using the data provided on the website.
The revamped website, which will position AfricaFertilizer as the primary data source for fertilizer data on the African continent, will also serve as a trustworthy source to inform analysis and planning in advance of the 2023 African Union Fertilizer and Soil Health Summit and the design and monitoring of the 10-year action plan on fertilizer in Africa. The partnership will prioritize engagement with the African Union Commission to build a bridge to AU member countries, with the aim of having AfricaFertilizer recognized as an official data partner.
Finally, the new website will also display the recently launched Africa Fertilizer Watch, a monitoring and early warning systems tool on the impact the Russian invasion of Ukraine has had on the fertilizer markets of 10 countries in Eastern and Southern Africa as well as other indicators tracking overall market risk, affordability, availability, and distribution of fertilizer.
As a result of the new website, policymakers and investors in SSA countries will have the data they need and the in-country networks and processes to jointly analyze and use that data to drive decision-making and inform the design of the Summit's 10-year Fertilizer and Soil Health Action Plan.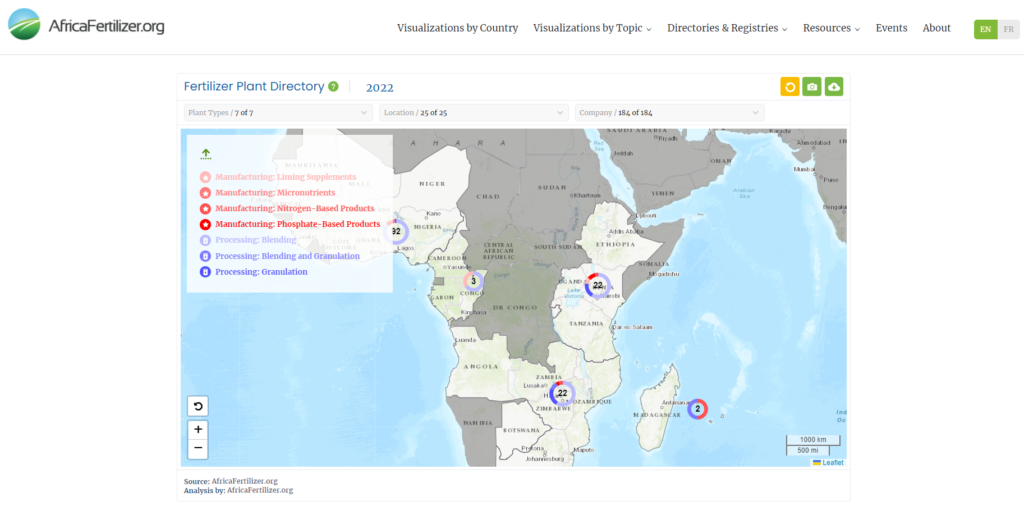 The Development of the Website
Development of the website began with a scoping mission to identify needs and gaps in data in the fertilizer sector. This was followed by a co-design workshop to validate findings. Throughout the design of the website, DG utilized the Agile software development methodology, specifically iterating based on feedback. The website was built using several open-source technologies (Java, React.js, WordPress, etc.) on a foundation of the DG Toolkit.
About the Partners
AfricaFertilizer – the premier source for fertilizer statistics and information in Africa. It is hosted by IFDC and supported by several partners, key among them being the International Fertilizer Association (IFA), Argus Media, USAID Bureau for Resilience and Food Security (RFS), and the Bill & Melinda Gates Foundation through Development Gateway under the Visualizing Insights on Fertilizer for African Agriculture, VIFAA program. Since 2009, AfricaFertilizer has been collecting, processing, and publishing fertilizer production, trade, and consumption statistics for the main fertilizer markets in sub-Saharan Africa. AfricaFertilizer has an extensive network of fertilizer industry players in the main fertilizer trade corridors and maintains key information on the major producers, their production facilities and capacities, importers/suppliers, and various distribution channels. More at https://africafertilizer.org.
Development Gateway: an IREX Venture (DG) – Development Gateway provides data and digital solutions for international development. DG creates tools that help institutions collect and analyze information; strengthen the institutional capacity to use data; and explore what processes are needed to enable evidence-based decisions. A mission-driven nonprofit since 2000 with staff based in five global hubs and around the world, DG supports the use of data, technology, and evidence to create more effective, open, and engaging institutions. More at www.developmentgateway.org.
International Fertilizer Development Center (IFDC) – As an independent non-profit organization, IFDC works throughout Africa and Asia to increase soil fertility and develop inclusive market systems. Combining science-backed innovations, an enabling policy environment, holistic market systems development, and strategic partnerships, the organization bridges the gap between identifying and scaling sustainable agricultural solutions, resulting in improved household food security and enriched family livelihoods around the world. Using an inclusive approach, IFDC employs locally driven solutions that are environmentally sound and impact oriented that bring change at local, regional, and national levels. More at https://ifdc.org.
Wallace & Associates (W&A) – Since 2014, W&A has been involved in the strategic design of agriculture development projects with a strong focus on sub-Saharan Africa. W&A works closely with donor institutions, government officials, and the private sector to identify investments that unlock market constraints. Together, we identify opportunities that lead to transformative investments and/or development initiatives.
United States Agency for International Development (USAID) – USAID is the world's premier international development agency and a catalytic actor driving development results. USAID's work advances U.S. national security and economic prosperity, demonstrates American generosity, and promotes a path to recipient self-reliance and resilience. More at: www.usaid.gov.
Bill & Melinda Gates Foundation (BMGF) – Guided by the belief that every life has equal value, the Bill & Melinda Gates Foundation works to help all people lead healthy, productive lives. In developing countries, it focuses on improving people's health and giving them the chance to lift themselves out of hunger and extreme poverty. In the United States, it seeks to ensure that all people – especially those with the fewest resources – have access to the opportunities they need to succeed in school and life. More at www.gatesfoundation.org.