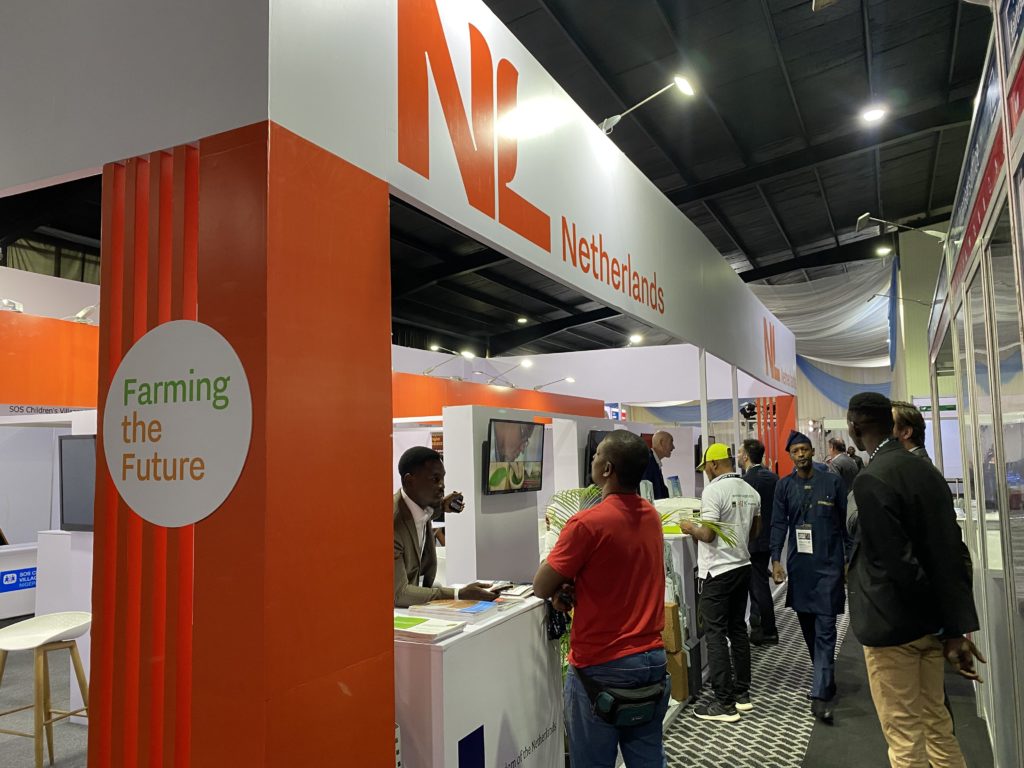 The 8th edition of the annual Agrofood and Plastprintpack event, organized by German tradeshow specialist Fairtrade, was held March 28-30 at Landmark Center, Lagos. This event has grown in scope, featuring 19 sessions, with 74 speakers who provided insights on trends in agriculture and the horticulture sector in particular. Stakeholders involved various actors across the agricultural value chain from both within and outside the country. The HortiNigeria team participated in this event, with a booth at the Netherlands Pavilion alongside other programs funded by the Embassy of the Kingdom of the Netherlands.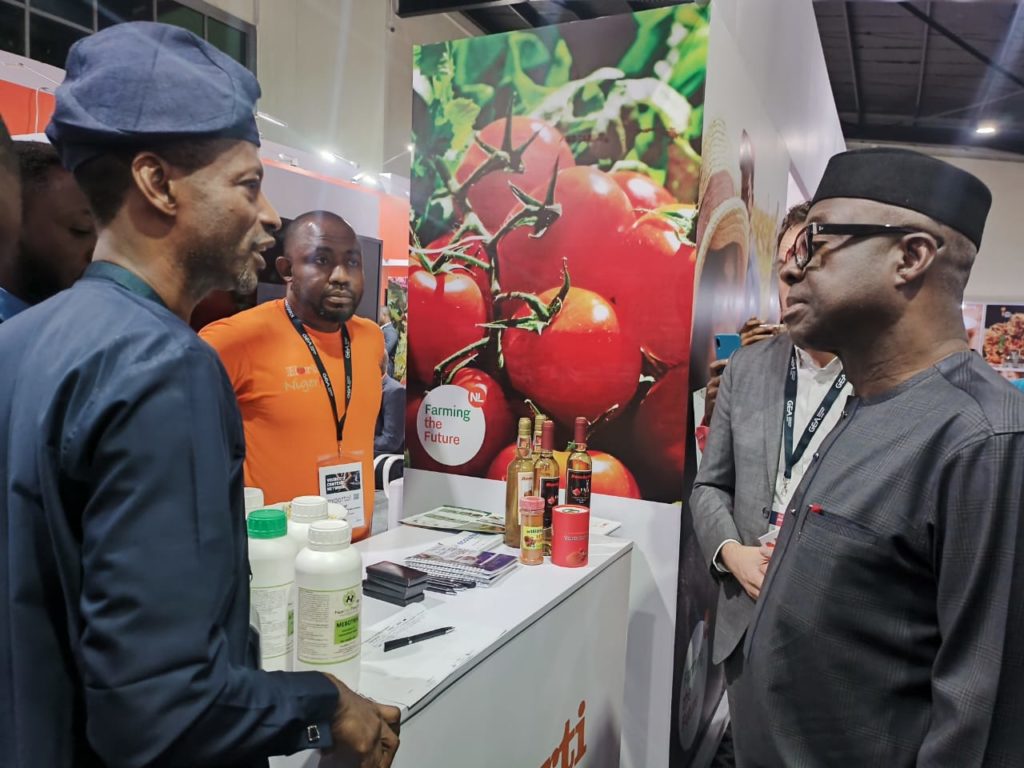 The exhibition served as a platform for HortiNigeria to showcase its activities and achievements during the past year since its launch. It also enabled the program to promote its business champions and collaborators, such as Solokad Multiventures, the National Horticultural Research Institute (NIHORT), Feed the West, Ecotutu, and Admiralty Farms. Other benefits enjoyed by the program's business champions and collaborators included gaining access to new markets and networking opportunities to build new business relationships. According to HortiNigeria Program Director Salasi Idris, exhibitions like this "allow face-to-face communications and help people keep tabs on trends within the industry."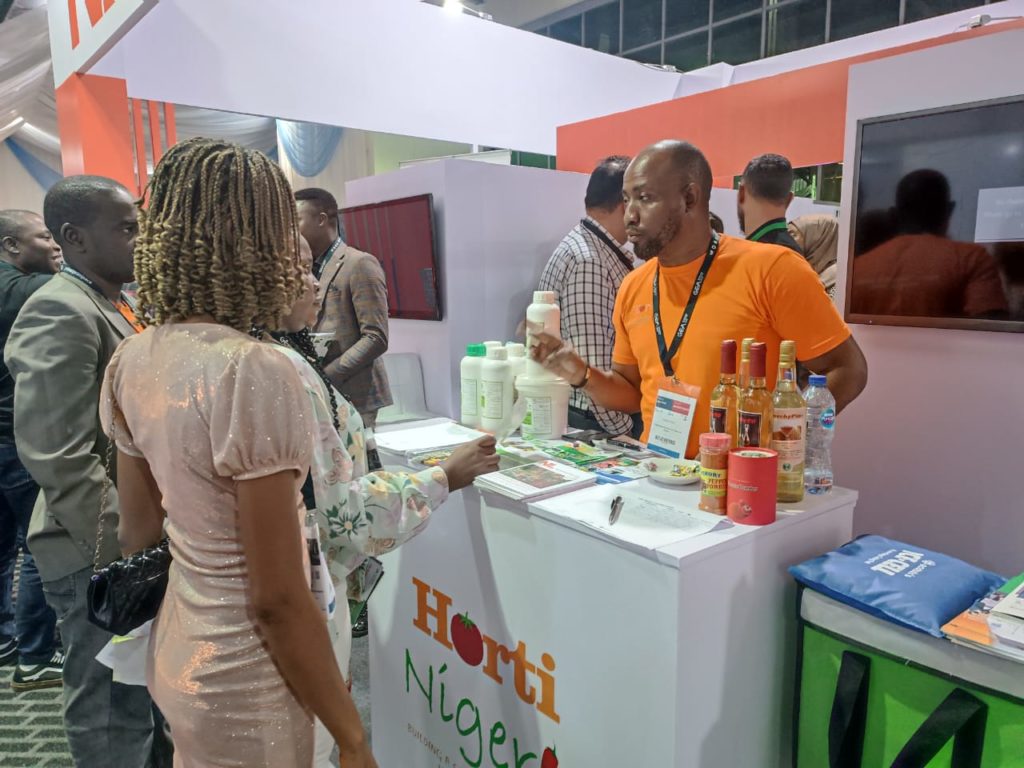 The HortiNigeria booth hosted over 90 visitors and showcased products, including tomato and pepper powder and tomato and pineapple wine processed by NIHORT; biostimulants marketed by Solokad Multiventures; cooler bags, fresh boxes, and ice jelly bags sold by Ecotutu; and program fact sheets and crop guides. In addition, a presentation was given on horticultural innovations, and the program's business champions shared their experiences employing and selling these innovations.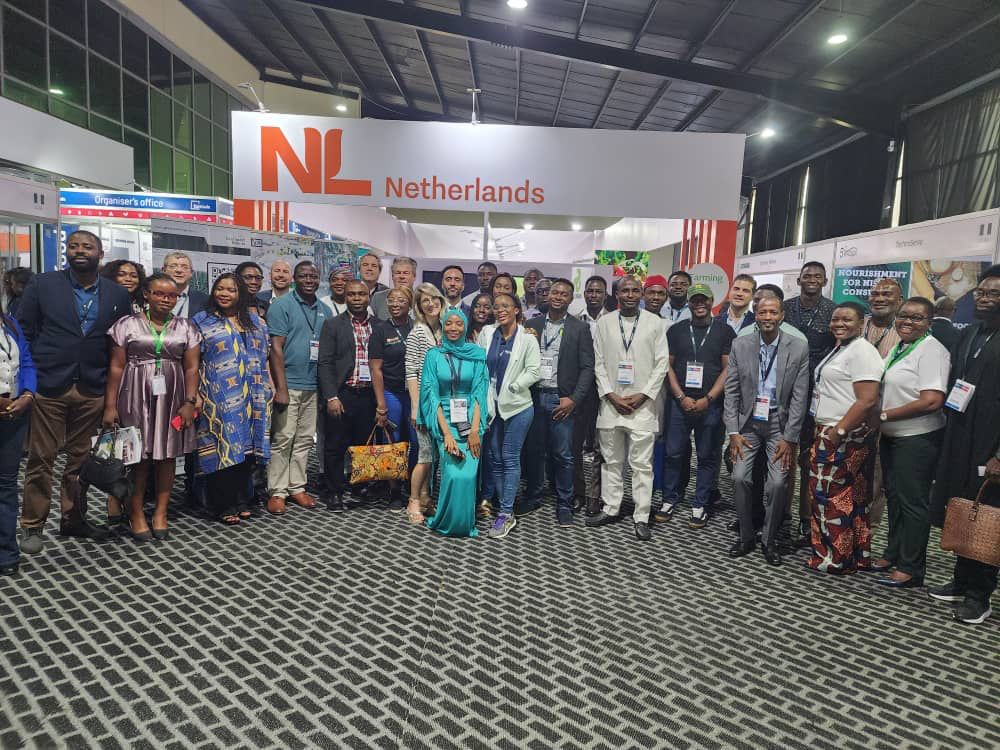 During a presentation to the Honorable Otunba Adeniyi Adebayo, the Federal Minister of Industry, Trade and Investment, Idris emphasized HortiNigeria's actions on policy advocacy to promote an enabling environment for stakeholders, particularly the private sector. He mentioned the efforts with the Ministry of Industry, Trade and Investment, the Federal Ministry of Agriculture and Rural Development (FMARD), and others to hold the recent consultative review meeting on the tomato policy in January 2023.
HortiNigeria (2021-2025) aims to facilitate the development of a sustainable and inclusive horticulture sector that contributes to food and nutrition security in Nigeria. The program is led by the International Fertilizer Development Center (IFDC) and implemented together with East-West Seed Knowledge Transfer Foundation, KIT Royal Tropical Institute, and Wageningen University & Research.