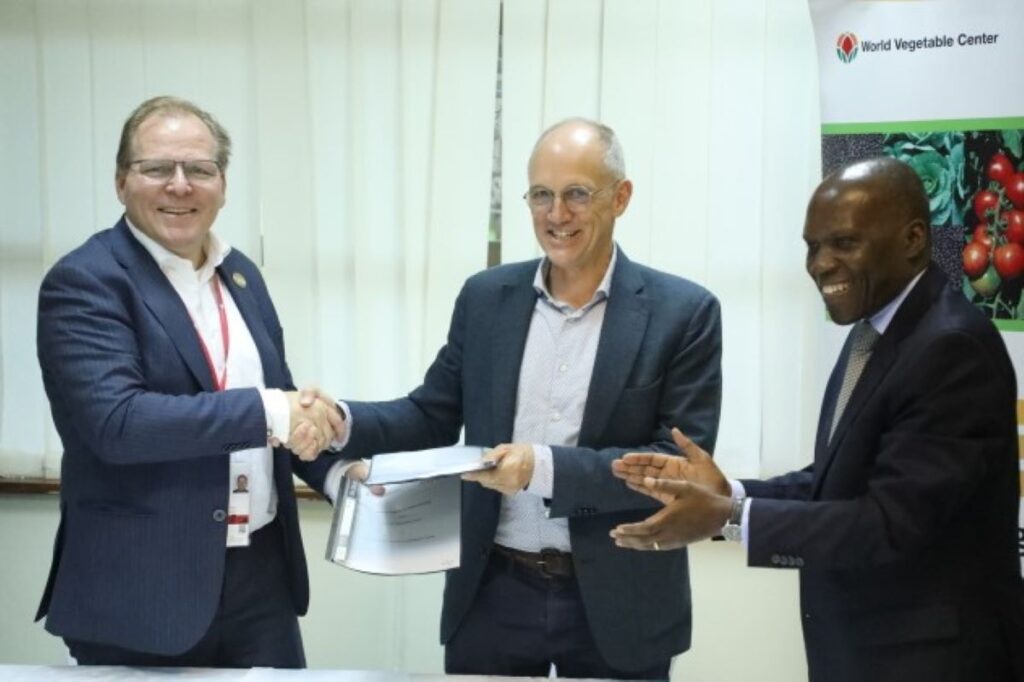 IFDC President and CEO Henk van Duijn (left) and WorldVeg Director General Marco Wopereis (middle) finalize the deal with a handshake, applauded by WorldVeg Regional Director Gabriel Rugalema (right).
Human health depends on plant health, and plant health depends on soil health. To help in finding solutions for better soil health, the World Vegetable Center (WorldVeg) and IFDC have forged stronger links, building on what was already a long-standing relationship.
A new Memorandum of Understanding (MoU) was signed on September 7 in Dar es Salaam, Tanzania, on the sidelines of the Africa Food Systems Forum. One of the key messages from the weeklong event was that, to transform agriculture in Africa, as elsewhere, actors and organizations from different disciplines must work closer together to solve everyday challenges. This MoU is a perfect example of two organizations doing precisely that.

"Joining the aboveground and the belowground" was stated as an outcome of the collaboration to come. As IFDC President and CEO Henk van Duijn said, "We have seen the concrete benefits on vegetable yields with our work on soil testing in Zanzibar, and now we are taking our partnership to a new level. Fertilizer efficiency can be as low as 20-30%; therefore, there is much scope to improve yields, together."
"We see at this Forum how vegetables are now the talk of the town, for improving nutrition, livelihoods, and resilience, and we can't do that without better soils."

Marco Wopereis, Director General of World vegetable center
The private sector is also a key partner in forging collaboration. At the signing, the seed company East-West Seed was represented by Elijah Mwashayenyi and Epaphras Milambwe, who underscored the vital roles that both WorldVeg and IFDC play in achieving the aim of improving agricultural productivity for smallholder farmers.
Collaborations like this points toward progress and success across various agriculture sectors, serving as the catalyst for innovation, growth, and positive change.
WorldVeg and IFDC are members of the Association of International Research and Development Centers for Agriculture (AIRCA), an international non-profit alliance focused on increasing food security.
Read the original article on the World Vegetable Center website.