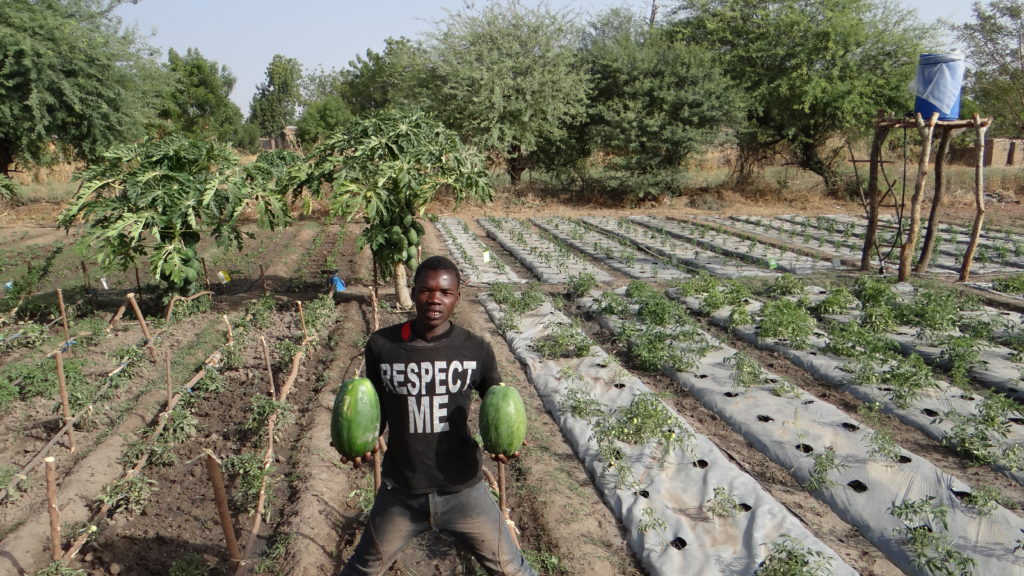 IFDC believes that young people will shape the future of food security. To engage youth in agriculture, the 2SCALE project equips young farmers with the tools and knowledge to make agriculture a profitable career. Nineteen-year-old Adama Traore is determined to manage his own farm. His story is below:
My name is Adama Traore, and I'm 19 years old. I dropped out of school three years ago to earn money to support my family. Even now, I don't regret my decision. I'm working as a farm apprentice, and my first goal is to understand everything I can about vegetable farming. In the past two years, I've learned about all the steps that go into vegetable production — from soil preparation to smart fertilization, from disease prevention to daily plant cultivation. Everything I know, I learned from an older apprentice who attended organized training sessions.
Some of the innovations I've discovered and used include plastic mulching and drip irrigation, which cuts labor time and water usage by a third. I've also experienced seed varieties provided by East West Seed International, a 2SCALE partner. They've proven to be truly exceptional. For example, the papaya we planted nine months ago has over 100 fruits on one single tree. The biggest fruits reach up to 6 kilograms! With quality like this, we can sell the fruit for up to 1,500 FCFA [$2.63 USD] – three times the price of other varieties on the market. Papaya is a very profitable business, along with onion, tomato, and cabbage.
I'm not rich. Not yet. But I'm confident in my future, as now I will be able to earn over 600,000 FCFA [about $1,053 USD] each month by growing tomato, onion, and papaya on less than a hectare of land.
My big challenge is to buy my own farm and setup my own business. I do have land in my village, but it's too far from Bamako, which is our biggest market to sell vegetables. I need to find a farm closer to the market and dig a modern well deep enough to provide water during the dry season.
Sadly, the bank will not give credit to a young vegetable farmer like me. So I have to make it by myself, step by step. It will take some time, but I'm confident my training, skills, and determination will give me everything I need to achieve my goal.
Adama's story kicks off our series about Youth in Agriculture in West Africa. We will be highlighting producers and entrepreneurs who began farming at a young age or are empowering the next generation to begin a career in agriculture. Check back soon for more stories!