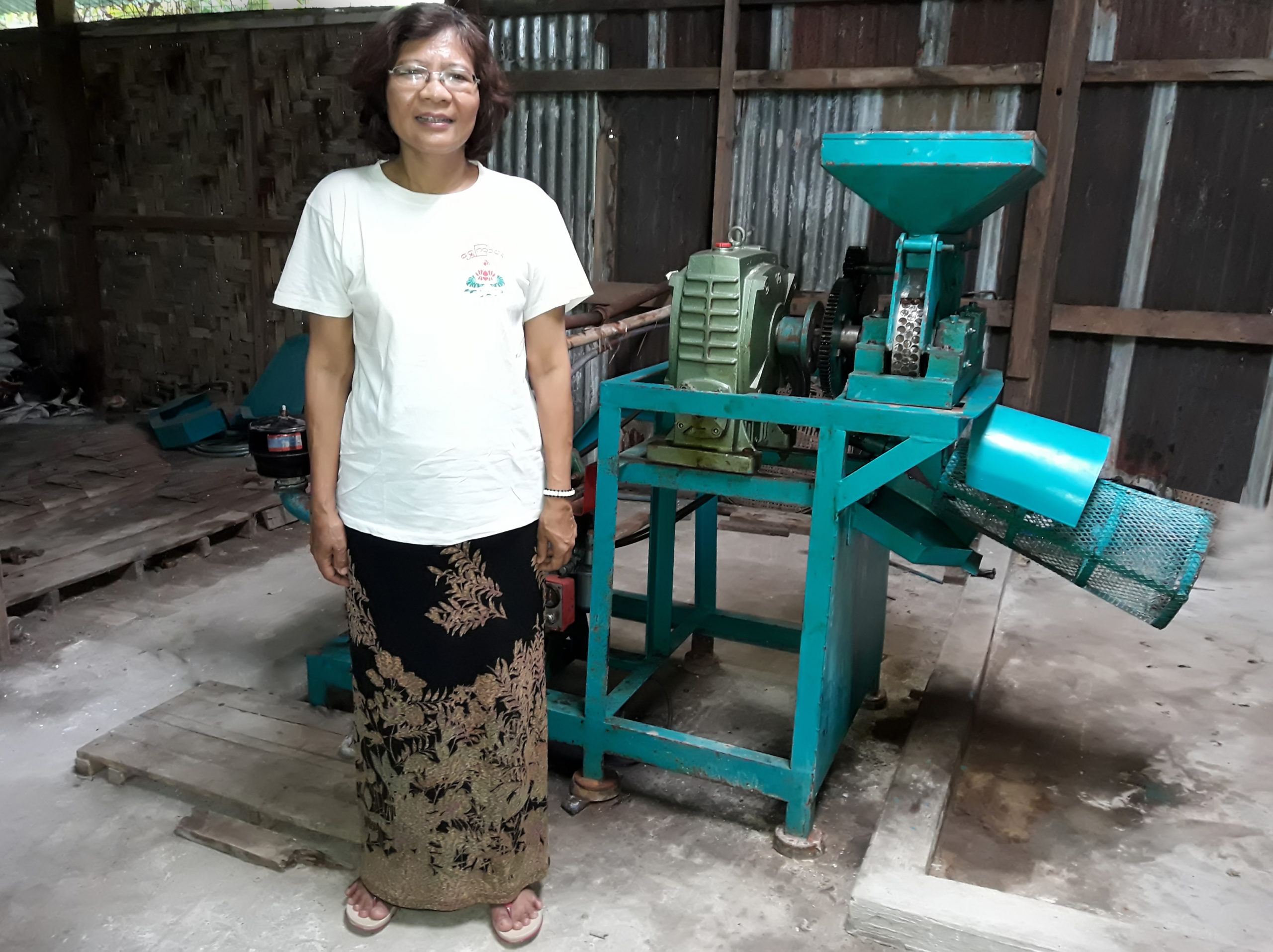 Daw Kyin Than Oo operates a fertilizer business in the Yangon region of Myanmar. Her husband U Ko Gyi passed away recently, and she was left to raise her four children on her own. Thankfully, they have helped her maintain the family business. The elder son supervises production with two family laborers, while her two daughters work in the company. Her other son is still at school.
In 2010 she opened a small enterprise named Shwe Wah Nan, Gypsum Natural Fertilizer. The knowledge she gained from her bachelor's degree in agriculture science has allowed her to understand agricultural systems and technology, and, since opening, Kyin has become the main supplier of gypsum fertilizer in the Bago Division.
Kyin first learned about urea deep placement (UDP) when the Fertilizer Sector Improvement (FSI+) Project established a demonstration in Kyin's township and offered training in technology. Foreseeing the benefits of early adoption of the technology, she purchased a urea briquetting machine in with a subsidy offered by FSI. Since then, she has been active in marketing meetings and taking orders from farmers directly. At present, she is focused on working in the Bago region, and she is expecting to sell a high volume of briquettes. In the wet season of 2016, she sold 300 kg in Shwe Bo (Sagaing Region) and 1,000 kg to farmers in Nay Pyi Taw. If business keeps improving, she plans to extend the market into more regions.
Kyin is investing in advertising and promotions, using her working capital to promote briquettes by distributing 5-kg briquette samples and also by printing and distributing pamphlets, T-shirts, and umbrellas to farmers. She wants farmers to know that UDP is a low-cost, high-yield technology, and she is helping them receive training on how to use UDP. Since January 2016, she had produced more than 400 50-kg bags of briquettes.
But for Kyin, making a profit is not the most important thing.
"Generally the objective of the enterprise is to make a profit," she said. "At present, I do not get much gross profit from my enterprise. I just wanted to sustain my enterprise development into the future and to help increase incomes, livelihoods, and food security of smallholder farmers by encouraging them to adopt UDP technology, as well as to safely improve the environment in the long term."