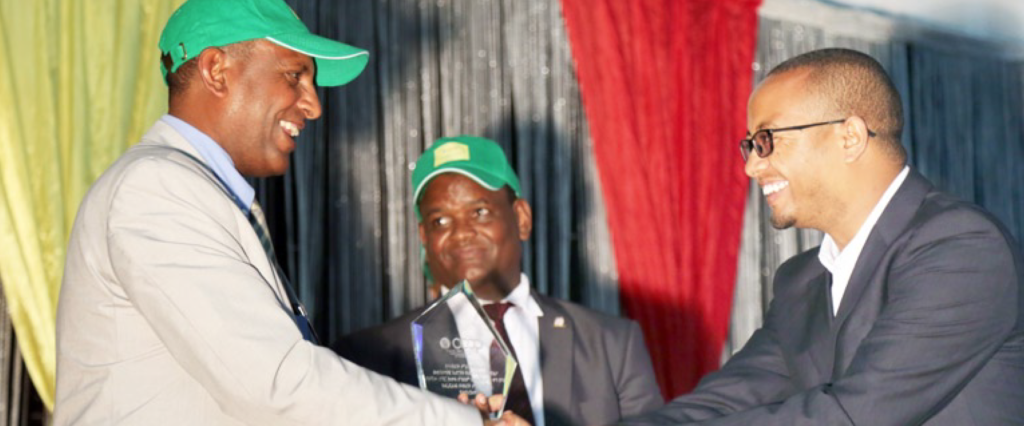 IFDC's 2SCALE project builds partnerships for development. Equally important, it builds capacity, empowering farmers, farmer cooperatives and unions, agri-entrepreneurs, extension staff and others with skills and business linkages to help them grow. Capacity building programs have made significant impacts, and these efforts have been noted by the Ethiopian government.
On 10 June, the Ethiopia Ministry of Agriculture and Natural Resources and the Ethiopia Federal Cooperative Agency (FCA) recognized 2SCALE as Best Capacity Builder/Project of the Year.
The award was presented by Dr. Eyasu Abraha, Minister of Agriculture and Natural Resources, at a function in Hawassa, Ethiopia. Usman Surur, Director General of the FCA, said: "2SCALE is awarded the trophy not for the amount of money it has put into the project, but rather it is for the fact that it has shown the government and development partners a better way of doing market-oriented inclusive agribusiness projects with relatively limited funding."
2SCALE capacity building programs cover not only technical training (e.g. production, quality control, processing, post-harvest management) but also business skills such as accounting, budgeting and cost-benefit analysis, and organizational strengthening (e.g. management of cooperatives).