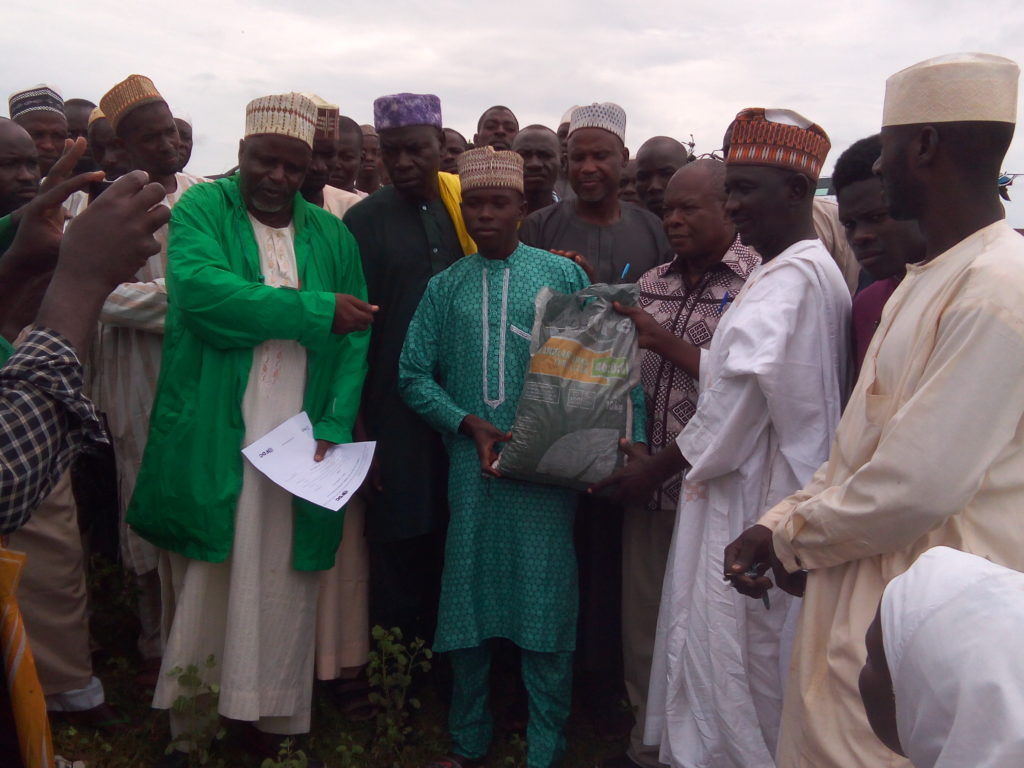 Playful in demeanor, 24-year-old Anas Garba is passionate about addressing youth unemployment. Like most unemployed graduates, Garba engaged in farming to support his parents and younger siblings after obtaining a degree in economics from Jigawa State College of Education in 2015.
In May 2017, an extension agent in Garba's community introduced him to the Feed the Future Nigeria Agro-Inputs Project. Project staff identified Garba as an enterprising young person in the community and worked closely with him to harness his potential in agro-input dealership. He received trainings on product knowledge and business management. Through farm field days, he networked with farmers in his community.
Garba was eager to apply what he learned from his training. He rented his store on the roadside to ensure the location was easily accessible to farmers and visible to potential customers. To build his customer base, Garba used the "Know Your Customer" method. He identified nearby farmers, particularly rice farmers, and visited them in their fields. He customized his advice to farmers' needs and showed them how to maximize productivity-enhancing technologies.
Garba purchased 100 10-kilogram bags of urea supergranules from Albarka Agro-Allied and Chemical Ltd., a trained and certified agro-input distributor in Kano State. He was the only agro-input dealer in Kafin Gana selling urea supergranules, which are large fertilizer briquettes placed deep into the soil to reduce nitrogen losses. For Garba, the business venture was about more than earning a living. He was motivated to truly make a difference in farmers' lives by making the product available.
"Though some farmers are aware of urea supergranules, they are not available in my community," Garba explains. "Before I started my businesses, the few farmers who knew about urea supergranules had to travel long distances to purchase the product."

Soon Garba intends to sell fertilizer blends tailored to specific crops and soils. "In this venture, I will engage youths like myself to continue educating farmers on the benefits of using appropriate fertilizer together with urea deep placement technology," Garba says. "Modern farming technologies will be good for farmers, my business, and the community as a whole. As farmers' extension needs are met, local youths earn money by providing private extension services and I will be able to make more sales. The agro-input dealership is simply changing lives."
Funded by the United States Agency for International Development, the Feed the Future Nigeria Agro-Inputs Project promotes a private sector-led agricultural inputs market that enables farmers to access quality and affordable products. Ending in October 2017, the project has reached 4,000 farmers and 1,500 agro-dealers.