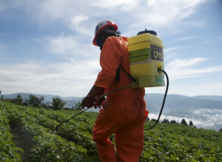 The 2SCALE program is an incubator for inclusive agribusiness across nine countries in sub-Saharan Africa. Funded by the Netherlands, 2SCALE offers a range of support services to private partners – companies and farmer groups – enabling them to produce, transform, and supply quality food products to local, national, and regional end-user markets, including base-of-the-pyramid (low-income) consumers. The following updates highlight partners' progress and 2SCALE's recent efforts in East Africa.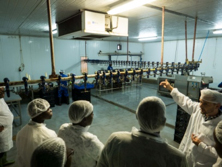 Mozambique: Chicken Nuggets
Chickens in Mozambique are usually sold whole. Food processor, Novos Horizontes, now offers frozen chicken cuts in small portions, ideal for low-income consumers. The new product is being test-marketed, with a full-scale market launch planned for January.
Eight Novos Horizontes wholesalers are being upgraded with refurbished shops, new displays, uniforms (T-shirts, aprons, caps), posters, and other marketing materials. The next phase (ongoing) focuses on 40 retailers. In addition to branding, a specific growth plan is being developed for each retailer. Business training for shop owners has commenced, with sessions on financial literacy, business planning, and budgeting.
Kenya: Asili Plus
2SCALE partner Shalem Enterprises is developing a new line of foods that are healthy, nutritious, and gluten-free. The first product is fortified sorghum-soya flour, for which 2SCALE helped Shalem develop a marketing strategy. Test-marketing was completed in October, and the product officially launched in November. By the end of 2017, Asili flour will be available at supermarkets across Kenya.
The next product to be launched is traditional uji (porridge) with a modern twist: sorghum plus millet, maize, soya, and amaranth. Consumer taste tests have been completed, the product has been certified by food safety regulators', and packaging is being designed. The porridge will be launched in early 2018.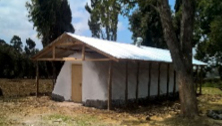 Kenya: Potato Warehouses
2SCALE's work with potato farmers has been so successful that other partners are providing co-funding to scale out specific components. For example, the Irish Embassy in Kenya co-funds an initiative on potato storage, using the 2SCALE approach and implemented by 2SCALE staff.
Fifteen low-cost potato warehouses have been built in five counties: Kiambu, Meru, Nakuru, Nyandarua, and Nyeri. The warehouses are owned and managed by community groups. They are built to a standardized low-cost design, 40-ton capacity, using local materials – a wooden frame, wire mesh, bales of straw, and mud for plastering. Farmers benefit twice over. Storage losses are reduced by 50%; and they can harvest, store, and wait to sell when prices are higher rather than immediately after harvest.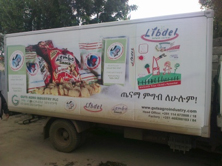 Ethiopia: Exit Strategy
2SCALE's successful partnership with food processing firm GUTS Agro will be phased out in December simply because the partners no longer require external support. GUTS buys maize and soybeans from more than 12,000 farmers belonging to three farmer unions in SNNPR: Sidama Elto, Hunde Chewaka, and Anger Abeya. The exit strategy, designed jointly with GUTS and the farmer unions, will ensure that business continues to grow even without external support.
Highlights of the partnership and exit strategy include the following:
To reduce storage losses in maize, we introduced PICS bags designed by Purdue University. More than 3,500 bags are in use; another 2,000 have been ordered.
To increase soybean yields, we helped farmers access seeds and Rhizobium inoculants and linked 2SCALE clusters with AGRA's Integrated Seed Sector Development project.
Trainers and coaches are in place in all clusters in all three farmer unions. The capacity building program concluded in July, with specialized training for 30 soybean extension specialists.
A Business Model Canvas workshop prepared the Sidama Elto union to become commercially independent, with adequate capacity and a sound business plan.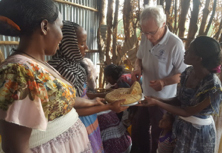 Ethiopia: Sorghum – Good to Eat
Dutch food industry experts, deputed by the PUM program (a senior expert volunteer organization), are helping rural communities rediscover sorghum.
How? New sorghum-based foods that taste similar to popular traditional snacks. We worked with women's groups in Humera to understand local preferences and develop products that were easy to make and easy to sell. Ten new recipes were created – different combinations of sorghum, soya, and wheat flour, in different flavors. Taste tests were conducted with 28 women at two locations: one urban, one rural. The result: 28 likes!
Clearly, there is commercial potential for everyone – farmers, small-scale processors, village retailers. We're working with women's groups to plan production and marketing in preparation for a roll-out in early 2018.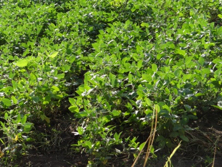 Uganda : Soybeans – Protein Plus Profit
The 2SCALE partnership with RECO Industries has contributed to a major expansion of the smallholder soybean sector in Uganda. The partnership involves 20,000 farmers, 26 cooperatives, and a host of small local businesses providing transport and other services.
More than 8,000 farmers have been trained on seed selection, agronomy, nutrient management, and other areas. Soybean yields have increased by nearly 40%. The use of modern inputs, such as Rhizobium inoculants, has increased several-fold in two years.
A recent survey, in partnership with the Masindi district farmers' association, collected data on farm budgets, yields, and production costs from 350 farmers. Ten farmer groups have also conducted their own analysis, guided by 2SCALE coaches. Their conclusion? If the crop is well-managed, return on investment can be as high as 250% ‒ production costs of 345,000 Ugandan shillings (about U.S. $100) per acre and profits of 850,000 shillings.
Uganda: Keep Your Crops Safe
The Spray Service Provider (SSP) program, in partnership with CropLife, is keeping crops safe while creating rural jobs. Young men from the community are recruited, trained, equipped, and then become traveling businessmen, offering spray services to farmers at affordable rates.
Is the program working? In September, CropLIfe surveyed 21 SSPs from Kasese district. They started business in July 2017. In less than two months, they had serviced 167 farmers (36% women), spraying mostly cotton but also maize, beans, and other crops. They earned between 3,000 and 5,000 Uganda shillings ($0.85 to 1.40) per acre, a significant amount in the local context.