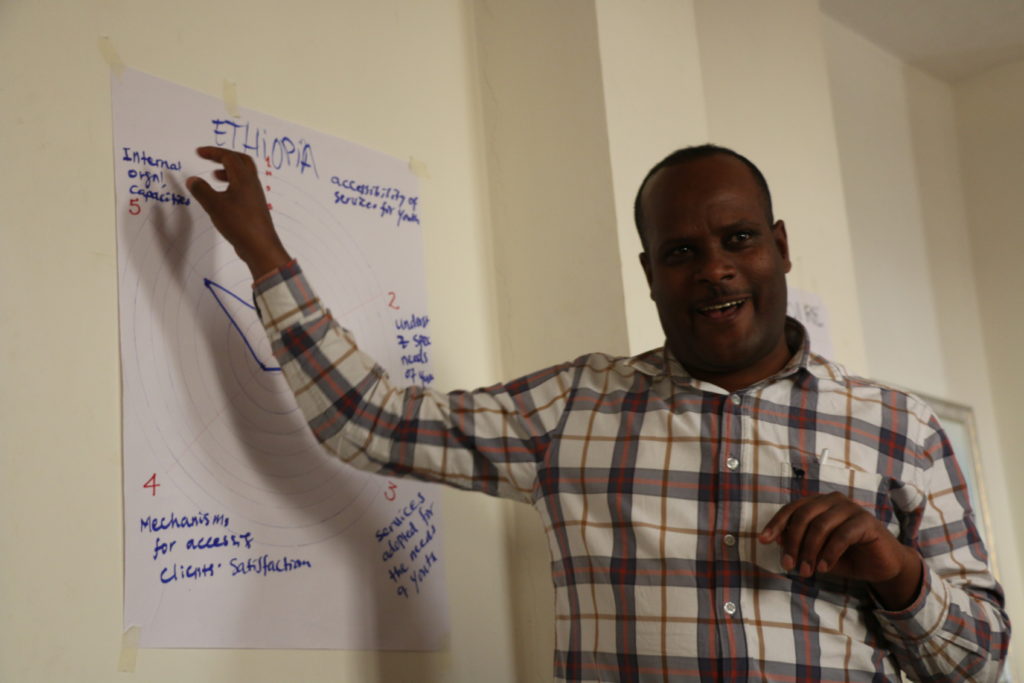 During a recent team meeting, 2SCALE staff brainstormed ways to engage youth in agribusiness.
2SCALE Phase I will end in December 2018; and the project is on track with every key target. As the project enters its last year, the 2SCALE team took time to pause briefly and refocus on plans and targets for 2018.
During a team meeting in Ethiopia, staff from seven countries dissected 2017 results to fine-tune strategies for the new year. The goal and the approach remain the same: working with farmers and entrepreneurs to promote inclusive business, strengthen local networks, improve competitiveness, and empower women and youth. Activities in 2018 will focus on six countries: Côte d'Ivoire, Ethiopia, Ghana, Kenya, Mali, and Nigeria. Previously, 2SCALE also worked in Benin, Mozambique, and Uganda. Activities in these countries are now being led by other 2SCALE partners, or have reached a point where project support is no longer needed.
The 2SCALE consortium will also be smaller in 2018. ICRA will not be directly involved, because their role (capacity building) has been largely achieved; in the final year, the project will focus on replicating and scaling out successes rather than basic capacity building.
In 2018, 2SCALE aims to:
Add 50,000 new farmers to cluster networks, reaching a total of 600,000 farmers by December 2018.
Strengthen an additional 300 small and medium enterprises (SMEs), bringing the total to 3,000 SMEs by December 2018.
Discussions at the meeting focused on specific areas – for example, tailoring training modules for each partnership; how to promote financial inclusion by partner companies; and identification of short, targeted pilots (6-8 month duration) that could be expanded into full-fledged agribusiness partnerships in the future. A special session focused on youth – how to engage them in agricultural value chains, how to create more jobs for youth (especially in services such as transport and crop spraying), and tools to measure youth inclusion.
The team visited the GUTS Agro processing plant in Hawassa, southern Ethiopia. GUTS buys soya and maize from 2SCALE farmer groups, produces a high-protein, easy-to-cook corn-soya blend, and markets it through a network of women entrepreneurs. This unique model, designed jointly by the company and 2SCALE, is being replicated in development projects in several countries.