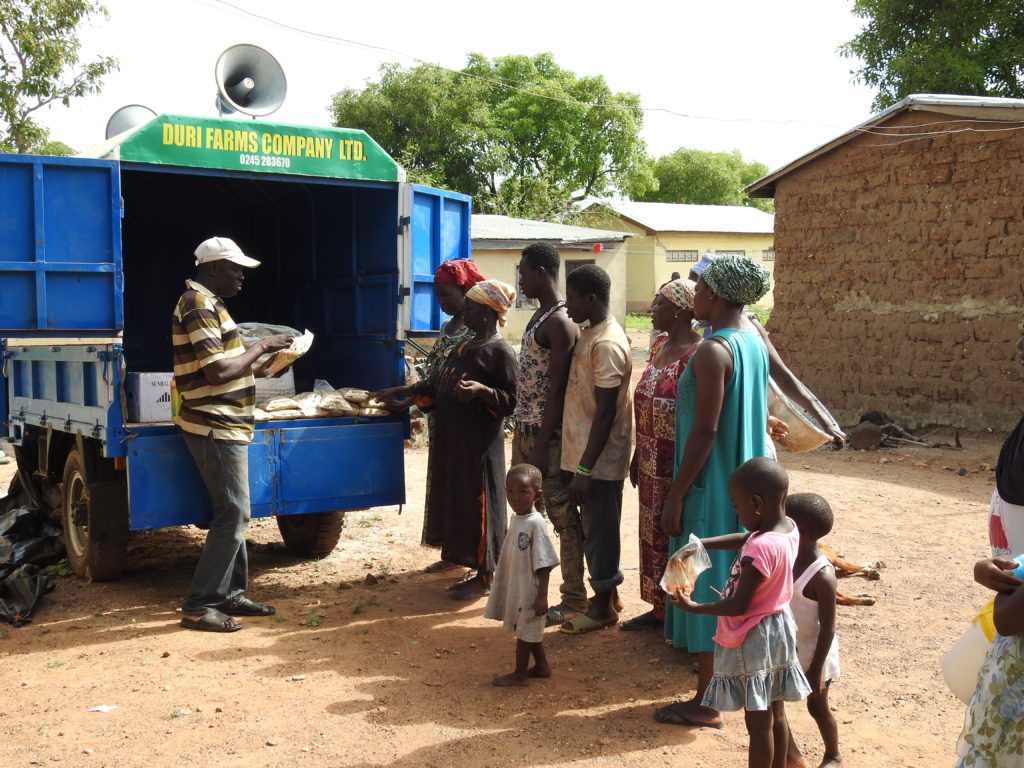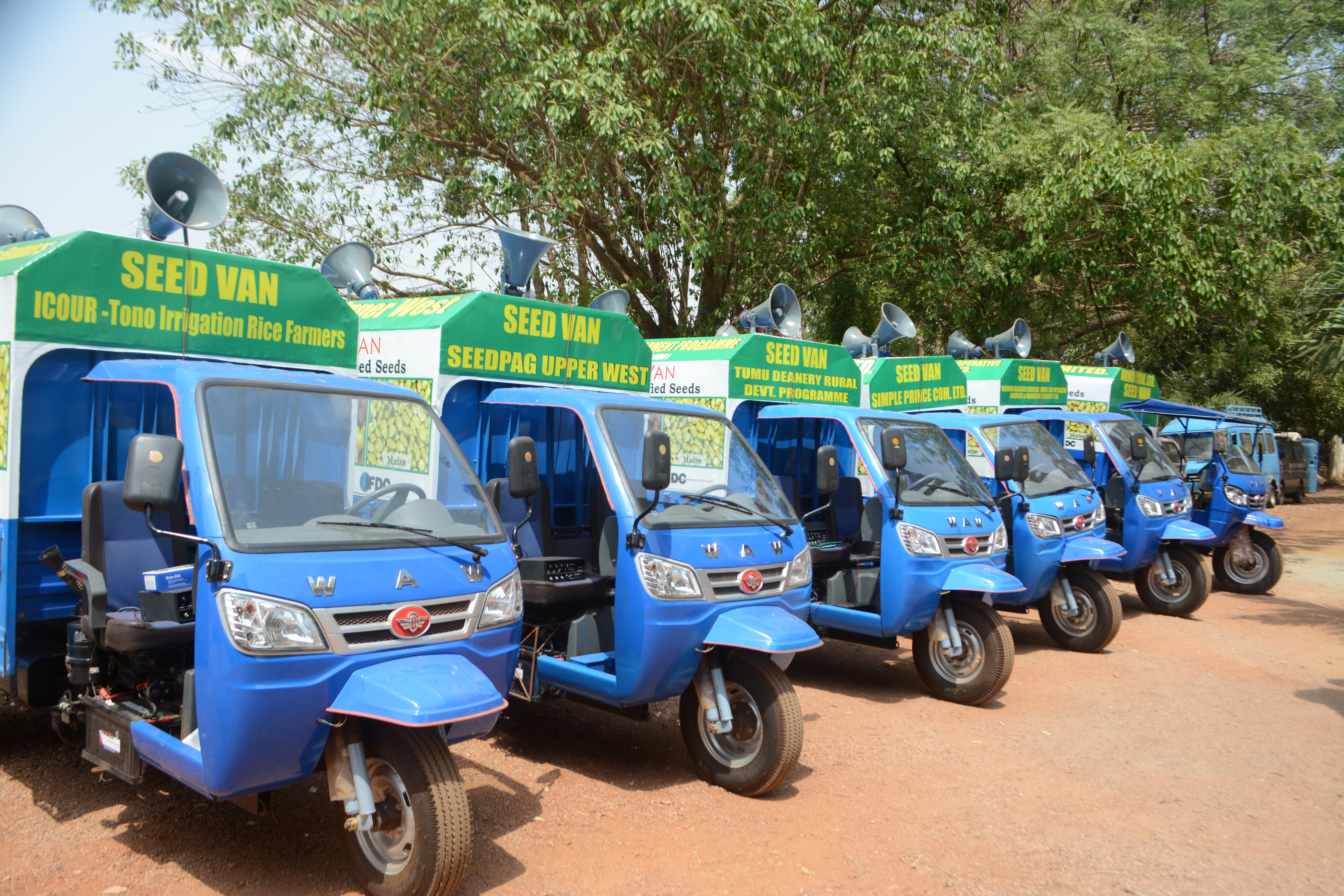 Most smallholder farmers in northern Ghana lack access to high-quality certified seed. They often use seed that they save from one season to the next. With saved seeds, these farmers barely produce enough to feed their household year-round. However, since the Feed the Future Ghana Agriculture Technology Transfer (ATT) project began in 2013, the situation has started to improve.
To ensure that certified seeds get to rural farmers, ATT implemented the Seed Van Initiative. "Through our small grant support program, we provided 22 vans to seed producers that travel to hard-to-reach communities – at the last mile," said Dr. Gary Mullins, ATT Chief of Party.
The vans are motorized tricycles (also known as "Motor King") modified to transport seeds and other agricultural inputs. Using the vans, seed producers have distributed over 460 metric tons (mt) of certified maize, rice, and soybean seeds to farmers across northern Ghana.
"The seed van operators have reached thousands of smallholder farmers," said Musa Taylor, ATT Deputy Chief of Party and Technical Director, "giving them the opportunity to increase productivity and household income."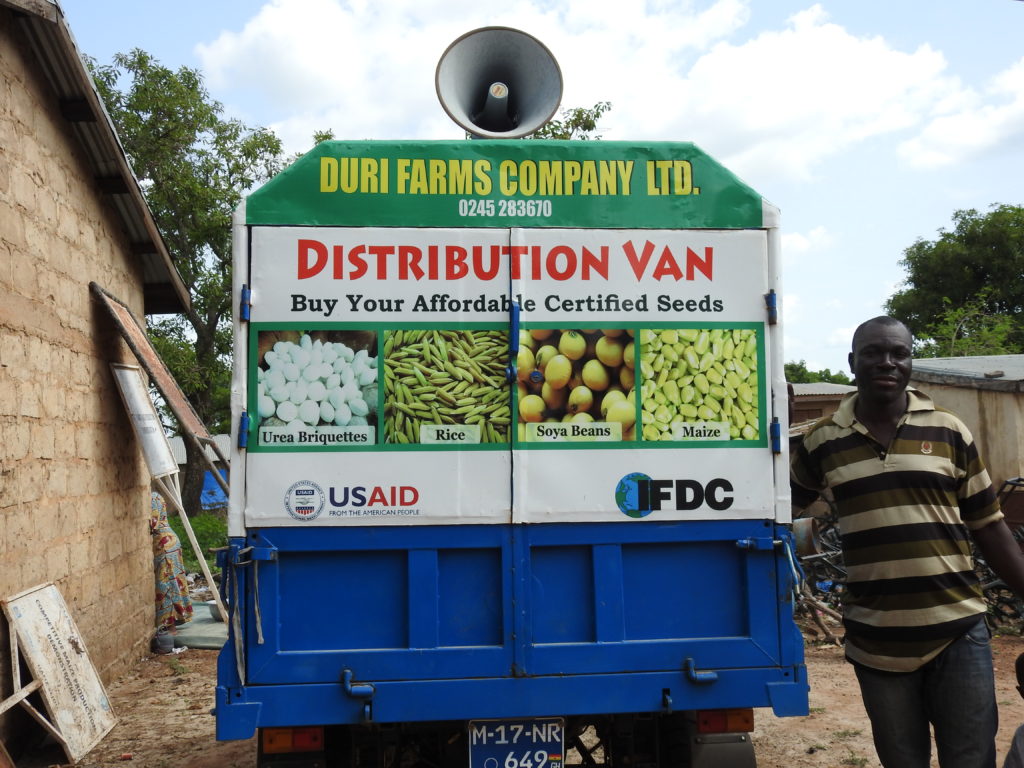 The vans are branded to promote the seed producers' businesses and IFDC/ATT. They are equipped with loudspeakers that play jingles and advertise the certified seeds in local languages.
"Because the vans were properly branded, our visibility has increased," said Seidu Mubarak, Deputy Managing Director of Antika Company Limited, an ATT-supported seed company. "The vans came as a blessing to us." After Antika's participation in the seed van initiative, the business distributed certified maize and rice seed to the government's Planting for Food and Jobs program in 2017. The company's production increased from 150 mt to 600 mt a year.
"We reached more farmers with certified seeds in 2017 than any other period, thanks to the ATT Seed Van Initiative," said Mashood Dori, Managing Director of Dori Farms. "Our business is now recognized at the community level," he added. Dori says the seed value chain is growing stronger, with seed production, cleaning, conditioning, and testing services becoming available in Northern, Upper West, and Upper East Regions.
According to Zakaria Sumani, Managing Director of Heritage Seed Company, ATT support has extended beyond the seed vans. "Our staff also benefited from ATT trainings in seed regulations, the agronomy of seed production, integrated soil fertility management, integrated pest and disease management, and seed marketing. We are now able to establish strong internal quality assurance that subsequently improved seed quality and boosted our sales."
"There is no other better time to go into farming than now," Dori said. "Thank you, USAID and ATT, for helping the agriculture sector function again in northern Ghana."
The Feed the Future Ghana Agriculture Technology Transfer (ATT) project is a five-year activity funded by the U.S. Agency for International Development Ghana Mission (USAID/Ghana). The project is increasing the competitiveness of rice, maize, and soya value chains to foster broad-based, sustained economic growth and productivity by increasing the availability of agricultural technologies in northern Ghana. The program focuses on the Ghana Feed the Future intervention zone, which covers the three regions of northern Ghana – Northern, Upper West, and Upper East – and addresses technology constraints in Ghana's Feed the Future target crops of rice, maize, and soya.  
 
IFDC is the lead implementer, with additional technical support provided through Iowa State University (ISU) and the Center for Development Innovation of Wageningen University, as well as local organizations and public and private sector institutions in Ghana.