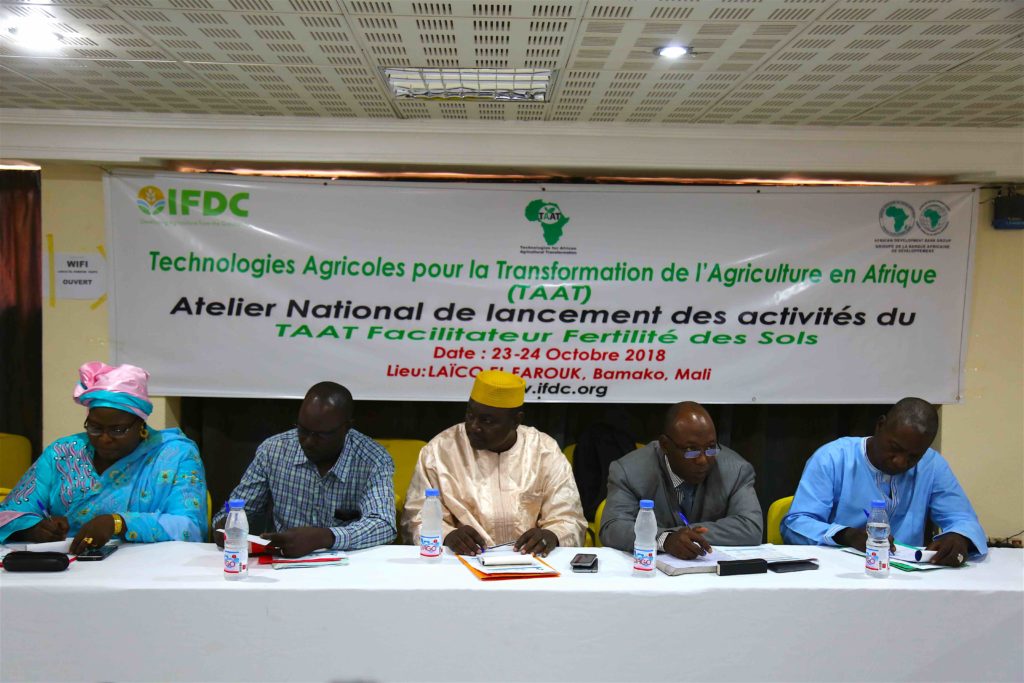 The International Fertilizer Development Center (IFDC) launched the Soil Fertility Enabler Compact of the Technologies for African Agricultural Transformation (TAAT) project on October 23, 2018 at the Laïco El Farouk Hotel in Bamako, Mali. The launching ceremony was chaired by the Director General of the Institute of Rural Economy (IER), Dr. Abdoulaye Hammadoun, in the presence of many actors in the food crops, livestock, and fish value chains, including those in the fields of agricultural research, agricultural distributors, seed companies, dissemination and extension.
The TAAT project is financed by the African Development Bank (AfDB) and aims to transform subsistence agriculture in Africa into a more efficient agriculture business with more added value.
IFDC is leading the TAAT Soil Fertility project and deploying improved soil fertility technologies on a large scale in support of crop value chains. TAAT Soil Fertility has three components, the first of which is aimed at facilitating the establishment of a private sector-led input distribution system to support the intensification of agricultural input-based technologies. The second is the regional technology diffusion infrastructure, and the third is the deployment of appropriate and proven soil fertility management technologies.
In Mali, TAAT interventions will target the millet/sorghum, rice, and wheat value chains. The project will aim to create an enabling environment for an incentive system for agro-dealers and their access to finance to support large-scale dissemination of agricultural technologies. It will apply geo-referencing, sampling and soil analysis. Finally, it will develop balanced and specific manuring formulas for wheat, rice, sorghum, and millet.
The provision of better adapted fertilizers as well as information on good practices of integrated soil fertility management (ISFM), dissemination of micro-dose technologies on sorghum and millet, fertilizer deep placement technologies on rice, among other things, are the objectives of TAAT. IFDC has developed a project on the widespread diffusion of technologies based on the use of agricultural inputs, especially fertilizers to accelerate agricultural productivity and improve the living conditions of farmers. These objectives were discussed during the two days of the workshop.