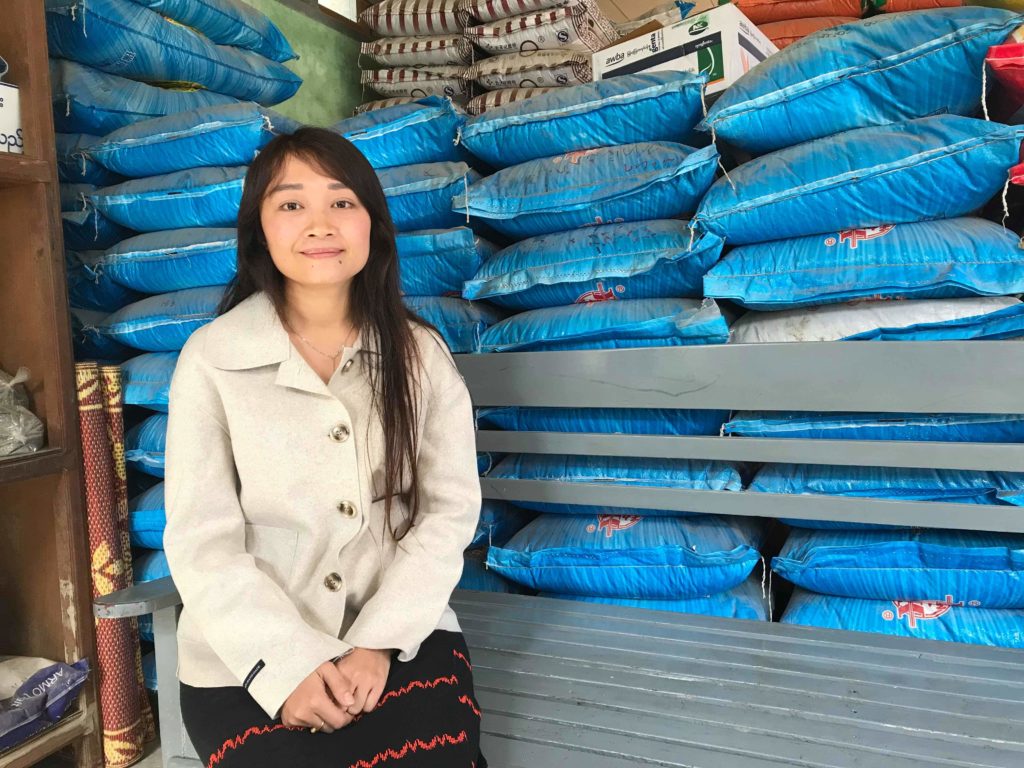 Sandar sits in her newly built warehouse.
"Since my training, my whole life has changed because I know exactly what to do and how to do it."
Sandar Myint is a successful agro-input retailer in Taunggyi Township in the Shan region of Myanmar. The thirty-year-old mother of two runs her family's agro-input business, though she technically has a degree in electrical engineering and a previous career in another business. Her parents started their first shop at Nyaung Shwe Township in 1998, then ten years later, they opened a second shop at Taunggyi, which Sandar has run since then. Currently, her shop, "Mya Sandar – Seeds and Fertilizer Shop," is one of the largest agro-input shops within Taunggyi. This township has one of the highest demands for fertilizers in the Southern Shan region, one of the largest agricultural production areas. Income from the agricultural sector is the greatest contributor to household income.
According to Sandar, her business is a service to her community: "I want to sustain, develop, and grow my business for the long-term, especially to sell a high volume of product with lower margins. I see that farmers in the village are not so wealthy, and if I can help them with reasonable price, then I feel it is my pleasure to do so. Increased productivity and profitability of farming is an important pathway to reduce poverty in the rural areas of Myanmar."
Initially, IFDC invited her mother to an agro-inputs training, but she was unable to attend and sent Sandar in her stead. She had never attended this type of training and was a vigorous participant, wanting to learn all she could. The training provided Sandar with improved knowledge of her product, customers, warehousing and logistics management; marketing skills; and access to more working capital.
With this knowledge, she began to transform the shop from a family business to a leading competitor using modern business management techniques.
"I have easily maintained and thoroughly checked my stocks from loss and damage, and I have changed the voucher system to obtain more accurate stock supplies and to reduce unnecessary expenditure. I know the benefits of keeping records and have summarized records on an annual basis. If I have the time, I can summarize monthly records as well. In addition, an Income Statement or Profit and Loss Statement is usually prepared. In the past I never kept records like this."
With her business background and eye for opportunity, Sandar found unexpected inspiration when she looked out the window. Seeing that there was no adequate access of fertilizers because of the lack of storage space, Sandar used her profits to buy a new warehouse and build a bigger store near her shop. Now she can guarantee farmers adequate access to fertilizers.
"Additionally, I always observe the market conditions: how many competitors there are, their prices, products and promotion. In the training, I gained knowledge on how to attract and better serve my customers."
To stay competitive, she leads farmer trainings and promotes her business by distributing sweaters, hats, T-shirts, and bags to farmers as gifts for being loyal customers. She has directly touched the lives of her customers by providing the products they want and need and by giving excellent customer service through staff training.
"I also learned about new products to sell. At present, more than 60 varieties of seeds and fertilizers are available in my shop. Such varieties was unavailable in past years because I was afraid of selling the new items."
Under her leadership, her shop has been growing gradually since 2016, with fertilizer sales growing 30-40% each year during the 2017-18 season. As a result, she received the best seller award of regional and national level, respectively, in 2017 and 2018. The award is presented by Armo, AWBA, CP, and Toe Pwar Man, which are Myanmar's largest manufacturers and distributors of agricultural technology with a focus on crop protection, crop nutrition and high-quality seeds.
As her business grows, she plans to open three new agro-input shops in 2019.
"I really appreciate IFDC for my successful career development, and I recommend that all retailers and young entrepreneurs attend trainings…"By applying what I learned I am becoming a more successful business woman."
The Fertilizer Sector Improvement (FSI) project, funded by USAID, began in March 2014 as a three-year project. In May 2015, it was expanded and extended to a five-year project known as FSI+ (2014-2019). The project promotes the application of balanced fertilizer with urea deep placement (UDP).