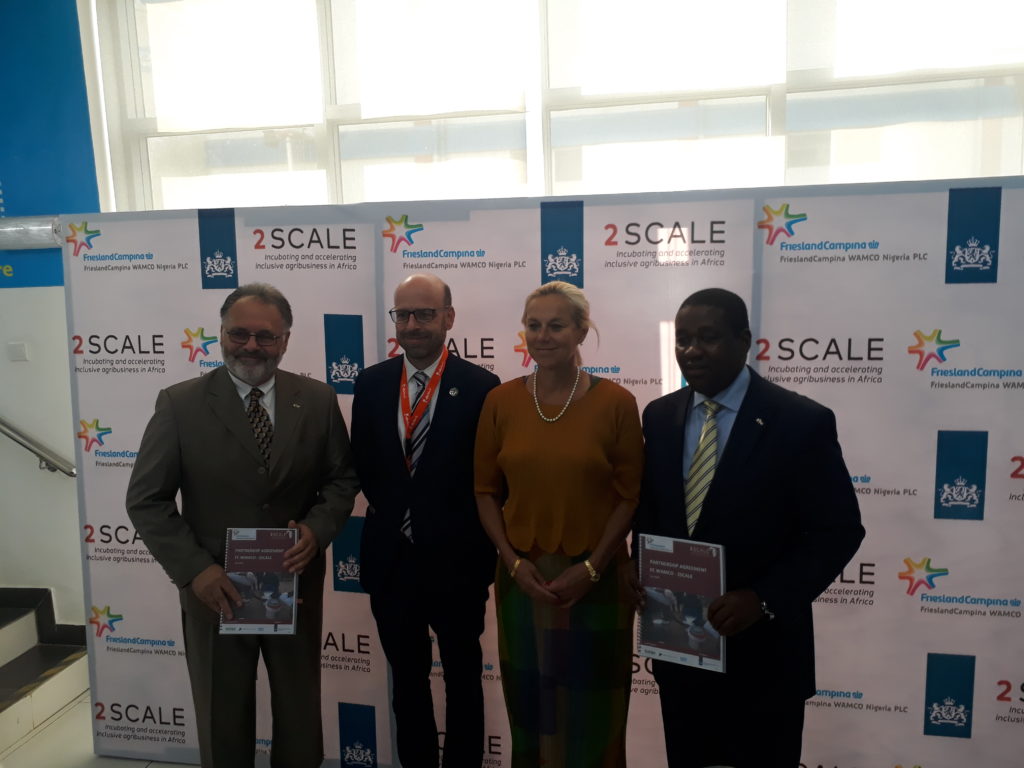 Partnership will empower dairy farmers, increase milk production
Contact: Mohammed Zailani – Partnership Facilitator, 2SCALE – mzailani@2scale.org
July 10, 2019 – Lagos, Nigeria – The International Fertilizer Development Center (IFDC), representing the 2SCALE program, has signed a partnership agreement with FrieslandCampina Wamco (FCW) with the aim to sustainably transform and lead the local dairy sector in Nigeria by supporting Fulani Milk Producers' (FMP) transition into modern dairy farmers and developing key infrastructures required for a sustainable value chain.
The partnership agreement, which will run from January 1, 2019 to December 31, 2023, was signed by Albin Hubscher, President & CEO of IFDC, and Ben Langat, Managing Director of FCW Nigeria Plc on July 10, 2019 in Lagos, Nigeria. Witnessing the event were Sigrid Kaag, Minister of International Trade and Development Cooperation of The Netherlands, and a host of dignitaries.
"I see FrieslandCampina WAMCO runs a stellar operation," Minister Kaag said. "You have changed the status quo in local milk sourcing and are playing a key role as a private sector partner in achieving the Sustainable Development Goals." She encouraged 2SCALE and FCW to expand the successful activity to other states in Nigeria.
Hubscher said IFDC will lead 2SCALE with its partners SNV and BoPlnc on its continued journey to empower farmers and develop inclusive market systems.
"IFDC's work starts with healthy soils, creates healthy markets, and ends with healthy people," he said. "We encourage dairy and crop farmers to coexist and to produce top quality silage which will increase milk production. In order to be successful, soil health and improved soil fertility combined with adequate agricultural practices is essential. Finally, 2SCALE wants to support FrieslandCampina WAMCO in its pursuit to offer consumers the safest and most nutritious product they can."
2SCALE and FCW are collaborating to deepen the inclusive model for local sourcing of fresh milk in Nigeria in line with FCW's Dairy Development Program (DDP). The DDP aims to improve the livelihood of smallholder dairy farmers, deepen the dairy market, increase the volume of fresh milk from empowered dairy farmers and create employment by empowering women and youth both on-farm and off-farm – thus improving food safety and enhancing nutrition.
"As industry leader, FrieslandCampina Wamco has established best practice models for local milk sourcing to thrive," Langat said. "By signing this second phase agreement with IFDC for the 2SCALE project, we are demonstrating the need for partnerships in contributing to food security."
###
IFDC is a public international organization addressing critical issues, such as soil fertility, international food security, the alleviation of global hunger and poverty, environmental protection and the promotion of economic development and self-sufficiency, through the use of agricultural technologies including fertilizers and other inputs.
2SCALE incubates and accelerates inclusive businesses through partnerships with companies  (African/ Dutch small- and medium-sized enterprises – SMEs) and producer organizations (POs) that want to build commercially viable strategies in African food industries through sustainable sourcing, based on mutually beneficial relations with smallholder farmers and other local micro-, small- and medium-sized enterprises (MSMEs); and/ or by serving local and regional Base-of-the-Pyramid (BoP) markets with nutritious food products. 
It is co-funded by the private sector and by the Dutch Ministry of Foreign Affairs through the Directorate-General for International Cooperation (DGIS). Building on a first phase (2012-18), the current phase of 2SCALE runs from January 1, 2019 to December 31, 2023. It is awarded to a consortium led by the International Fertilizer Development Center (IFDC) and comprising the Base-of-the-Pyramid Innovation Center (BoPInc) and the Netherlands Development Organization (SNV).
FrieslandCampina WAMCO (FCW) is a private company registered in Nigeria and an affiliate of Royal FrieslandCampina in The Netherlands. For over 60 years, FrieslandCampina WAMCO has been providing high quality dairy products through its brands, Peak and Three Crowns; these brands have become household names. Over the years, we have defined our involvement in Nigeria by addressing three national challenges: nutrient security, sustainability and support for farmers.
At the heart of the Company's operations in Nigeria is the passion to make quality dairy nutrition affordable and accessible. This is strongly rooted in the company's mission statement of nourishing Nigerians with quality dairy nutrition. This mission is made possible by the company's innovativeness and extensive distribution network across Nigeria.
Linked to its mission is the Dairy Development Programme (DDP), an inclusive business model with an array of community activities that encourages local economic development in milk production to meet the needs of consumers, farmers, local communities, the government, and our business. This has helped us to develop new institutional capacities, policies and practices that benefit pastoralists, small-holder farmers and the country as a whole.
FrieslandCampina WAMCO aims is to keep milk affordable in Nigeria, ensuring access to quality milk, fortified with the required nutrients; and enlightening consumers on how to make healthier choices and live an active lifestyle.