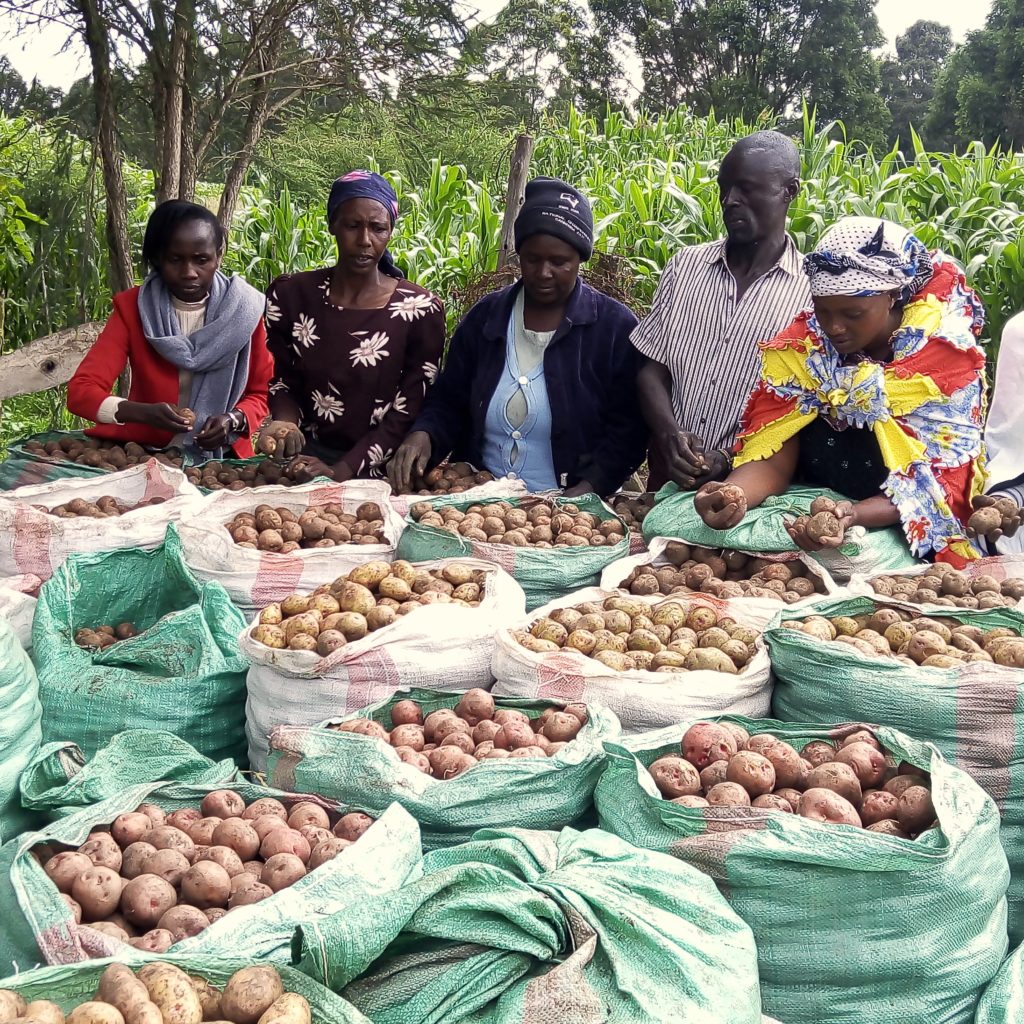 With the emerging market trends and unstable potato prices in Nyandarua County and other potato-producing counties in Kenya, farmers are employing new methods to reap big from their produce.
After encountering difficulties while trying to go to market on their own, especially in dictating the prices of fresh produce, farmers in Nyandarua have started forming common interest groups in an effort to create a properly established market niche.
For decades, potato farmers in this region have never enjoyed the fruits of their sweat because unscrupulous middlemen dictate the prices of the commodity, offering farmers low prices while they sell to other markets at higher rates. This leaves farmers in agony, despite their investing into the production of the crop year-in and year-out.
However, a group of farmers from Wanjohi in Kipipiri Sub-County have come together to establish a new farming method to ensure they get high prices for their produce.
The 15-member GreenTech Self Help Group from Magomano Village has embraced a new agribusiness enterprise in the multiplication of Irish potato seeds and planting materials, a venture they say is bearing fruit, and as far as they are concerned, there is no turning back.
The group started in 2018 with an aim of producing certified potato seeds. James Nderui, the group chairman, says the main objective is to bridge the gap in the propagation of certified potato seeds and to create an opportunity for farmers to source clean seeds.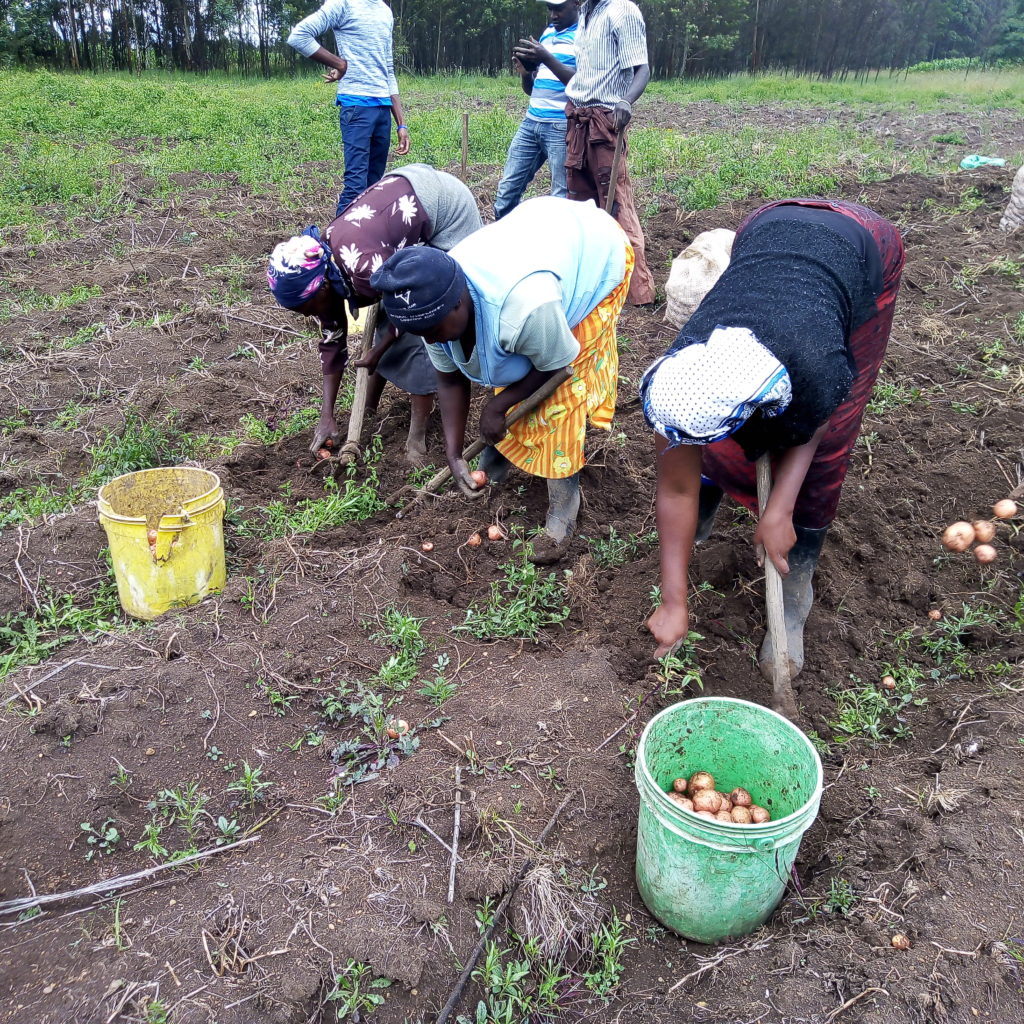 Nderui says the group was working on apical potato cuttings as start-up material from seed propagators before they are transported in the fields. This was occasioned by the high demand for clean seeds to increase quality tubers that meet the market needs. The GreenTech group is working to exploit this market.
"Seed demand countrywide is very high, and only 5% of this demand is met. We saw this gap and the potential in it, and that's why we opted for seed production over ware potatoes for the market," says Nderui.
An apical cutting is similar to a nursery-grown seedling except that it is produced through vegetative means and does not originate from a seed, but rather from a stem. Cuttings are produced from tissue culture plants in a screen-house and are clean and free of disease. Cuttings are planted in the field in slightly raised beds to produce high numbers of seed tubers. The apical cutting technology has been endorsed by the Kenya Plant Health Inspectorate Service (KEPHIS), and it has been incorporated in the seed system as starter materials to produce certified potato seeds. To propagate these materials, desired varieties are identified, and the vegetative materials are taken to a laboratory for a tissue culture process, through which cuttings that are similar to seedlings are produced. In Nyandarua County, farmers multiplying the seeds have focused on Shangi and Unica, which are new high-yielding and drought-tolerant varieties from Peru, and the Dutch Robjin, which is sought for processing.
Nderui and other group members say they came to know about this technology through training by various Potato Capacity Building (PCB) project partners, including the International Fertilizer Development Center (IFDC), a science-based public international organization working to alleviate global hunger and poverty by introducing improved agricultural practices, including judicious fertilizer use, and by linking farmers to markets.
The group asserts they are taking time to ensure production goals of clean seed are met before going fully commercial, a project the group is working on before becoming licensed.
Farmers who planted clean seed last season realized more than a double harvest compared to what they usually get from on-farm recycled tubers, the reason why the appetite for more clean planting materials is high.
According to Joseline Nyaga, PCB project officer, farmers are receiving training on the whole scope of proper potato production, including field preparation, soil testing and analysis, planting and spacing, fertilizer application, and value addition so that they yield a good harvest and are linked with local and regional markets. She says that IFDC is working in partnership with the county government of Nyandarua through a public-private partnership. Extension officers are playing a pivotal role in educating farmers on better farming practices to increase their yields. Nyaga notes that IFDC is committed to training farmers on better practices to increase their production and also link them to the markets. She encourages multiplying disease-free potato planting materials for local distribution.
"Most of the potato farmers in the country have been planting inferior seeds, leftovers from their harvests, and because of this, the yields have been very poor in terms of quality and quantity," says Nyaga. The use of farm-saved seeds, which is the common practice throughout the country, comes with many challenges such as bacterial seed-borne diseases and viral or fungal diseases like late potato blight.
However, as much as they can produce, like many other farmers in the region, GreenTech farmers face another hurdle: storage. Improper storage facilities, or the lack thereof, and the crop's perishability and bulky nature make them more susceptible to low prices. Disease control is another issue, especially bacteria wilt and nematodes, though the group has put into place proper measures to deal with these diseases.
According to Nderui, despite these challenges, the future is bright for the seed multiplication business. For instance, he says a kilogram of seed is sold at a constant price of Ksh. 55 -60 (about $ 0.5) in contrast to a kilogram of ware potatoes, which can fetch as low as Ksh. 10 ($ 0.1). Seed multiplication is a venture that he encourages young people in the county to embrace since they were not able to meet the demand for seeds.
Group member Mary Wambui says working in a group is more beneficial than farming as an individual since farmers can negotiate for better prices as a group. She adds that the market is large enough to sustain farmers working together.
The PCB project is a public-private partnership initiative funded by Irish Aid. In addition to availing high-quality inputs, soil fertility management, and educating farmers on good agricultural practices, the IFDC-implemented project has partnered with the National Potato Council of Kenya to drive public participation and advocacy, including mainstreaming the Crops Regulation of 2019, which standardized potato selling weights across the country.