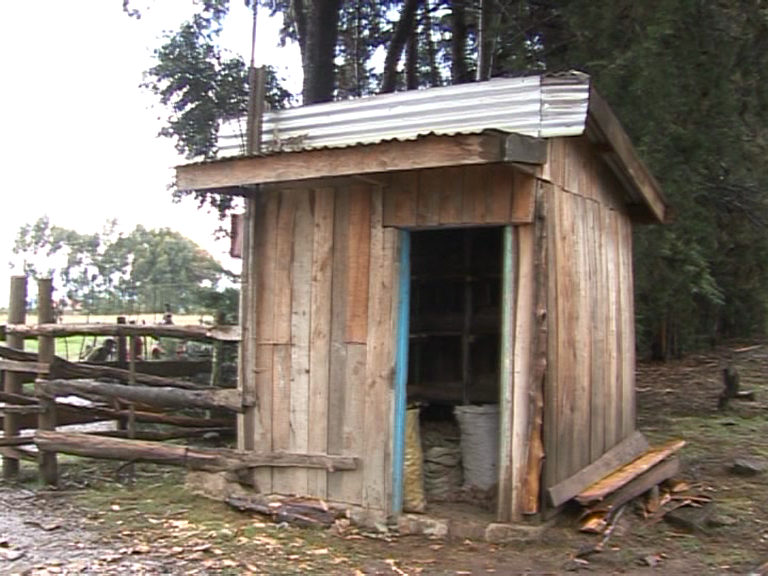 A typical and simple potato storage facility assembled by the Gathiriga Smart Farmers in Kipipiri Constituency.
Over the years, potato yields in Kenya have been on a steady decline. One of the major reasons for this decline is the practice of using poor quality seed that is passed on from several seasons if not years.
"Most of the potato farmers in the country have been planting inferior seeds, which are mainly leftovers from their harvests. Because of this, yields have been very poor in terms of quality and quantity," says Joseline Nyaga, the Potato Capacity Building (PCB) project officer.
The use of farm-saved seeds, which is the common practice throughout the country, comes with many challenges, including bacterial seed-borne, viral, or fungal diseases, such as late potato blight.
With the assistance of the International Fertilizer Development Center (IFDC) in partnership with the county government of Nyandarua, farmers have been educated on the benefits of using certified seed, and proper selection of seed using positive and negative seed selection. Farmers are shown how to identify healthy plants, which they tag early in the season. The tubers harvested from these plants are set aside for seed. They are also taught how to improvise simple storage facilities that will increase the shelf life of their produce, and specifically enable them to keep their seed disease free.
Most farmers believe that they need a huge investment to build good storage facilities. However, a study to establish the feasibility of low-cost seed potato storage in Kenya through use of the Diffused Light Storage (DLS) principle concluded that it is feasible to store seed tubers of currently available potato varieties under low-cost, on-farm conditions for up to eight months.
Gathiriga Smart Farmers is a farming group in Kipipiri Constituency that has improvised a storage facility that could come as a savior to many farmers. The group benefited from the generosity of one of its members who volunteered a structure on his farm to be converted into a seed store. The group members, led by the ward agricultural officers, embarked on this project with great zeal – they contributed money to buy timber and nails and took time to fit out the shelves.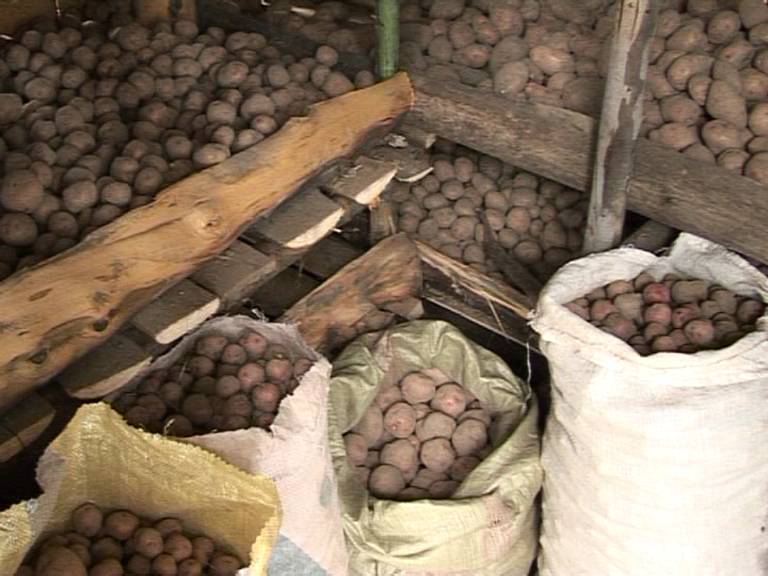 Potatoes stored in an improvised storage facility owned by the Gathiriga Smart Farmers group in Kipipiri Sub-County.
One group member, John Ngigi, says that before putting up the structure, several issues were considered, including design, construction materials, pest management, and cost. The structures can either be rectangular or square in shape, and comprised of a raised timber floor, wooden walls, and a corrugated iron sheet roof. Depending on the method used to store the produce, the inside of the store can be divided into two by a corridor, and each side can further be sub-divided into cubicles with or without shelves. The structure is meant to provide a conducive environment for seed potatoes, including ventilation, protection from pests and adverse temperatures, and relative humidity. Ngigi says that light in the store is important for the promotion of well-sprouted seed necessary for early crop establishment and thus higher yields. The shallow shelves make inspection of the tubers and scouting for pests and diseases easy.
Ultimately, the quality of ware potatoes begins in the field. According to Nyaga, employing good agricultural practices such as pest management and certified seeds produces healthy tubers for storage. "We encourage farmers to replicate what they learn from the demonstration sites in the farms," she says.
Once harvested, potatoes are sorted by variety and quality and then stored in airy wooden shelves where they can stay for several months before they used as seed material.
Ngigi says many farmers lacked technical know-how, so the training they received from IFDC and the agricultural extension officers from Nyandarua has empowered farmers to implement good agricultural practices while looking into possible ways of increasing their yields and meeting the market demands.
Farmers are encouraged to multiply disease-free potato planting materials for local distribution.
Tabitha Wanjiru, a member of Gathiriga Smart Farmers, says IFDC has assisted in training them on proper potato husbandry, lessons she says will help them improve crop propagation. Wanjiru says the fertilizer and disease control methods in potato fields were some of the major challenges farmers have coped with since many of them did not have proper information on their application and hence incurred huge losses.
The PCB project is a public-private partnership initiative funded by Irish Aid. In addition to availing high-quality inputs, soil fertility management, and educating farmers on good agricultural practices, the IFDC-implemented project has partnered with the National Potato Council of Kenya to drive public participation and advocacy, including mainstreaming the Crops Regulation of 2019, which standardized potato selling weights across the country.