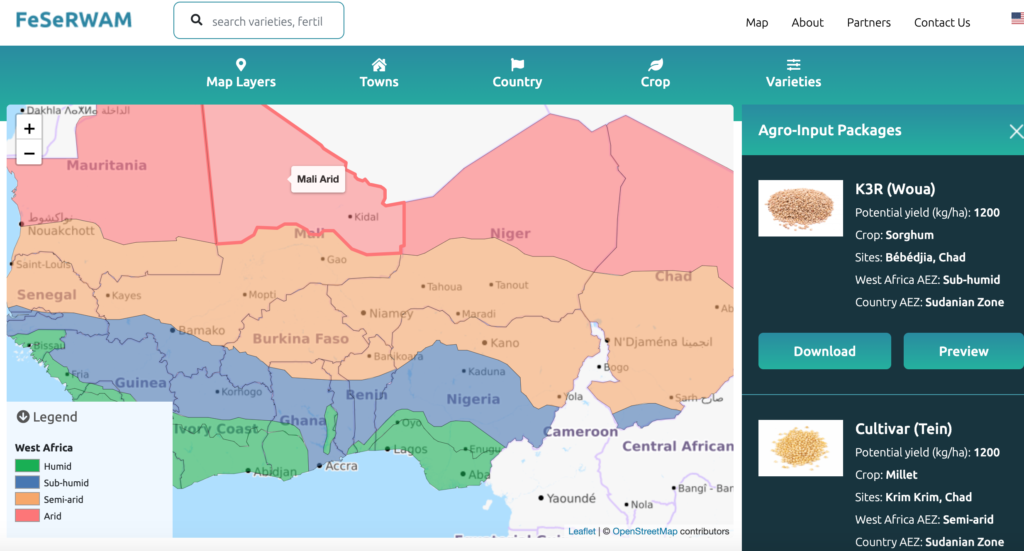 On Tuesday September 22, 2020, more than 100 stakeholders of West African agriculture met virtually to launch the pioneering online Fertilizer and Seed Recommendations for West Africa Map (FeSeRWAM).
FeSeRWAM is a web-based GIS platform that captures, stores, and visualizes recommendations data on seeds and fertilizers.
"Inadequate and inappropriate use of agricultural inputs, particularly seeds and fertilizers, has greatly undermined our efforts to increase agricultural production in West Africa," said Dr. Abdulai Jalloh, CORAF's director of research and innovation, at the opening ceremony.
The FeSeRWAM is designed to increase the demand and use of appropriate fertilizers and improved seed to increase agricultural productivity in West Africa.
"The platform will facilitate the dissemination of agri-inputs packages to various users, including blenders, agro-dealers, private sector seed and fertilizer suppliers, extensionists/researchers, subsidy program designers and administrators, farmer organizationsm and civil society," said Dr. Oumou Camara, IFDC regional director for North and West Africa
The event allowed participants to familiarize themselves with the tool, its vision, the process of data collection, the content, the audience, the limitations, and the way forward to ensure it reaches the ultimate target users.
Way Forward
Africa has close to 400 digital agriculture platforms, according to the 2019 Digitalization of African Agriculture Report. While the report acknowledges the game-changing nature of these online tools, it also argues that plenty of work is needed to ensure they are used.
Making FeSeRWAM sustainable and interoperable with similar online platforms benefiting poor farmers at both the country and regional levels in West Africa was central to the discussions leading to its development.
Not only did participants call for the involvement of the private sector and businesses, but they also argued that efforts should be made to ensure it is sustainable and able to work in collaboration with other tools.
FeSeRWAM is the product of over two years of extensive consultation of more than 350 agri-inputs actors across West Africa. The platform contains recommendations on agri-inputs, fertilizer, seeds, and good agricultural practices, for different crops in specific agro-ecological zones. More than 250 varieties have been posted on the platform for about 25 crops from 14 countries. Data is still being gathered for Cape Verde, Gambia, and Mauritania. The platform is expected to be updated annually.
The FeSeRWAM development was funded by the United States Agency for International Development (USAID)/West Africa. It is implemented by the Feed the Future Enhancing Growth through Regional Agricultural Input Systems (EnGRAIS) Project for West Africa and Partnership for Agricultural Research, Education and Development (PAIRED) Programs, which are led by the International Fertilizer Development Center (IFDC) and CORAF, respectively.