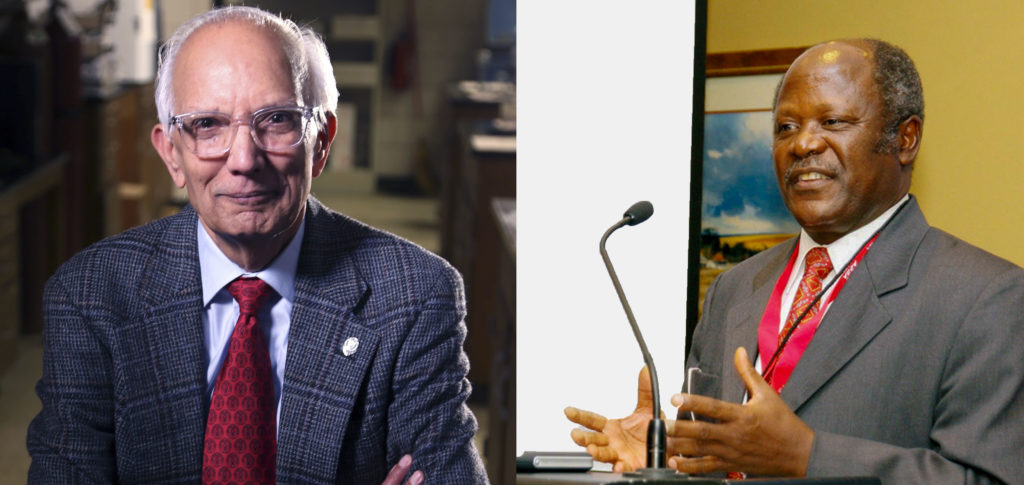 IFDC Press Release
For Immediate Release
Friday, November 6, 2020
November 6, 2020 – Muscle Shoals, Ala., United States – The IFDC Board of Directors elected Dr. Rattan Lal and Dr. Namanga Ngongi to the board during its 46th annual meeting held virtually October 27-29, 2020. Dr. Lal and Dr. Ngongi join three other new additions from earlier this year: Josephine Okot, Mark Schneiders, and Dr. Paul Vlek.
Dr. Rattan Lal (United States) is professor of soil science at The Ohio State University and 2020 World Food Prize laureate. Internationally recognized for his trailblazing work on developing and mainstreaming a soil-centric approach to increasing food production, Lal has received many other accolades, including the GCHERA World Agriculture Prize (2018), Glinka World Soil Prize (2018), Japan Prize (2019), and U.S. Awasthi IFFCO Prize (2019). Dr. Lal earned bachelor's and master's degrees at Punjab Agricultural University and the Indian Agriculture Research Institute, respectively, and a doctorate from The Ohio State University.
In 2007, Dr. Namanga Ngongi (Cameroon), former deputy executive director and undersecretary-general of the World Food Programme and special representative and head of the United Nations Peacekeeping Mission in the Democratic Republic of Congo,was called out of retirement from a lifetime devoted to agricultural development to serve as the first president of the Alliance for a Green Revolution in Africa (AGRA). Following his term at AGRA, Dr. Ngongi was nominated as founding chairman of the African Fertilizer and Agribusiness Partnership (AFAP) board of trustees. Dr. Ngongi's decades-long service to the UN earned him the African Green Revolution Forum Lifetime Achievement Award in 2017. Dr. Ngongi holds a master's degree and doctorate in agronomy from Cornell University.
Dr. Jimmy Cheek, chair of the IFDC Board of Directors, noted, "Dr. Lal and Dr. Ngongi represent what IFDC is all about – expertise in taking innovative research from the lab to the field. I look forward to working alongside them to advance IFDC's mission."
"While this year the board said goodbye to Dr. Josué Dioné and Dr. Mark Keenum, I am pleased with the board's selection and believe these additions will bring great strength to the organization," added IFDC President and CEO Albin Hubscher.
IFDC's 16-member board brings expertise from developed and developing nations and many sectors, including international development, agricultural research, the fertilizer industry, private business, and more. The board meets regularly to provide feedback and input to IFDC's strategy and operations.
###
Contact:
James Thigpen (Acting Head of Communications; +1 256 381 6600, ext. 344; jthigpen@ifdc.org)
About IFDC
The International Fertilizer Development Center (IFDC) began in 1974 with the mission to improve soil fertility and crop nutrition in tropical regions. Since then, IFDC has grown to encompass an array of agricultural solutions — market development, policy advocacy, fertilizer technology development, project implementation in the field, farm mechanization, and micronutrient research. For more information, visit www.ifdc.org.