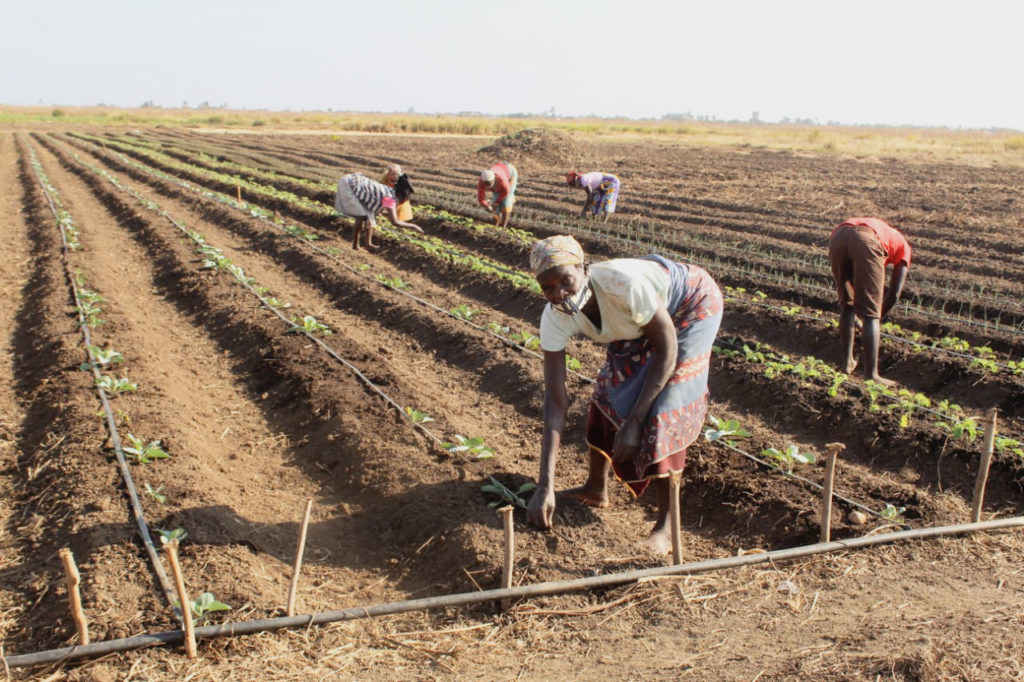 IFDC Press Release
For Immediate Release
January 27, 2021 – Maputo, Mozambique – IFDC will assume leadership of the consortium of organizations implementing the Food Security through Climate Adaptation and Resilience (FAR)-Mozambique program, which will continue assisting more than 20,000 farmers in adopting and implementing climate-smart agriculture (CSA) practices during 2021-2022 while also expanding the reach of activities implemented during Phase 1 of the program. FAR is implemented with funding from the Embassy of Sweden in Mozambique.
FAR Phase 1 reached more than 20,000 farmers in demonstrating and transferring technologies, such as improved inputs (e.g., 4R application of fertilizer and climate-resistant seed) and CSA practices to increase resilience to climatic shocks. Additional capacity building for agro-dealers in business management as well as for farmers in post-harvest activities enhanced and enabled program impacts, the effects of which are readily seen as farmers bounced back following Cyclone Idai in 2019.
During FAR Phase 2, IFDC will lead the consortium to scale up activities in increasing smallholder productivity, input and output market development, and proven technology transfer. An additional 20,000 farmers will benefit from training on CSA practices through improved skills and access to productivity-enhancing inputs, extension services, and markets via a network of agro-dealers and village-based agents as well as through Information and Communications Technologies for Agriculture (ICT4Ag)-enabled services and support.
"The consortium is pleased for the opportunity to continue the life-changing work in which we first embarked in 2017," noted Alexander Fernando, Director of East and Southern Africa at IFDC. "We anticipate a large impact of these proven technologies and practices on food access and availability in the Sofala and Manica provinces even in the aftermath of Cyclone Eloise."
The training and critical market linkages have improved smallholder farm productivity, profit, and household resilience over the previous two-and-a-half years of FAR programming. FAR implementing organizations will continue to increase programmatic outreach to remote and vulnerable farm households, women, and men to scale up access and adoption at farm, household, and community levels.
***
Phase 2 of the FAR Program is being implemented by IFDC and a consortium of four members: United Purpose (UP), African Fertilizer and Agribusiness Partnership (AFAP), Associação Kwaedza Simukai Manica (AKSM),
IFDC is a public international organization active in 20 countries in Africa, Asia, and America. IFDC uniquely approaches the global issues of food security and poverty by bridging the gap between research and impact, combining science-based innovations, holistic market systems development, an enabling policy environment, and strategic partnerships to assist farmers and countries to identify and scale sustainable agricultural solutions, including improved nutrient use efficiency. These approaches are needed to boost soil health and crop productivity while reducing the environmental impact of fertilizer use. IFDC translates research into action by using locally driven, environmentally sound, and impact-oriented solutions. With our partners, we seek to close the yield gap, eradicate global hunger, safeguard the soils on which our lives depend, and generate economic resilience for farming households and the countries in which they live.
UP is an international non-governmental organization (NGO) that strives to end poverty and inequality across the globe. UP is a leader in community-led development and grassroots innovation with more than 40 years of experience working with community organizations and local partners through community-based engagement in pro-poor programming that identifies sustainable solutions facing marginalized communities that advance Beyond Aid.
AFAP is a non-profit organization with headquarters in South Africa. AFAP was established under the African Union and New Partnership for Africa's Development (NEPAD) objective to promote a Green Revolution in Africa through increased use of productivity-enhancing inputs by smallholder farmers. AFAP has been supporting smallholder farmers and pastoralists to access improved inputs and technologies (seeds, fertilizer, crop protection products, and animal health products) for increased agricultural and livestock production through improved access to markets. AFAP's mission is to improve food security and incomes of smallholder farmers by facilitating agricultural development through development and distribution of improved production technologies and effective marketing techniques in response to identified market opportunities.
AKSM is a national NGO based in Mozambique dedicated to improving the lives, livelihoods, and economic conditions of smallholder farmers. AKSM provides training in the introduction of new cropping technologies and improved small-scale irrigations systems, contributing to community development in rural areas of Mozambique. AKSM was founded in 2000, with its primary offices in Manica District and field offices in Machaze, Sussundega, and Vanduzi districts. Over the past 10 years, the AKSM Livelihoods Program in Manica has focused on specific agricultural production-based activities for smallholder farmers in maize and horticulture production integrated with village savings and loan associations that improve the sustainability of farm-related activities. AKSM has also implemented complementary projects in renewable energy to promote new and sustainable electrification technologies in remote and rural areas.