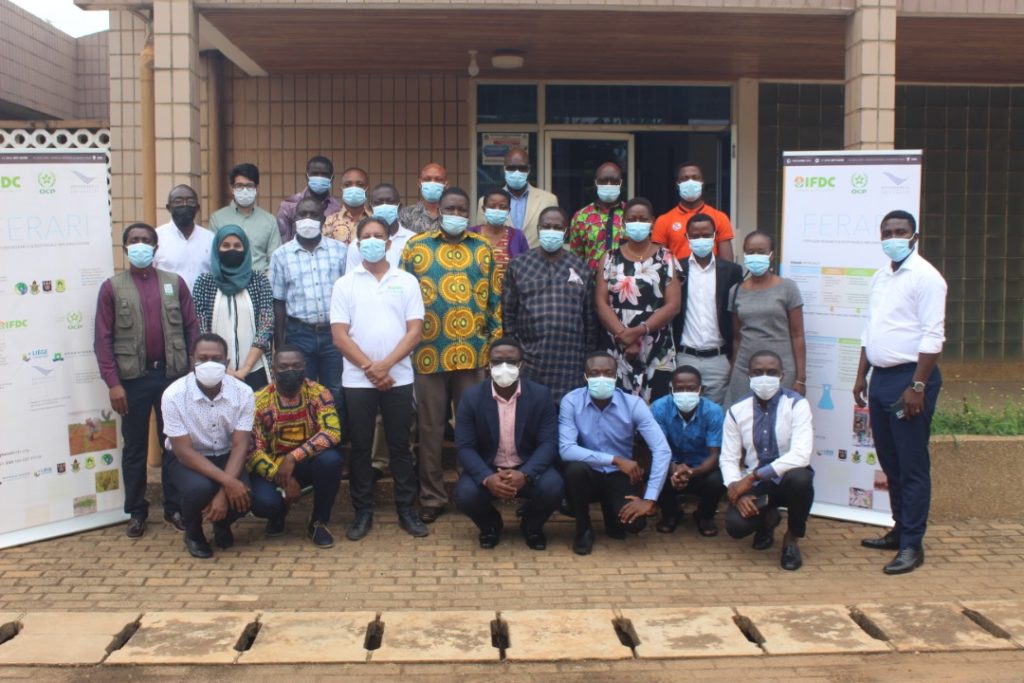 Part of the FERARI Team with the Director of CSIR (Prof. Moro Buri) and the Director of Crop Service of MoFA (Dr. Seth Osei Akoto).
Press Release
For Immediate Release
Contact: James Thigpen, Head of IFDC Communications
March 23, 2021 – The Fertilizer Research and Responsible Implementation (FERARI) program organized a workshop in Kumasi, Ghana, on March 18-20, 2021, with all involved institutions, students, and global scientific staff to introduce five new doctoral candidates to the ongoing activities. Ph.D. researchers and doctoral students met to discuss a variety of widespread issues, including the proper utilization of fertilizers by farmers. The doctoral students also presented research papers showing the scientific basis for the systematic approach to fertilizer use by farmers in sub-Saharan Africa as a means to increase nutrition security and food production.
In addition to program staff and students, the event was attended by Dr. Moro Buri, director of the Ghana Council for Scientific and Industrial Research (CSIR), and Dr. Seth Osei Akoto, director of the Crop Services division of the Ministry of Food and Agriculture (MoFA).
Buri highlighted the importance of improving the efficiency of fertilizers, and Akoto underlined the need for evidence-based recommendations to assist the government in making decisions that benefit the fertilizer sector and the farmers it serves.
Akoto also praised the educational aspect of the program saying, "My presence here today demonstrates the strong link that the program is seeking with governmental programs. It is clear that FERARI's activities can greatly support our Planting for Food and Jobs program to embed development efforts into national policy priorities to reach impact at scale."
Ghanaian farmers are in dire need of fertilizers that meet the needs of their crops and soils to increase their crop yields and improve their food and nutrition security. As an international public-private partnership, FERARI builds science-based approaches to improve Ghanaian food systems. Through an international science network, FERARI is training five Ghanaian doctoral candidates and dozens of master's-level students in Ghana and beyond to strengthen the capacity of the involved institutions and to benefit Ghanaian agriculture.
FERARI program director Dr. Prem Bindraban emphasized the importance of the programmatic partnerships, noting, "To have impact and development, it's not something you do in isolation with one person, but you really have to join forces with different actors: those in science, business, and policy, as well as NGOs."
The approach of on-the-ground training and public-private partnerships has resulted in the program conducting hundreds of on-station and on-farm fertilizer response trials with maize, rice, and soybean that demonstrate good agricultural practices to thousands of farmers; surveying farmers to understand their opportunities and challenges to improving their livelihoods; designing and establishing a National Fertilizer Platform for Ghana; and establishing a soil mapping database that serves as a step toward a nationwide agricultural information platform.
***
The FERARI program is implemented by IFDC through 2024 in cooperation with nine universities from Ghana, Morocco, the Netherlands, and Belgium. FERARI receives support from Ghanaian research institutions, OCP, and others. The program's activities support the Planting for Food and Jobs program and the Fertilizer Expansion Program of the Government of Ghana to embed development efforts into national policy priorities to reach impact at scale.
An independent non-profit organization, IFDC is active in 20 countries in Africa, Asia, and America. Combining science-backed innovations, an enabling policy environment, holistic market systems development, and strategic partnerships, the organization bridges the gap between identifying and scaling sustainable soil solutions, resulting in improved household food security and enriched family livelihoods around the world. Using an inclusive approach, IFDC employs locally driven, environmentally sound, and impact-oriented solutions that bring change at local, regional, and national levels.