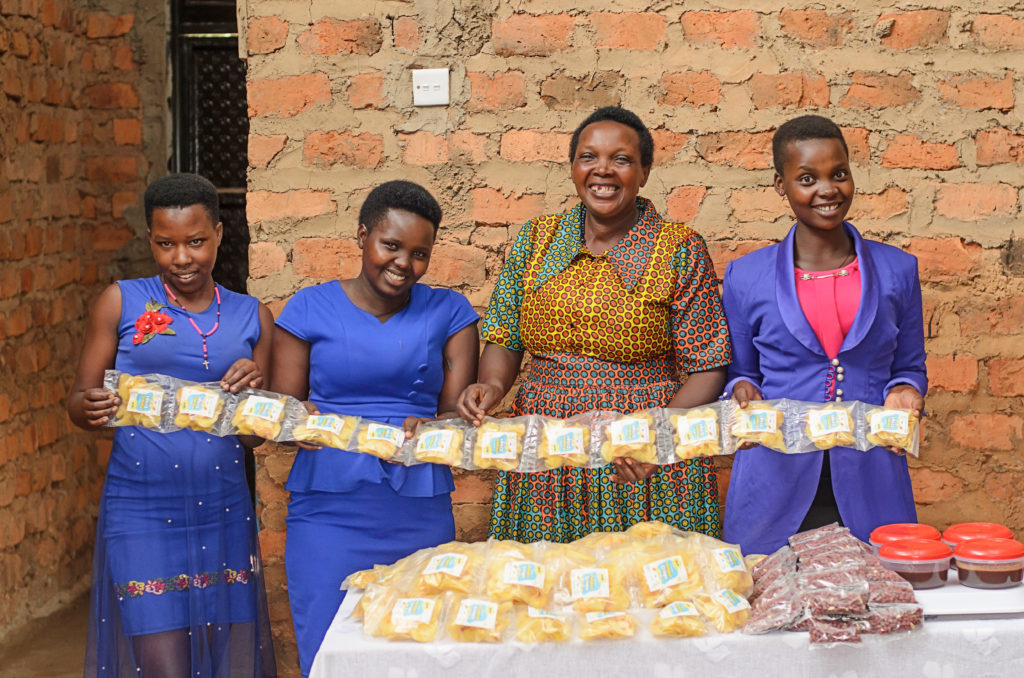 Sitting at the helm of her business, Byampa Enterprises, Maudah Byampangi is living her dream, as she successfully oversees the processing and supply of potato chips across Uganda's South Western region of Kigezi.
Maudah started Byampa Enterprises, a home-based potato-processing business, in 2016. In the early years, the business produced 25 kg of potato chips per month using a simple slicing machine and then frying the potatoes over an outside fire.
In 2019, IFDC's Resilient and Efficient Agribusiness Chains in Uganda (REACH-Uganda) project, funded by the Embassy of the Kingdom of Netherlands in Uganda, began working with Byampa Enterprises as part of the project's work in facilitating the sustainable development of Uganda's potato sector.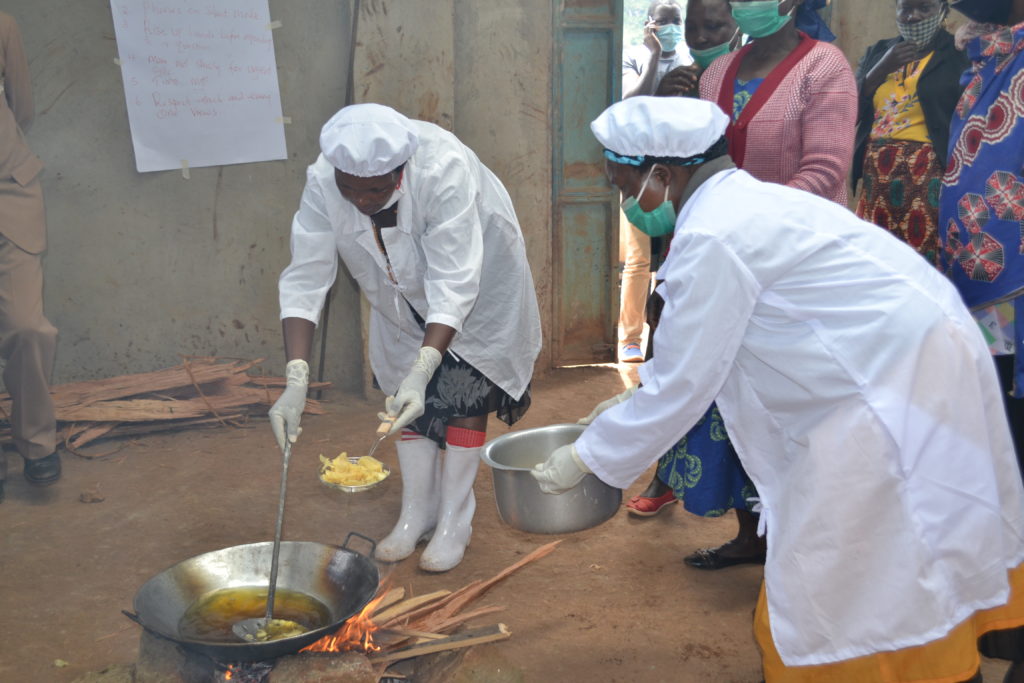 REACH-Uganda aims to enhance the productivity of potato farmers and link them to businesses like Byampa Enterprises that are seeking a reliable supply of quality potatoes to process. The objective is to diversify and strengthen income streams for smallholder farmers while strengthening the potato sector more widely, boosting local economies, creating jobs, and supporting food security and household incomes.
Byampa Enterprises invested UGX 15,070,000 (approximately U.S. $4,100) while REACH-Uganda's investment totaled UGX 19,637,000 (approximately U.S. $5,500) in an initiative to increase the quantity and quality of chips produced. This went toward the purchase of processing equipment, including a washing and peeling machine, slicer, fryer, scales, and package sealer, and Byampa Enterprises constructed factory space to house the machinery. In order to boost sales, REACH-Uganda also supported Byampa Enterprises to rebrand its chips with attractive, eye-catching packaging.
I dealt with skepticism and bias for years because community members believed that, as a woman, I could not be competitive in business.
Maudah can rightly enjoy the growth of Byampa Enterprises. What started as a small operation producing 25 kg of chips per month will soon be processing 2 metric tons of potato per month to produce 440 kg of chips. This will translate into an annual income of U.S. $15,240 when the business hits these sourcing projections. The potatoes will be sourced from 20 farmer groups in Kaharo and Bukina sub-counties in Kabale and Kisoro districts.
Importantly, women are well represented across these farmer groups, making up 66% of farmers within the groups. REACH-Uganda facilitated the connections between these farmer groups and Byampa Enterprises. The projected growth of Byampa Enterprises will also translate into more jobs. Maudah currently employs four staff and plans to hire two more employees as production increases.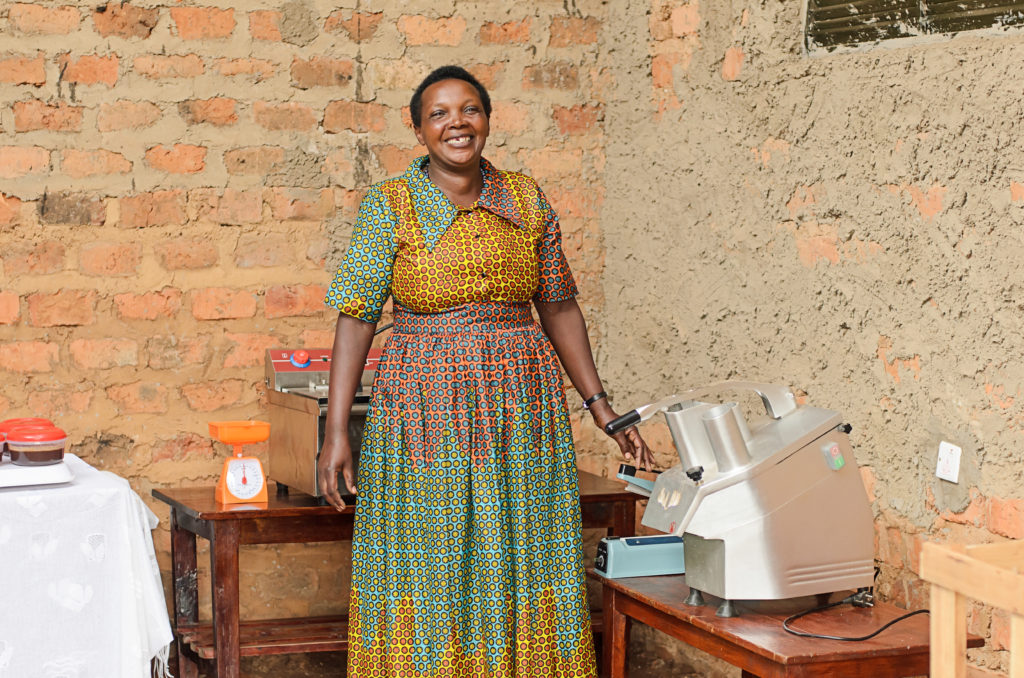 "All my life I have believed in myself and my dreams. I have never shied away from a challenge. I made the decision to proceed with my plans and engaged my husband, Benon, and my children in my business with honesty and transparency. I am pleased to say that I now have the full support and trust of my family and community," said Maudah.
Female-Owned Enterprise
Maudah is a role-model within her community and beyond. She travels to other parts of Uganda to train farmers in processing and product development, so that they can also add value to their potato harvests. For example, she recently trained 50 farmers, 33 of whom were women, associated with the Mengya Integrated Farmers Association, Sukut Multipurpose Women's Group, and Kapchesombe Green Change Farmers Cooperative in Kween and Kapchorwa districts, but her entrepreneurial spirit has not always attracted positive recognition.
"When I embarked on creating Byampa Enterprises, I dealt with skepticism and bias for years because community members believed that, as a woman, I could not be competitive in business," Maudah recalls. The success of Byampa Enterprises means Maudah can pay school fees for her children, and she and her family can enjoy the improved livelihoods, influence, social status, and exposure that come from being a successful entrepreneur.