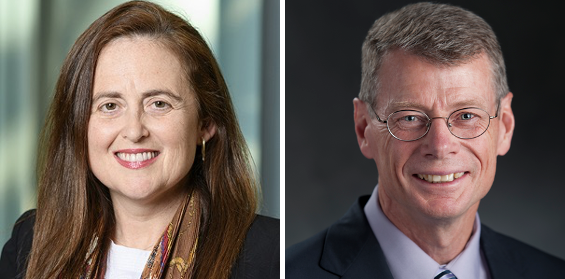 On May 25, the IFDC Board of Directors elected Ms. Alzbeta Klein and Dr. Thomas "Tom" Coon to the board during its virtual meeting. Klein and Coon have assumed their positions on the board effective June 1.
Ms. Alzbeta Klein is Director General at the International Fertilizer Association (IFA). Prior to her joining IFA she worked at the World Bank Group where she progressed through the ranks, with positions of the Chief of Staff to the CEO of IFC, Global Co-Head of Industrials and Agribusiness, Global Head of Climate Business, and other appointments, both at the headquarters in Washington DC and overseas. She brings a rich experience to IFDC from having served on several corporate and advisory boards of leading agribusiness companies such as Hans Merensky Holdings headquartered in South Africa, Grupo Los Grobo in Argentina, and on advisory sustainability boards of Nespresso and the New York University Stern School of Business. She has a degree in Engineering from Prague University, a M.A. in Economics and a Ph.D. (abd) in Economics from University of Ottawa.
Dr. Thomas G. Coon has served as Oklahoma State University's Vice President of the Division of Agricultural Sciences and Natural Resources, where he has been responsible for the integration of the Oklahoma Agricultural Experiment Station, the Oklahoma Cooperative Extension Service, and the College of Agricultural Sciences and Natural Resources, since 2014. Before joining OSU, he was director of Michigan State University Cooperative Extension and a professor of fisheries and wildlife at MSU for 25 years. Tom received his Ph.D. from the University of California-Davis and served on the faculty at the University of Missouri before his move to Michigan State.
"Ms. Klein and Dr. Coon represent core aspects of our work: building markets and strengthening research. We are happy to have them join our board and look forward to their contributions to achieving IFDC's mission," reflects IFDC President and CEO Albin Hubscher.
IFDC's board brings expertise from developed and developing nations and many sectors, including international development, agricultural research, the fertilizer industry, private business, and more. The board meets regularly to provide feedback and input to IFDC's strategy and oversight to its operations.